Ghibli Park Review And Photo Tour: A Nature-Friendly Hayao Miyazaki Fan's Paradise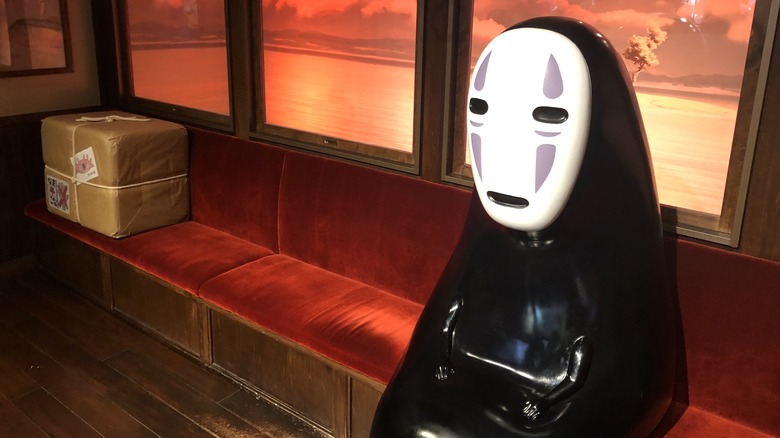 Joshua Meyer
When Studio Ghibli first announced its plans to build a theme park in 2017, it was clear right away that the approach would be unconventional. If an amusement park is a theme park without the theming, Ghibli Park has now positioned itself as the opposite: a theme park without the cotton-candy amusement of thrill rides. While not without fun for fans of the studio's classic animated movie catalog, this is an eat-your-veggies type of theme park with a website that openly states, "There are no big attractions or rides in Ghibli Park."
Another thing that makes the place unique by theme park standards is that no trees were harmed (which is to say, felled) in the making of Ghibli Park. Forget the state's bellicose governor; to this day, some Florida conservationists still hold a grudge against Walt Disney for turning flyover swamp land into a tourist trap where you can take fake jungle cruises.
It's hard to imagine anyone working up the same disdain for Ghibli co-founder and master animator Hayao Miyazaki, whose films often concern themselves with civilization's intrusion upon the natural world. That's the very thing Ghibli Park tries to avoid as it brings Miyazaki movie moments to life in the middle of an existing municipal park that feels like a nature reserve in places.
Ghibli Park opened six months ago, on November 1, 2022, but two of the five planned areas or "lands" are still under construction and won't be operating until a later rollout phase. Tickets for each area are sold separately, and only one of the three current areas, Ghibli's Grand Warehouse, is selling tickets outside Japan at present. However, the day before Earth Day, I visited all three areas and got the full Ghibli Park experience. Here's what to expect.
Ride the maglev to a park within a park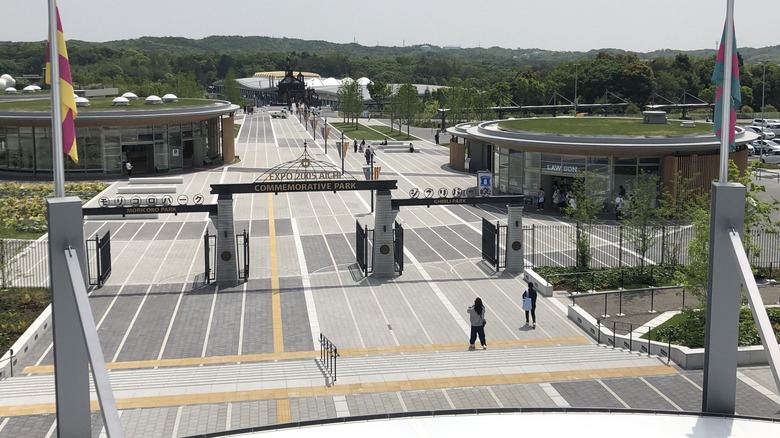 Joshua Meyer
In a nutshell (no plant pun intended), Ghibli Park is the most sedate theme park experience you're ever likely to have. At times, you're walking along inside and there are no people, just greenery with the occasional pocket of Miyazaki animated life made real. The serenity of the park is made possible by its remote location in Nagakute (population: 60,000) and a low number of available tickets, as with the Ghibli Museum in Tokyo.
It takes about three hours to reach Ghibli Park from Tokyo Station. Along the way, you pass through the city of Nagoya (where Legoland Japan is located), changing from the Shinkansen, or bullet train of Brad Pitt movie fame, to a local subway line and then the retro-futuristic Linimo, short for "linear motorcar."
This is the Ghibli Park and Aichi Prefecture equivalent of a Disney monorail. Though it's a maglev, meaning it runs on magnetic levitation and is technically a hovertrain of sorts, the sight of it isn't all that different from the Tama Monorail snaking through Tokyo's western suburbs, where Ghibli films like "Whisper of the Heart" and the racoon-dog fantasia "Pom Poko" are set.
The Linimo was originally built for the World Expo in Aichi. It takes you past Toyota signs and deposits you in front of Expo 2005 Aichi Commemorative Park, where you'll have the usual theme park experience of logging thousands of steps as you walk — maybe even hike a little — from area to area. However, unlike the busy train stations servicing Tokyo Disney Resort and Universal Studios Japan, the platform is not flooded with passengers when you disembark the Linimo.
As I stepped through Ghibli Park's front gate, I heard birds chirping and there was virtually no one to be seen.
Take the elevator Castle in the Sky down to the park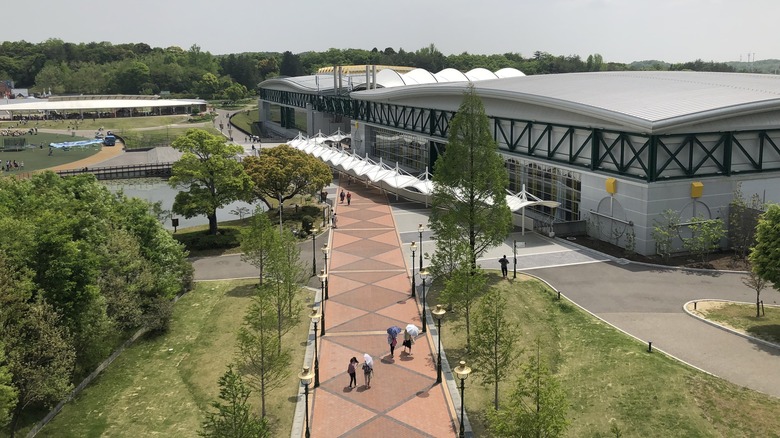 Joshua Meyer
Expo 2005 Aichi Commemorative Park is also known, more succinctly, as Moricoro Park. Since Ghibli Park is built within it, it puts a different twist on the usual idea of theme park immersion, as if to remind the guest that they are part of a larger world and in harmony with it here.
The first big sight in Ghibli Park is a steampunk elevator tower, influenced, per Ghibli, "by the late 19th-century sci-fi architecture that appears in such films as 'Castle in the Sky' and 'Howl's Moving Castle.'" On the map, this tower is in the Hill of Youth area, but it's free to use the elevator and it feels more like part of the general entrance approach.
If you circle around behind the elevator before you ride it down, you can see Ghibli's Grand Warehouse and the surrounding Expo site from above. Look through a window on the wrong side of the antiseptic glass building where the warehouse is located, and you'll see that it's right next door to a public ice-skating rink. This is just one example of how the adjacent non-Ghibli life in Moricoro Park sometimes carries on in full view of Ghibli Park.
"My Neighbor Totoro?" More like my neighbor Yuzuru Hanyu, the Olympic skater known for receiving showers of stuffed Winnie the Pooh bears on the rink from fans.
Substitute a stuffed Catbus for Pooh, make it big enough for kids to climb all over in a playroom setting, and you've got yourself a recipe for one exhibit in Ghibli's Grand Warehouse. The warehouse is filled with natural light and might better be described as a greenhouse, complete with ferns and vegetation along the wall.
Wander through Ghibli's Grand Warehouse at your leisure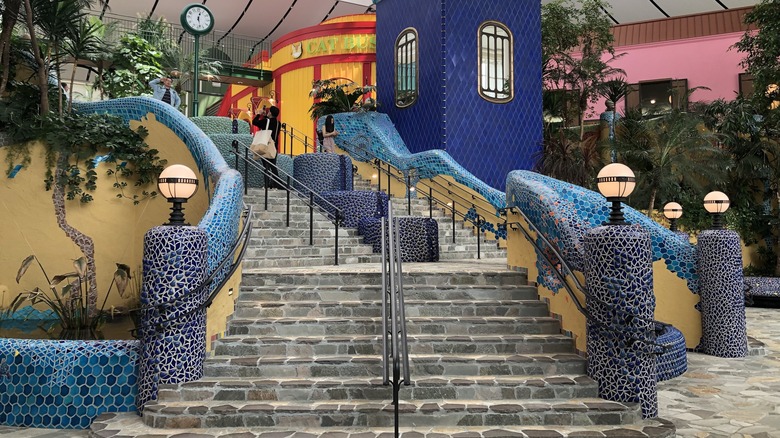 Joshua Meyer
Before I arrived in Ghibli Park, I was worried about whether the lines would be long and if I would have enough time in each area. Chalk it up to force of habit from years of hectic strategizing around FastPass and Express Pass times at Disney and Universal parks.
Within minutes of entering Ghibli's Grand Warehouse, the centerpiece of Ghibli Park, all those worries went out the window. The atmosphere is extremely laid back, to the point where it might leave you thinking, "Oh. This is it?" if you're not already mentally prepared. It seems appropriate, though, to have some breathing room in a place oxygenated by as many trees as Ghibli Park.
The airship from "Castle in the Sky" raises and lowers itself over the tile mosaic of the Central Stairs as they lead you up into Ghibli's Grand Warehouse. It has three exhibition spaces, one of which is now running an expanded edition of "Delicious! Animating Memorable Meals," an exhibition that previously ran at the Ghibli Museum.
Like the museum (see a virtual tour here), Ghibli's Grand Warehouse has a Garden in the Sky photo op (with a familiar long-armed robot) and a screening room, Cinema Orion, which shows Hayao Miyazaki short films like "Koro's Day Out" and "House Hunting." This version of the "Castle in the Sky" robot is posed along a mossy wall.
Nearby, you can see the bathhouse witch Yubaba from "Spirited Away," working at her desk in the Director's Room, with papers in the air and the three green Kashira heads at her feet. The door to Yubaba's office is roped off, so you'll just be standing in the doorway or at the window, peering in on her.
Become characters in Ghibli scenes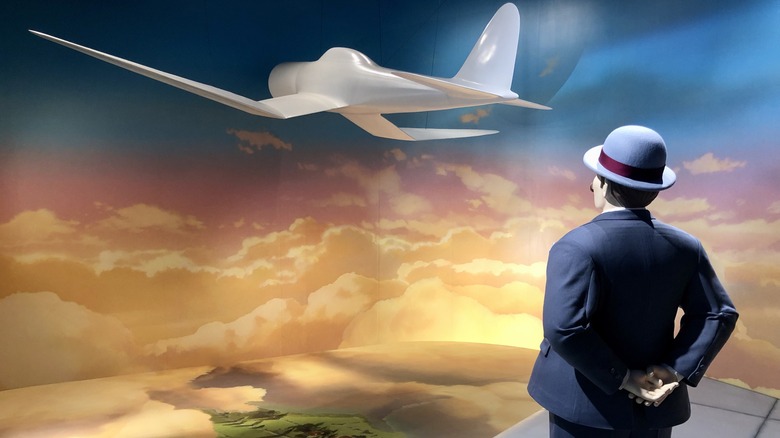 Joshua Meyer
The longest line I encountered in Ghibli's Grand Warehouse was a 20-minute one for the "Becoming Characters in Memorable Ghibli Scenes" exhibition. It inserts the visitor in over a dozen Ghibli movie scenes, allowing you to sit on the train next to No-Face from "Spirited Away" like a stage actor.
This is probably the park's most Instagrammable walk-through, which sets it apart from the Ghibli Museum, where photography isn't permitted. "Porco Rosso," "Pom Poko," "Kiki's Delivery Service," "Ponyo," "Spirited Away," and "The Wind Rises" are among the films depicted in installations here.
Everywhere else, there were only a handful of other people ahead of me at any given time in Ghibli's Grand Warehouse. On the ground floor, there's one spot that gives an "Ant-Man" or "Honey, I Shrunk the Kids" effect as you explore the House Below and Little People's Garden from "The Secret World of Arrietty."
In the Open Warehouse, Ghibli's Grand Warehouse lives up to its name (at last!) with a collection of production artifacts and previous exhibition props. It's not as expansive as the "Raiders of the Lost Ark" warehouse, but until the Valley of Witches area opens with a full-scale recreation in 2024, this is the best place to see a model of the titular Howl's castle.
I was in Ghibli's Grand Warehouse for two hours; three is probably enough to take in everything you would want there. The last thing I did was hit up the gift shop and eat sweet bean cake from the milk stand before I rejoined the butterflies outside.
The nearby World Emporium in the Hill of Youth is a shorter experience. You'll be in and out in 30–45 minutes unless you decide to hang around and sing John Denver.
Hear the Whisper of the Heart in the Hill of Youth area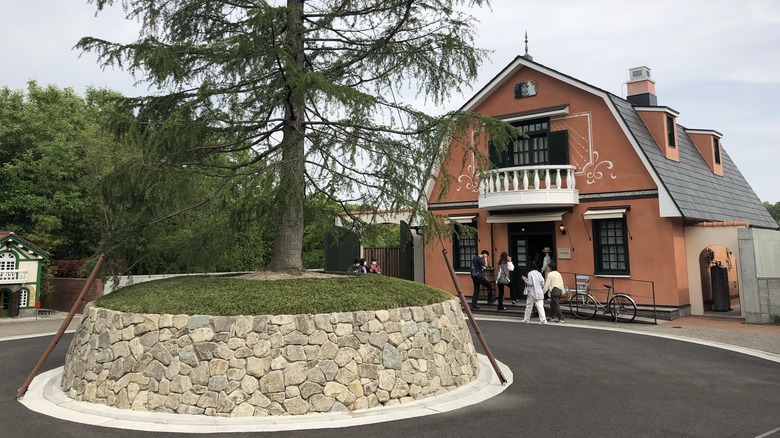 Joshua Meyer
As a coming-of-age drama that just happens to be animated, "Whisper of the Heart" is an interesting thematic choice for Ghibli Park's next inaugural area, Hill of Youth. It almost comes across as a flex, like: this is a slice-of-life story about artisanship. Take it or leave it.
Scripted by Hayao Miyazaki and directed by Yoshifumi Kondo, the film isn't as famous as "Princess Mononoke." The latter has its own area, Mononoke Village, under construction alongside the upcoming Valley of the Witches (where "Kiki's Delivery Service" will have a presence, too, in 2024).
Admission to Hill of Youth gains you entrance to the two-story World Emporium antique shop from "Whisper of the Heart." First, you'll pass through the movie's Rotary, based on a real roundabout in the aforementioned suburb of Tama, Tokyo.
The real roundabout is accessible from Seiseki-Sakuragaoka Station, where I lived for years and where you can still walk up the irohazaka, or winding road, the way the film's protagonist, Shizuku, does. The difference is that once you get up to the real roundabout, there's no World Emporium there.
Until now, the place has only lived in the imagination and outside the station in a mailbox modeled after it. Hill of Youth brings the shop to life along with a feline-sized Cat Bureau from the fantasy spin-off "The Cat Returns." Two anthropomorphic cats, the Baron (voiced by Cary Elwes on film) and Muta, can be seen lounging through the Bureau's windows.
Unlike Ghibli's Grand Warehouse, there are no photos allowed inside the World Emporium. However, as you cross the threshold, you'll see the same yellow antique pig that Shizuku passed when she followed a fat vagabond cat (the non-speaking version of Muta) into the shop.
Smell the violin wood in the World Emporium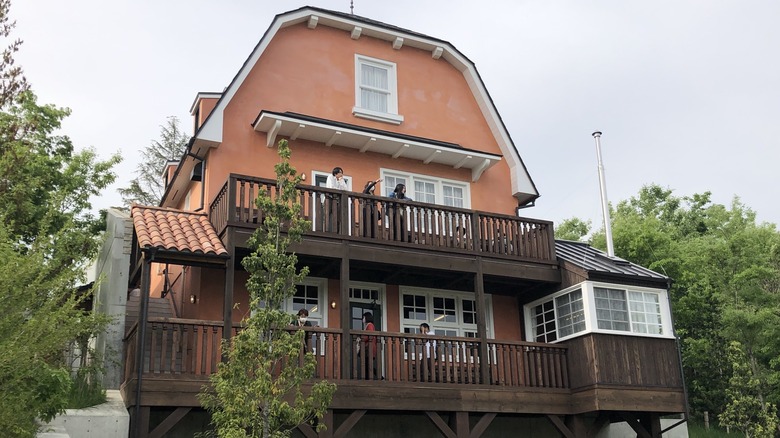 Joshua Meyer
The World Emporium's top floor has everything from the "Whisper of the Heart" movie: carousel horses, a wall of grandfather clocks, and a table with dry flowers and a Baron statue. Inside the door, you'll see a stand with the type of canes the Baron might hold. The kitchen fridge is stocked with fake food samples, and there's a place to purchase stamps and sit and write postcards, all Ghibli-themed.
I should have looked harder for the geode-type rock that the kindly old shop owner, Seiji's grandfather, shows Shizuku when he models how a green gem in the rough needs to be polished to achieve worth. Yet you could maybe apply those same words to the verdant Ghibli Park. Some guests may see room for improvement in its static, almost still-life movie scenes. It does, however, have its share of hidden gems, both literal and figurative.
As you descend the staircase to the World Emporium's lower floor, you can smell the wood of the workshop where Shizuku sang her own lyrics over Seiji's violin rendition of the John Denver song, "Take Me Home, Country Roads." There are wood chips on the floor and half-finished violins hanging over Seiji's worktable.
The only missed opportunity here might be the lack of background music. Instead of softly playing the Japanese version of "Country Roads," the workshop is a place of silent contemplation (though you could always discreetly hum or sing a capella.)
The back door opens to a balcony with an elevated view of Moricoro Park, while the exit for Hill of Youth takes visitors through the cave of glowing gems from Shizuku's dream sequence. If you just walk by outside, you'll be able to see people milling about on the balcony.
Meet My Neighbor Totoro in Dondoko Forest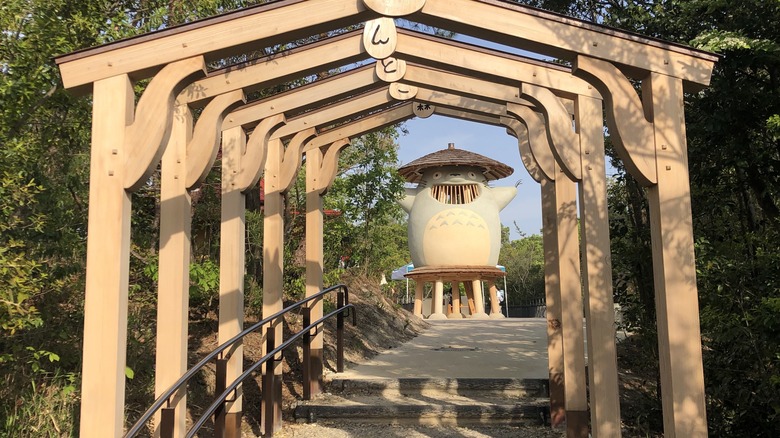 Joshua Meyer
After the cave, the final walkway out of Hill of Youth passes under a canopy of trees. It's a good way to prepare for the Dondoko Forest area, which is set back from Ghibli Park's center by about a 20-minute walk.
One part of it is free to access. It has the stone Dosojin statue and a red gate evocative of the one Chihiro and her parents encountered in "Spirited Away." I got lucky and hit it when the wisteria was blooming.
The gate, in this case, spirits you away to Totoro Land, where the signs along the "shortcut" boardwalk trail are all in Japanese. Come prepared with a translation app if you can't read the language and don't want to get lost among the spiderwebs and creeping caterpillars. Then again, maybe getting lost in nature like that is the point.
The boardwalk trail finally emerges near a bus stop and the true Dondoko Forest entrance, which is unmarked except for the distant sight of a yellow Ghibli tent. A pond with lily pads and the nontraditional theme park sound of frogs croaking marks the approach. "Every day is Earth Day."
To get up to Totoro — a piece of playground equipment that adults can admire but not climb — you can take a small cable car or hike the short path under more lush trees. I communed with Totoro for about five minutes before I went to visit his neighbors.
The last stop on my Ghibli Park tour was Satsuki and Mei's House, which predates the park and was the original impetus for it. Studio co-founder Toshio Suzuki told The New York Times that growing up in an old Japanese country house in Nagoya inspired him to build a recreation of Satsuki and Mei's place for the 2005 World Expo.
Find the human center in Satsuki and Mei's House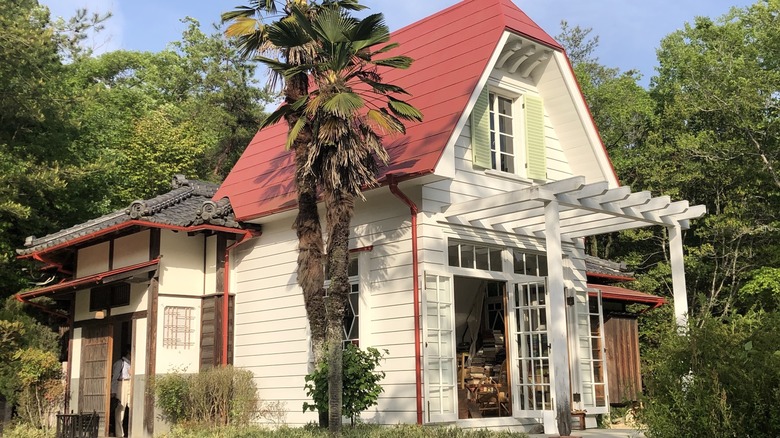 Joshua Meyer
For me, Satsuki and Mei's House conjured up memories of a school in a similar old house in neighboring Shizuoka Prefecture, where I once taught. It has the same rustic layout, with tatami rooms and a hall that runs along the sliding doors to the yard.
Inside, you can rifle through drawers and peek in futon closets or the book-cluttered office belonging to Satsuki and Mei's father, Tatsuo. The house has the same bathtub and kitchen as the movie, and outside, Tatsuo's bicycle is parked by a working water pump around back.
There was no sign of Totoro or any susuwatari (soot sprites) near the house, but that gels with park director Goro Miyazaki's aim of a building that eschews animatronics or character greetings for an authentic human recreation where it feels like Totoro could be lurking unseen.
Theme parks usually provide escapism. This one reminded me of the Florida Everglades and mundane scenes of life in Japan. I mean that in a good way?
At Ghibli Park, I felt connected to this earth and reconnected to some of my own lived experiences in Japan, which is a different undercurrent of emotion than the one you'd probably have getting lost in the fantasy world of most other theme parks.
As someone who, I confess, used to fall asleep watching Ghibli movies until I came to recognize them as the masterworks many of them are, it made me appreciate just how well Hayao Miyazaki has captured the spirit of everyday Japanese life as it intersects with the power of creativity.
Ghibli Park doesn't leave one's pulse racing, nor is that its intention. Instead, it gets a steady beat going that resonates like a sound from the earth.
Catch the bullet train to the Japanese countryside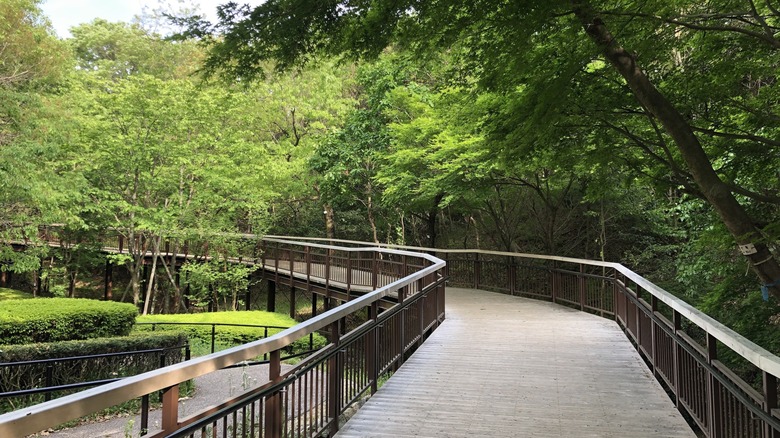 Joshua Meyer
In the final analysis, I wouldn't necessarily recommend flying halfway around the world just to visit the nature-friendly Ghibli Park, unless you're a super big Studio Ghibli fan. For me, the park made for an enjoyable day trip, but I imagine an international guest's expectation level might rise in direct proportion to how much time and money they spend on airfare, hotels, and other travel expenses. It's probably best combined with other sightseeing across Japan.
In the next few years, there will be no shortage of pop culture-inspired opportunities for that. Japan is currently gearing up for another World Expo in Osaka in 2025, when the country will be hosting the next "Star Wars" Celebration event as well. Similar to Aichi, Osaka has its own Expo '70 Commemorative Park, where Taro Okamoto's three-faced Tower of the Sun monument still stands, arms outstretched, conjuring up mental images of "Neon Genesis Evangelion" Angels (maybe because Hideaki Anno once ranked it among his five favorite buildings).
Osaka is also home to Universal Studios Japan, where we embarked on a holiday Mario Kart tour of Super Nintendo World last December before its California counterpart opened this past February. Since Ghibli Park is located between Osaka and Tokyo, you could continue on by bullet train to the world's only "Beauty and the Beast" ride at Tokyo Disneyland, too.
While those looking for Disney-fied roller coasters and the like might be underwhelmed by the lack of thrill rides at Ghibli Park, it nonetheless manages to be a success, theming-wise, in how it marries the environmentalist spirit of Hayao Miyazaki's films with their focus on suburban and countryside life in Japan. When you're up on the Hill of Youth or hiking through Dondoko Forest, it really does feel like stepping into a Ghibli movie.