Robert Downey Jr. May Get Vertigo In A Remake From Peaky Blinders Creator Steven Knight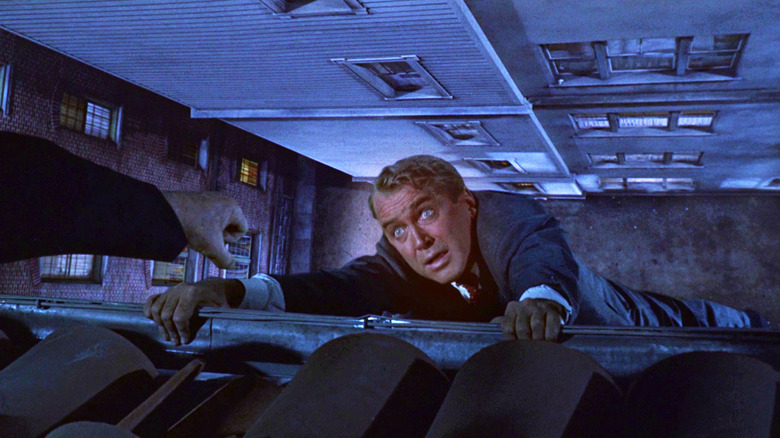 Paramount Pictures
Here's some news that just might make your head spin a little. For all those movie lovers who hold up the 1958 "Vertigo" as a stone-cold classic (and that should be most of you, for the record), you might not want to look down. Apparently, Paramount Pictures, the studio behind the original film, has started greasing the wheels for a remake. The Alfred Hitchcock movie, of course, starred the great James Stewart as a former cop forced into early retirement after a harrowing and deadly encounter on the job leaves him with a debilitating case of acrophobia — a fear of heights, for all the laypeople out there.
The report comes courtesy of Deadline, but that's really only the tip of the iceberg. Incredibly enough, this project will apparently bring on Steven Knight (of "Locke," "Peaky Blinders," and "Spencer" fame) to write the script. Oh, and the cherry on top? None other than Robert Downey Jr. is being looked at to fill the role originally played by Stewart. You got all that? It's a lot to take in, I know.
Should this come to fruition, Downey Jr.'s production company, titled Team Downey (co-founded by his wife, Susan Downey), will produce the film alongside Davis Entertainment, adding an important amount of financial muscle to get this production off the ground. As understandably skeptical as some may be about a remake of "Vertigo," it certainly seems like Paramount is serious about making this happen. Read on for all the details!
Robert Downey, Jr. and Steven Knight are set to board a Vertigo remake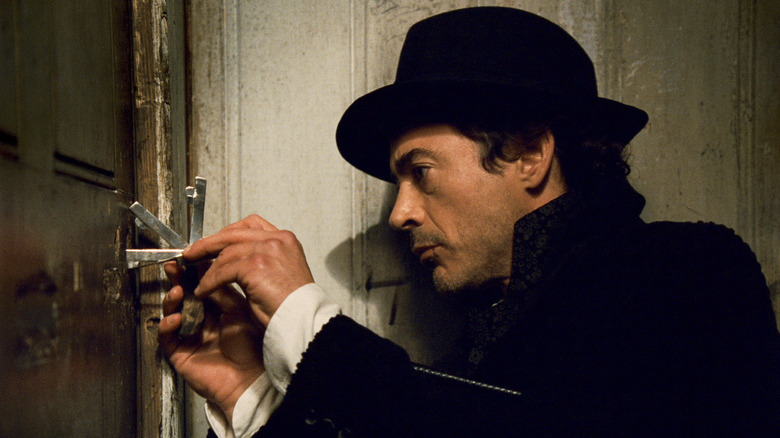 Warner Bros.
Brace yourselves, Hitchcock fans, because Paramount is sailing full speed ahead on a remake of "Vertigo." This would be far from the first time that an Alfred Hitchcock masterpiece was given the remake treatment, of course. (The director himself remade his own movie, after all, with "The Man Who Knew Too Much.") But this would probably count as the most high-profile attempt yet, given Robert Downey Jr.'s obvious star power and the choice to tap successful writer Steven Knight for scripting duties.
The 1958 original was written by Alec Coppel and Samuel A. Taylor, starring James Stewart and Kim Novak as the two main leads. The plot follows Stewart's ex-police detective John "Scottie" Ferguson, who's hired as a private investigator to follow his client's wife, Madeleine (Novak), to uncover the reasons behind some strange behavior. Still struggling to get over his fear of heights and recurring sense of vertigo, the case takes quite a toll on all involved, with several twists and turns taking Scottie to — where else — some rather lofty heights in his pursuit of the truth. The psychological thriller is commonly considered as one of Hitchcock's finest works, setting the bar somewhere near the upper stratosphere for any remake to attempt to live up to.
On the bright side, this would serve as a much-welcomed return to capital-A acting for Downey Jr., who largely hasn't been seen in much since wrapping up his run as Tony Stark in "Avengers: Endgame." His next appearance will be in Christopher Nolan's buzzy "Oppenheimer" biopic. As for Steven Knight, he's certainly in high demand, what with the news having only just broke that he'll be taking over writing for a new "Star Wars" movie.