Dungeons & Dragons: Honor Among Thieves Trailer: Critics Adore This Fantasy Adventure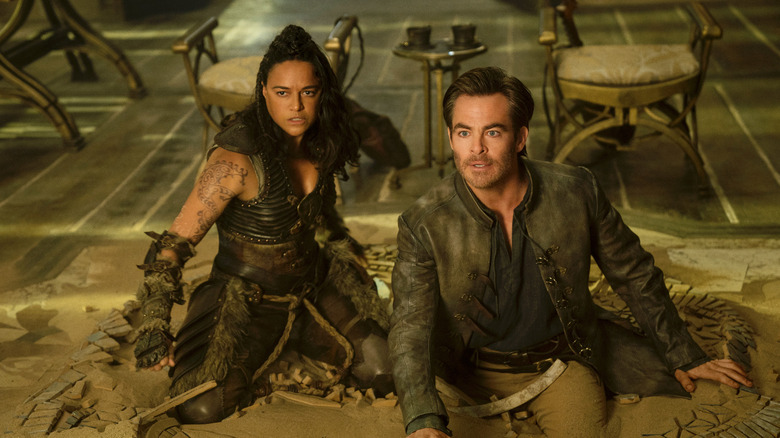 Paramount Pictures
Look, Paramount really wants you to check out "Dungeons & Dragons: Honor Among Thieves." The studio is banking hard on turning the pater familias of tabletop fantasy role-playing games into a lucrative multimedia property with this film, complete with potential sequels and multiple streaming series (both scripted and unscripted). Luckily for them, the early word of mouth is "Honor Among Thieves" is actually quite excellent. As in, so much so I might even be okay with it spawning an entire multiverse of "D&D" projects, as exhausted as I imagine we are all of every franchise being turned into a cinematic multiverse these days.
Taking advantage of the film's premiere at South by Southwest (SXSW) earlier this month, Paramount has dropped a final "Honor Among Thieves" trailer full of glowing critic pull quotes. That includes one from /Film's own Jacob Hall, heralding Chris Pine's performance as a "sarcastic-but-wounded" bard in the fantasy adventure as "perhaps the most Chris Pine a Chris Pine performance has been in a long time." We also get another taste of the movie's approach to comedy which, true to Pine's word, forgoes tired Marvel Cinematic Universe-style snark or meta jokes in favor of earnest, heartfelt silliness (the same kind that fuels the most enjoyable "D&D" campaigns in real life).
Watch the final Honor Among Thieves trailer
Chris Pine leads an accomplished cast of actors here as your prototypical "D&D" party. There's Michelle Rodriguez ("Fast & Furious") as the taciturn barbarian, Regé-Jean Page ("Bridgerton") as the suave, dashing paladin, Justice Smith ("Detective Pikachu") as the somewhat in-over-their-head sorcerer, and Sophia Lillis ("It") as a young, resourceful tiefling druid. Plus, you have Hugh Grant as a skeevy rogue and con artist, and is it truly a proper Hugh Grant character these days if they're not more than a little bit duplicitous?
Jonathan Goldstein and John Francis Daley, the directing duo behind the wonderfully riotous "Game Night," called the shots on "Dungeons & Dragons: Honor Among Thieves" from a script they're co-credited for writing with Michael Gilio ("Kwik Stop"), itself based on a story attributed to Gilio and Chris McKay ("The LEGO Batman Movie"). The film holds an 87 percent Fresh rating among critics on Rotten Tomatoes after 60 reviews (with an average score of 7.3/10), which just goes to show this trailer isn't lying about the movie's critical bona fides. We'll see if "Honor Among Thieves" rolls a Nat 20 with general audiences when it charges into theaters on March 31, 2023. 
Here's the film's official synopsis:
A charming thief and a band of unlikely adventurers undertake an epic heist to retrieve a lost relic, but things go dangerously awry when they run afoul of the wrong people. "Dungeons & Dragons: Honor Among Thieves" brings the rich world and playful spirit of the legendary roleplaying game to the big screen in a hilarious and action-packed adventure.