Malia Obama Wrote One Of Swarm's 'Wildest Episodes'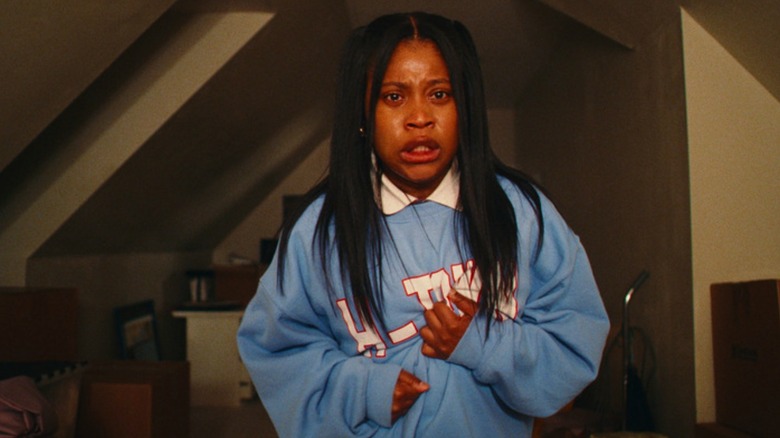 Prime Video
This post contains spoilers for Prime Video's series "Swarm."
"Swarm" is one of the wildest new shows on TV this year. The Prime Video series from Janine Nabers and Donald Glover follows an obsessive fan of the fictional pop star Ni'Jah (who is very clearly a stand-in for Beyoncé) who goes on a killing spree after losing her only friend. The shocking seven-episode show has plenty of talented people on board: "Judas and the Black Messiah" actress Dominique Fishback stars as the fan in question, Dre, while celebrities including Chloe Bailey, Billie Eilish, Paris Jackson, and more make appearances.
But the show also has some surprising talent behind the camera: Malia Obama, credited as Malia Ann, makes her TV writing debut with the show's fifth episode. The daughter of former President Barack Obama reportedly graduated from Harvard in 2021 after majoring in Visual and Environmental Studies, and ended up on the writing staff for "Swarm" not long after. It's also worth noting that she's studied up on the subject at hand, having been spotted alongside her mother, Michelle, and sister Sasha at several Beyoncé concerts over the years.
Nabers spoke about Ann's episode of the horror-tinged series to Entertainment Tonight, telling the outlet that the chapter entitled "Girl, Bye" is "probably one of the wildest episodes." The series co-creator and showrunner co-wrote the episode with Nabers based on a story by Nabers and Ibra Ake, and she says Ann contributed significantly to the episode. "Some of her pitches were wild as hell, and they were just so good and so funny," Nabers tells ET.
'I think it's going to surprise a lot of people'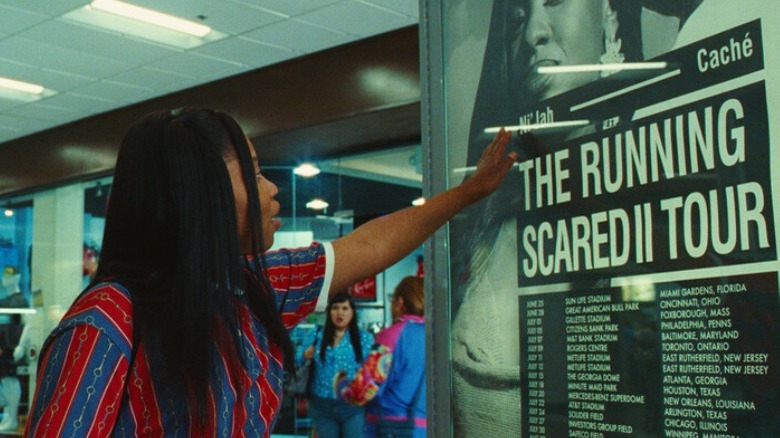 Prime Video
The episode in question comes just after what might be the show's most surprising installment, in which Dre ends up a part of a Bonnaroo-related cult led by a woman played by pop star Billie Eilish. In "Girl, Bye," Dre returns to the town where she was raised, and has a bone to pick with her former adoptive parents. She also has a memorable encounter with phone store employee who smartly calls her out for being sketchy, and reunites with a woman from her hometown whose life has drastically changed since their last meeting.
"Girl, Bye" is one of the more serious episodes of the series, light on murder but heavy on details that illuminate Dre's psychology. According to Nabers, Ann "brought a lot to the table" while co-writing the episode. "She's an incredible writer," the showrunner shared. "She's really, really dedicated to her craft." Every episode of "Swarm" thrives on a sense of unpredictability, and "Girl, Bye" is no exception. "I think it's going to surprise a lot of people," Nabers tells ET. "It's pretty dope. I'm really proud of it."
All seven episodes of "Swarm" dropped on Prime Video on Friday, so you can watch the former first daughter's writing debut now. While any future projects of Ann's haven't been announced yet, the cast of "Swarm" is set to have a great year on screen. Fishback will star in the highly-anticipated new "Transformers" movie, "Transformers: Rise of the Beasts." Bailey, meanwhile, is set to star in Numa Perrier's next film "Midas Touch," an adaptation of the Broadway musical "Girl From the North Country," and the Peacock original "Praise This."
"Swarm" season 1 is now on Prime Video.