Why Evil Dead Rise Went From HBO Max To A Full Theatrical Release [Exclusive]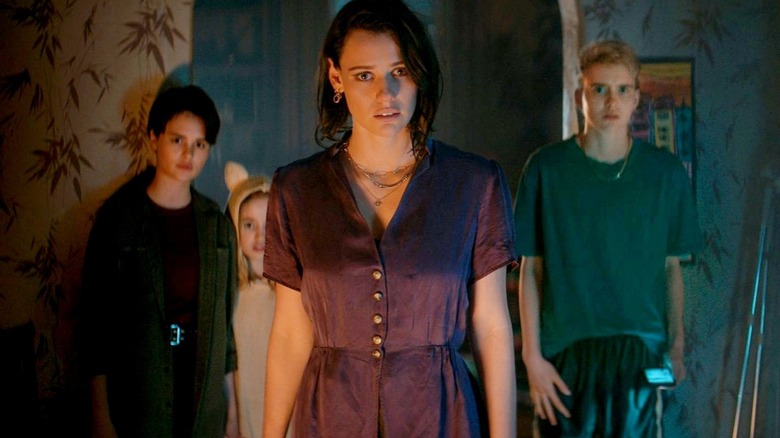 Warner Bros.
"Evil Dead Rise" made its big debut at SXSW this week, and was met with glowing, universal praise amongst critics, including our own Jacob Hall, who wrote that with "Rise," the "classic franchise roars back to bloody life." There's a lot to love about this latest installment, especially as it retains all the mean-spirited, nihilistic fun that the 2013 reboot brought while infusing the property with both a brand new city setting and a fresh set of new characters. It's been almost unanimously agreed by all who have seen it this week that this nasty, blood-soaked film from director Lee Cronin ("The Hole in the Ground") plays amazingly with a crowd and in a proper theatrical environment.
That's why we couldn't be more grateful that even though the film was first announced to be an HBO Max streaming exclusive, it was eventually reshuffled into the Warner Bros. theatrical release schedule. We truly do thank the exhibition gods for that one, because now horror fans can scream and cringe alongside one another as one big, haunted family.
This week, /Film's Ryan Scott spoke with "Evil Dead Rise" director Lee Cronin and asked about the film's transitional journey from another upcoming title in HBO Max's catalog to a full, mainstream, theatrical wide release. According to Cronin, there was actually quite a streak of good luck behind the scenes that enabled this to happen.
A change of plans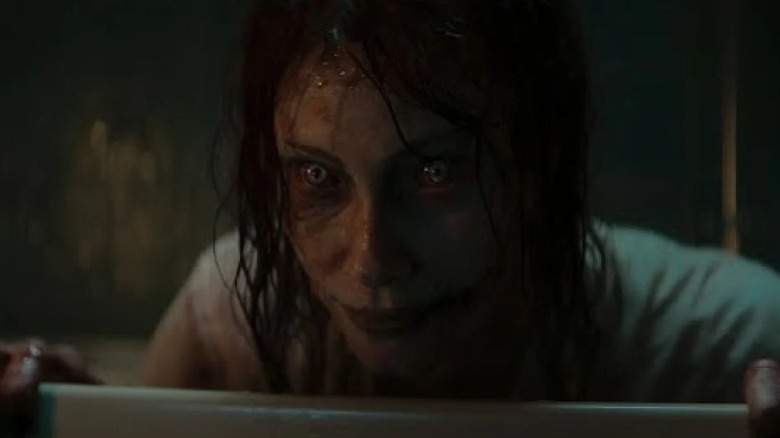 Warner Bros.
Part of why "Evil Dead Rise" begs for the theatrical experience is that it was always intended to be a theatrically released film, at least when it came to the pre-production stages. "There's a little bit more to the story than it seems," Cronin explained, continuing: 
"When I wrote the screenplay, all intention was that it was theatrical. No one was thinking any other way. But I wrote the screenplay at the start of Covid and the world was kind of closing and falling apart, and no one knew what was happening with theaters and the theatrical experience. Actually as we entered prep on the movie, we were still in the knowledge that it was going to be a theatrical release."
The conversation to switch the premiere to streaming on HBO Max wouldn't happen until much later, as Covid conditions took a turn for the worse. It's not the best news to receive as a filmmaker that your film's release format will be drastically different than initially planned, especially right before shooting. "But Covid got really bad at a point, and understandably, many studios were pivoting their approach to things," Cronin explained. "So, it was kind of a little bit of surprising news, quite close to actually shooting the film, that it was going to go to HBO Max. And it rattled me for a moment because that was not how I was designing this movie in my head."
It must have been tricky for a creative to learn right before production that a film intended for theaters would actually be getting a streaming release. Other directors may have had the impulse to scale down, rethink the initial vision, and make compromises. In Cronin's case, he kept chugging along with hope and support from people who believed in his film.
How test screenings boosted Evil Dead Rise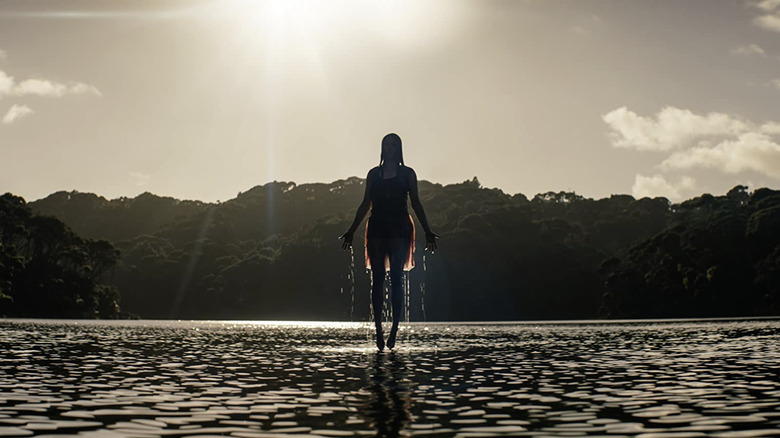 Warner Bros.
Cronin explained to /Film why the switch from theatrical to streaming didn't impact his vision for "Evil Dead Rise":
"To be fair, if I make a movie for a streaming platform, I'm still going to think on the biggest canvas possible anyway. But myself, and there was great support from the executives in New Line, Dave Neustadter and Richard Brener, Victoria Palmeri over there. They were just like, 'Put your head down and make your movie. Let us fight the good fight.' Then thankfully, with some of the changes with Warner Bros. then we had some fantastic test screenings as well that really was able to drive excitement into the studio, and they could see what they really had. And here we are. Thankfully, it's found its rightful place on the big screen."
It's production stories like these that remind us that a key part of preserving your work and advocating for your creative voice means knowing how to navigate the business side of the film industry. Though there were genuine concerns over the future of "Evil Dead Rise," Cronin cared about delivering a great, crowd-pleasing horror film first, which ultimately helped it become a success with test audiences and allowed Warner Bros. to see the value in the production.
The reactions I hear whenever the trailer plays in a theater (that cheese grater scene!) are a good sign that the mainstream audience will get a kick out of it too. We're a month away from experiencing "Evil Dead Rise" in all of its maggot-infested, bloody glory, and we're thankful for all those who took part in its unique distribution story.
"Evil Dead Rise" opens in theaters on April 21, 2023.