Robert Pattinson Thought His Batman Chances Were Blown Before His First Audition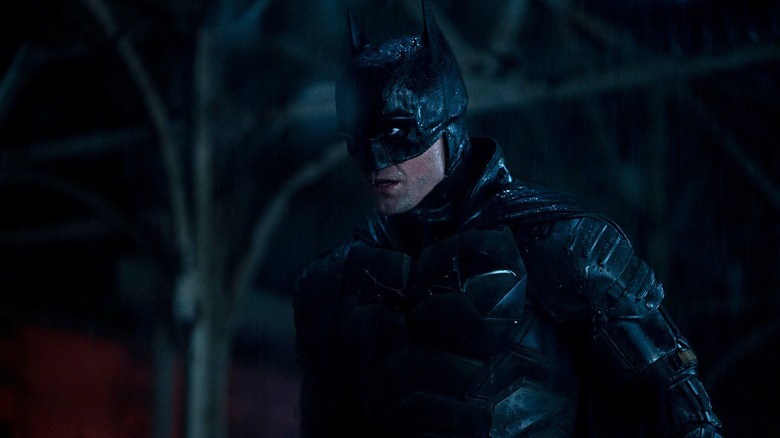 Warner Bros. Pictures
Robert Pattinson has been a huge star for decades, from popular YA novel adaptations like "Twilight" to critically acclaimed indies like "Good Time." The 2022 film "The Batman" weds a global franchise with a gritty, cinematic edge, which could also describe Pattinson's career trajectory. The actor might have seemed like a shoo-in for the role, but a major blunder almost cost him the gig entirely. Pattinson was attached to the project very early on but, as it turns out, the press decided to cast him before the director did.
Just days before the "Tenet" star was set to screen test for perhaps the biggest role of his lifetime, the papers announced that he already had the part.
"When that thing leaked, I was f***ing furious," Pattinson told Variety. "Everyone was so upset. Everyone was panicking from my team. I sort of thought that had blown up the whole thing." Ironically, the actor was feeling pretty good about his chances before the announcement, but his confidence took a massive hit after the leak.
"I kind of thought I had it," he admitted to BBC Radio 1. "I thought it was sort of in the bag, and everything changed very quickly after that." 
Pattinson was afraid that the news would hurt his chances, even though he wasn't responsible for it. "It wasn't me that leaked it," the actor insisted. "I literally didn't tell anyone." That's not to say it wasn't tempting, though. Pattinson says this was one of his most exciting roles to reveal to his loved ones, and who can blame him? "Normally, with other parts — even if you really care about them, it's very, very difficult to get other people excited," he explained. "This is one of the only parts where you're like, 'Guess who I am?'"
A press leak almost cost Pattinson the part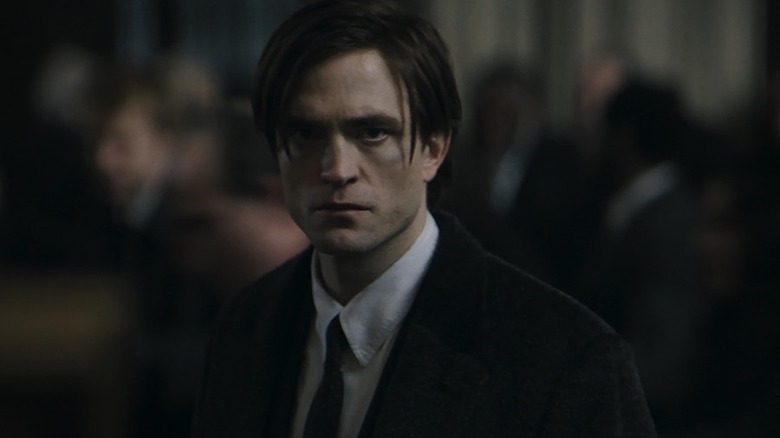 Warner Bros. Pictures
If a false press leak didn't hurt Pattinson's chances of landing the lead in "The Batman," the hit to his ego certainly did. The actor still had one last step to the audition process before he was good and truly cast. "There was a hairy couple of days," he admitted. "I hadn't even done the screen test, and I did the screen test under extreme duress."
To make matters worse, Pattinson was also stuck in a very restrictive costume. "I'd done the audition in, I think it was George Clooney's one, and it was incredibly difficult to move in, Pattinson recalled, per British GQ. "[Your head] is locked and you're boiling hot [...] If you have any lights on you, you're pouring sweat. And you're also doing an audition, so I'm kind of terrified anyway, and people are saying 'What can we do about this sweat?' And I'm thinking, 'If I don't stop sweating I'm not gonna get the part.'"
Despite the leak in the press — and Pattinson's leaky pores — the actor still managed to nail his audition and land one of Hollywood's most coveted roles. Within a few days of the screen test, Pattinson found out that he got the part. But, believe it or not, landing "The Batman" wasn't the only major moment in Pattinson's career that week.
"It was my first week on Chris Nolan's 'Tenet,'" he explained to BBC Radio 1. "I just had a premiere at Cannes that weekend that I was also terrified about, and I found out all in the course of like four days. And I thought I'd kind of lost the part before I even got it [...] It was definitely a slightly overwhelming moment, but unbelievable. I mean it felt extremely surreal."
Pattinson got the part because of a rumor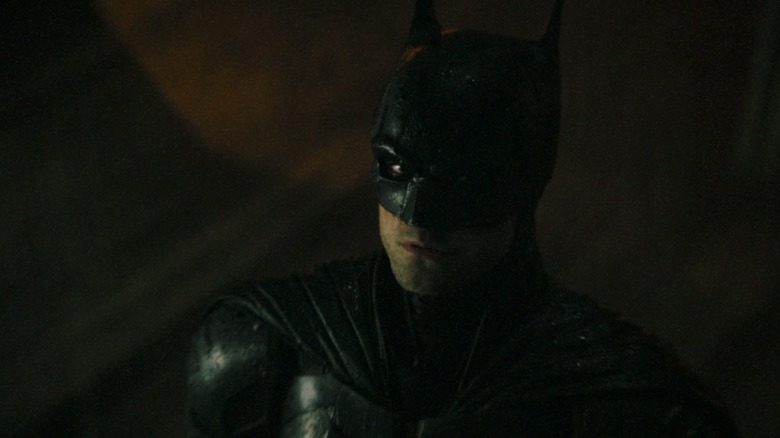 Warner Bros. Pictures
Pattinson thought he lost "The Batman" right before his screen test, still auditioned, then found out he got the part — all in just four days' time. And that's not to mention the release of his 2019 film "The Lighthouse," which helped audiences take Pattinson seriously as an actor, all while starring in Batman alum Christopher Nolan's latest work. Talk about an emotional rollercoaster!
But before he even landed the audition, Pattinson aggressively pursued his part in "The Batman." He actually first got the role through another person's rumored involvement — a rumor that turned out to be true.
"No one really knew what the status of it was in 2018," the actor recalled in an interview with Jimmy Kimmel Live. "And I met the producer, Dylan Clark, about some other stuff, and I saw on his IMDb that there was this kind of rumored Batman involvement. And it was just the last thing I said at the meeting was just, 'What's going on with "The Batman?"' And there was just a little flicker of recognition, and I kind of thought, huh, there's an opening there."
But Pattinson's pursuit didn't stop there. He says that he "kept pushing and pushing" until he landed a meeting with the writer-director Matt Reeves. The filmmaker loved Pattinson, the actor loved his unique take on the beloved character, and the rest was history. Reeves is "really excited to be doing [the sequel] with Rob, because I just think he's such a special person and actor," he told Collider.
That anonymous leak almost cost us Pattinson as "The Batman" but, thankfully, all's well that ends well. Whoever gabbed to the press and almost blew the whole thing — you're lucky you were right!