65 Let Adam Driver Tackle His Childhood Fear Of Quicksand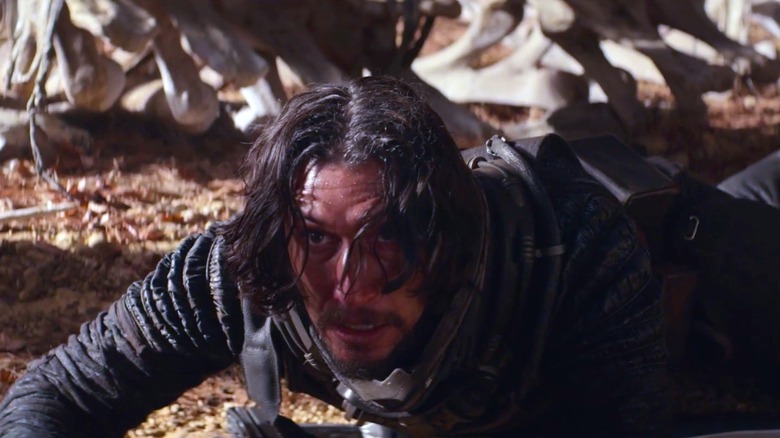 Sony Pictures
There are a lot of famous villains in pop culture, but one stands head and shoulders above the rest. Ironically, it's your head and shoulders that this villain wants to submerge. I'm talking about quicksand.
If you take a poll, it is likely that no one you know has ever been trapped in quicksand. Yet, the danger of quicksand is one of the most over-exaggerated tropes in film and television. Pop culture has created a lot of silly fears over the years. Acid rain, World War III, and artificial intelligence taking over the world to name a few. But one thing kids fear over all others: quicksand. It almost claimed the life of Daisy Duke in "The Dukes of Hazzard." The Hulk was no match for its steely grip in "The Incredible Hulk." And poor Sarah from "One Life to Live" spent several episodes trapped in it!
You've likely scrolled past the meme on social media that exclaims, "When I was a kid I thought that quicksand was going to be a much bigger problem!" Sign me up, I agree 100%. And I'm not alone. Adam Driver, whose character crash-lands on a prehistoric Earth in "65," also thought it would be more of a problem. But he actually found his new movie a cathartic experience, helping him tackle a childhood fear of quicksand.
'Everybody was trapped in quicksand'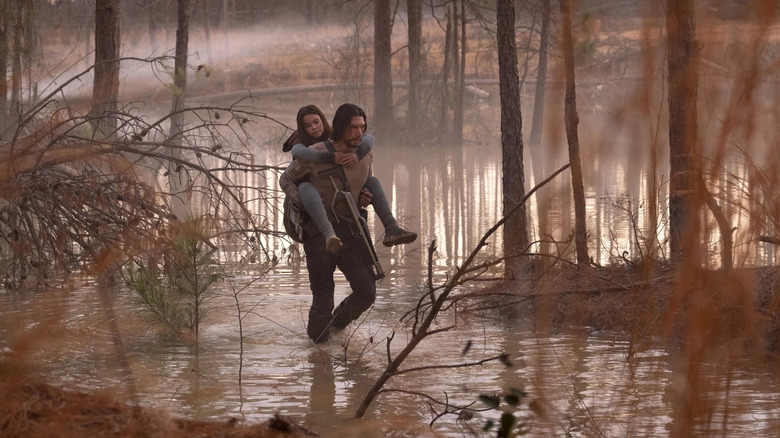 Sony Pictures
In the sci-fi adventure film "65," Adam Driver's space traveler Mills finds himself trapped on a mysterious planet that (spoiler, but not really) is actually Earth 65 million years ago. He's left to fend off deadly dinosaurs and other dangerous prehistoric creatures.
Since becoming a megastar after the success of the "Star Wars" sequels, Driver has worked hard to avoid being typecast in big-budget sci-fi films. He's appeared in an eclectic mix of movies like "Marriage Story" and "White Noise" to shed his villainous Kylo Ren persona. But he found "65" appealing as a rare blend of a big-budget feature that is naturally character-driven with just two characters.
"Lots of things, dinosaurs, laser guns, prehistoric earth," Driver told The Wrap of what attracted him to the blockbuster. "And that it was big and had a massive spectacle and it was a family movie, where everybody could go see it."
There was also a bonus to starring in the film: It allowed Driver to tackle a fear he developed from watching film and television as a kid. The actor confessed:
"I remember when I was a kid, everybody got trapped in quicksand. I'd watch reruns of 'Zorro' and I feel like Zorro was trapped in quicksand. Everybody was trapped in quicksand. It went through a phase. I had a terror as a kid because I'd seen so many people in quicksand. I was like, Oh f**k, is this a problem I'm going to have to face in life?"
It begs the question — did "65" help the actor conquer his fear of quicksand?
Driver enjoyed the experience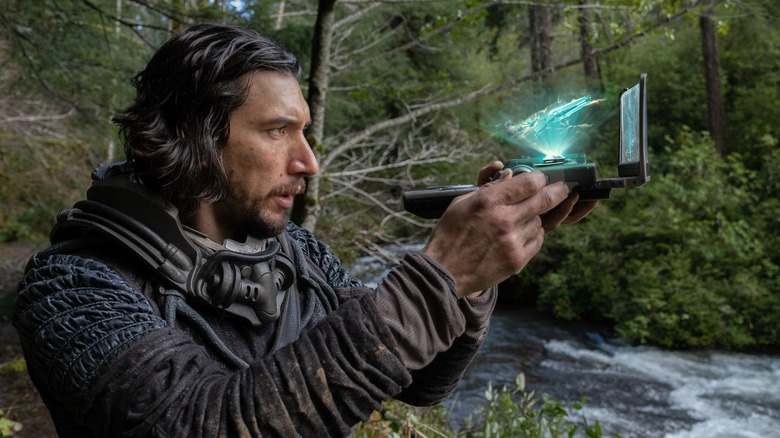 Sony Pictures
The quicksand that Adam Driver was trapped in during the filming of "65" was very different from the quicksand portrayed in the pop culture he grew up with. During an appearance on "Late Night with Seth Meyers," the actor described the experience. "They put like a bunch of cork particles, that's what they fill it with. But it's very nice, it's like, very heated," Driver revealed to Meyers. "Yea, it's the quicksand close-to-death spa treatment."
While Driver got over one fear, he might have developed a new one — CGI antagonists. Driver talked to Paste Magazine about the difficulties of acting alongside invisible enemies, explaining:
"When we're shooting it, there was a lot of trust, especially when you have a guy in a green thing with a tennis ball. They're like, 'Trust us, this is cool!' And I'm like, 'Really? Because it doesn't feel cool!' It feels humiliating in front of people and you're filming it."
Regardless of the excitement of dinosaurs, quicksand, and laser guns, "65" has found itself sinking at the box office. Despite a massive marketing campaign, a big star, and the pitch of being from the writers of "A Quiet Place," the film arrived with a whimper rather than a roar. It was partially due to an ill-timed release, facing stiff competition at the theater.
But "65" does accomplish one thing. It proves that quicksand isn't going anywhere in modern pop culture.