Bottoms Review: Rachel Sennott And Ayo Edebiri Bring A Chaotic Sapphic Fever Dream To Life [SXSW 2023]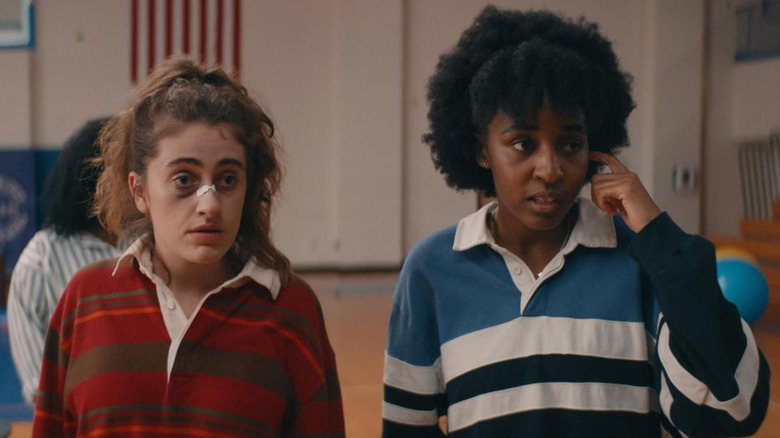 Orion Pictures
I don't want to generalize the experiences of fellow sapphic women, but when I was realizing my attraction to women in high school, my already overactive imagination became even worse. My rotating cast of crushes became the damsels in distress in my daydreams, needing someone like me to save them from whatever crushing predicament they found themselves in. Of course, these daydreams were completely unreasonable and not grounded in reality in the least bit, but they helped me start coming into myself. I'm sure at least a handful of women-loving-women can relate.
If "Bottoms" is any indication, writer-director Emma Seligman was one of these. After COVID-19 prevented her 2020 breakout "Shiva Baby" from premiering at the SXSW Film & TV Festival, she has returned in full force here. However, don't expect her to be a one-trick pony — while the heightened discomfort of "Shiva Baby" is still present in "Bottoms," it manifests itself into a bizarre, almost surreal coming-of-age comedy about sexuality, feminism, and fighting. A lot of fighting. While it is far more straightforward and even a tad predictable than what has already been hyped about through social media reactions, it is still one hell of a time that perfectly captures the weirdness of, well, queerness.
A colorful cast, to say the least
PJ (Rachel Sennott) and Josie (Ayo Edebiri) aren't the most popular girls in Rockbridge Falls, but that's not entirely because they are openly gay. It's because, in their words, they are gay, untalented, and ugly. This perpetual feeling of loneliness, as well as a very unfortunate car incident between them and star quarterback Jeff (Nicholas Galitzine), leads them to concoct a huge lie: they have started a "self-defense" fight club at their school for fellow female students based on their totally legit experiences in juvie. Despite the fact that they can't really pass as teenagers at all, Sennott and Edebiri, the latter in particular, certainly act like they do. Their performances encompass all the different emotions of dealing with queerness in your youth, from selfish desire to insecure puppy love.
Even if they are at the center of the film, "Bottoms" is as effective as it is because of its larger ensemble cast. Every actor is fully committed to the film's overarching joke, whether they are playing a self-righteous meathead or a secretly-nuanced cheerleader. While some performances just barely teeter the edge between purposefully absurd and annoying, every character is just charming enough to barely make this feel like an issue. Particular standouts include the aforementioned Galitzine, "Willow" actress Ruby Cruz as the club's unofficial secretary Hazel, and especially Marshawn Lynch as the easily-persuasive teacher Mr. G.
A secretly complex view of teenage queerness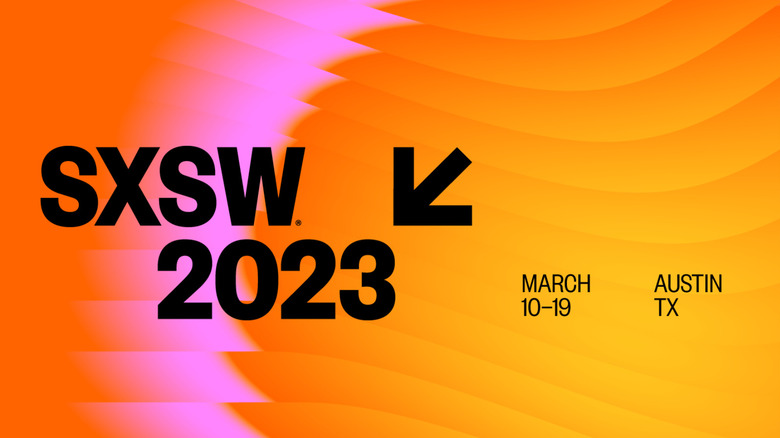 SXSW
All of the aforementioned performances are able to stand out due to the film's sharp and witty script, co-written by Seligman and Sennott. However, that script also has a double-edged sword. If there is anything that prevents "Bottoms" from being truly great, it's that it sometimes feels a lot more wild and unpredictable than it actually is. While there are certainly moments that feel unexpected, each story beat can be easily predicted once the film's set-up is established. It sometimes feels as if it were written to be cut up into individual pieces so people on Film Twitter can get viral tweets from it. What also doesn't help is that, despite its ultimate message of female and queer solidarity, the characters that can be considered butch are given much more of the plot's burdens than its femme characters – one scene involving a pep rally is bound to cause a stir for this reason.
At the same time, however, this doesn't actually sink "Bottoms" like it would for any other movie. In fact, it seems to further its own message about the complexities of growing up specifically sapphic. It is a messy and overwhelming experience, and when you aren't dealing with the fear of homophobic bigotry being hurled your way, you are likely going to make a ton of mistakes in your journey of self-acceptance. At least you can try to process it through the heightened daydreams, eclectic characters, and whip-smart jokes included, that "Bottoms" effectively brings to the screen.
/Film Rating: 7.5 out of 10