Digman! Trailer: Andy Samberg Is A Washed-Up Indiana Jones Type In Animated Comedy Show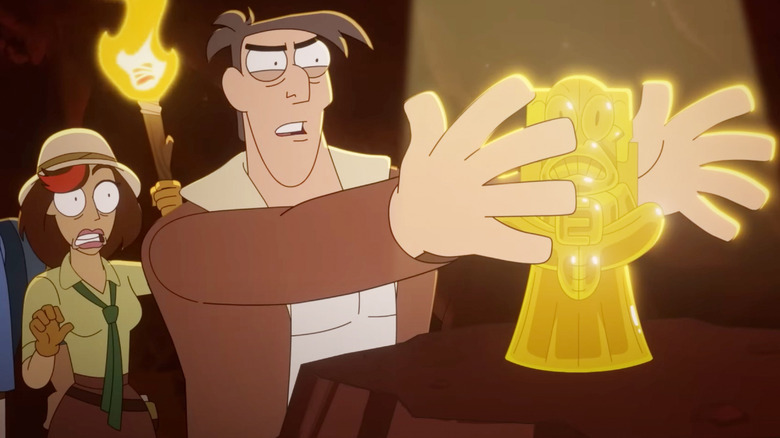 Comedy Central
Everyone's favorite globe-trotting, brown jacket-wearing, and ethically dubious archaeologist is returning to the spotlight. That's right: 12 years after being fired by the Smithsonian, Rip Digman is coming out of retirement and eager to prove he's still got what it takes to be a world-class "Archie." To quote the man, the myth, the legend himself in the newly-unveiled "Digman!" trailer, "The only dating I'm interested in ... is carbon dating."
"Digman!," which is set to drop on Comedy Central a few months before that so-called world-renowned professor of archeology, Dr. Henry Walton Jones, Jr., heads out for his final adventure in "Indiana Jones and the Dial of Destiny," is an adult animated comedy series created by Andy Samberg and Neil Campbell. The duo previously worked together on the Samberg-led "Brooklyn Nine-Nine" (where Campbell served as both a supervising producer and staff writer), and seem to have carried the beloved sitcom's irreverent, progressive vibe over to "Digman!" but with an added dose of mature humor and no-holds-barred language. 
Such is the gist of the "Digman!" trailer, which goes from Rip (voiced by Samberg) cheering when other people show up to lay claim to the same suspiciously familiar-looking golden idol he's already plundered — "We're off the hook and we'll never have to think about the questions they were raising or ponder the ethics of what we're doing ever again!" he crows — to being horrified when a flock of pigeons inexplicably refuse to fly away when he and allies run straight into them. Take a look for yourselves, below.
Watch the Digman! trailer
Joining Andy Samberg in the "Digman!" voice cast is a murderers' row of comedic character acting talent, including Samberg's "Brooklyn Nine-Nine" co-stars Joe Lo Truglio and the Amy to his Jake, Melissa Fumero, and fellow "Popstar: Never Stop Never Stopping" alum Tim Meadows (who also recently made a memorable appearance on an episode of "Poker Face"). 
Also onboard? Deep breath now: Clancy Brown ("SpongeBob SquarePants"), Andy Daly ("Review"), Cole Escola ("Difficult People"), Harvey Guillen ("Harley Quinn"), Kirby Howell-Baptiste ("Queenpins"), Marc Evan Jackson ("The Good Place"), Rachel Kaly ("High Maintenance"), Kerri Kenney ("Reno 9-1-1"), Lauren Lapkus ("Jurassic World"), Jane Lynch ("Party Down"), Mike Mitchell ("The Tomorrow War"), Kyle Mooney ("Saturday Night Live"), Claudia O'Doherty ("Killing It"), Lennon Parham ("Little Demon"), Maya Rudolph ("Bridesmaids"), Paul Rust ("Love"), Jason Schwartzman ("Bored to Death"), Carl Tart ("Grand Crew"), "Shaun of the Dead" and "Scott Pilgrim vs. the World" filmmaker Edgar Wright, and The Boy Who Lived himself, Daniel Radcliffe.
"Digman!" is produced by CBS Studios with Ali Bell and Samberg's The Lonely Island's Party Over Here production banner, with animation studio Titmouse, Inc. ("Beavis and Butt-Head," "Star Trek: Lower Decks," "The Legend of Vox Machina") executing producing. The show will premiere on March 22, 2023, at 10:30 PM ET/PT on Comedy Central.