Only The Good Survive Review: Genre-Bending Crime Saga Is A Breath Of Fresh Air [SXSW 2023]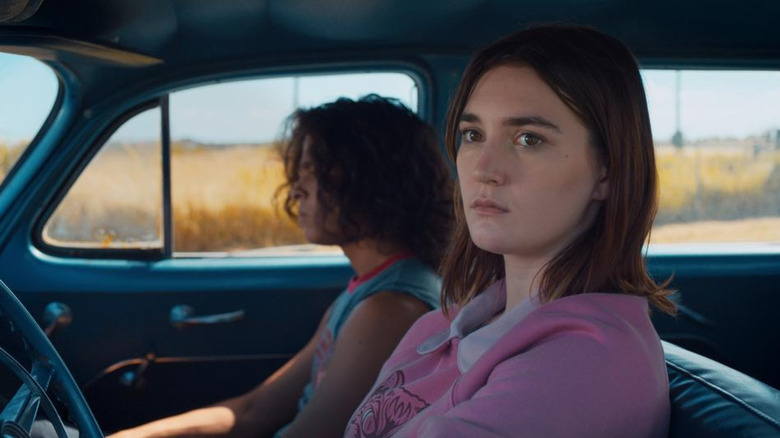 XYZ Films
One of the best things about film festivals is arguably the pre-festival programming website. They often don't have a lot of details about what you can expect from a certain movie, which can sometimes be used to a film's advantage. A movie's description can be the most thread-bare description possible, but that doesn't necessarily mean that's all it has to offer. What lies beyond those two or three sentences could be something that shouldn't be relegated to tiny theaters and hushed whispers.
When you look at the SXSW Film & TV Festival program, you'll find the description of "Only The Good Survive" only really describes part of the movie. Sure, it does center around a back-and-forth confrontation between a young drifter (Sidney Flanigan) and a lots-of-nonsense sheriff (Frederick Weller). That might not be the most original of ideas, but the way that writer-director Dutch Southern portrays this twisty crime caper certainly is. Filled with engaging visual quirks and a fully-committed cast, "Only The Good Survive" is the type of movie mainstream cinema needs more of nowadays.
A colorful cast of characters
It probably isn't a surprise that Flanigan, whose breakout turn in "Never Rarely Sometimes Always" earned her instant acclaim, is just as charismatic here. Her character of Brea requires a balancing act between ignorant naivety and cunning puppeteering, which is effectively achieved. She seems like the perfect innocent victim of an unbelievable crime, but the subtleties in her performance suggest a deeper understanding. Even better: this acting facade is never dropped throughout the film, making the intrigue of Brea's story that much stronger.
The same can be said for the rest of the cast. Darius Fraser and Will Ropp are particular stand-outs — think of their characters as Bonnie and Clyde, but with gay men in the puppy crush phase and some serious anger issues to work out. D'Pharoah Woon-A-Tai's Ry also proves the rising actor to be one of the most charismatic of his generation, even though some more emotional depth in his writing would have been appreciated.
In fact, one thing that really needed some adjustments in this film is the development of its villains. While the story mostly revolves around Brea's retelling of events, the villains really didn't feel as such — rather, they come across like abstract ideas than tangible threats, and no amount of describing what they're capable of changes this. That being said, this isn't exactly a new phenomenon among first-time feature writers, which the otherwise extremely capable and confident Southern is.
'It's not supposed to make sense'
What makes "Only The Good Survive" work is its distinctly dream-like and exaggerated aesthetic. This is consistently achieved through detailed sets, fantastic animated transitions by Dax Norman, and most importantly of all, Lucia Zavarcikova's cinematography that immediately hooks viewers. The mechanical yet freely-flowing way she operates the camera really makes you feel as if you're watching someone's untrustworthy recollection of events. These strong visuals really tie everything together, and without these distinct constructions, it's hard to imagine the film working at all.
Thankfully, Southern's directorial debut works a lot. While certainly indicative of its small-budget, first-time-film status, there is so much promise of both the cast and the writer-director that holds all of its unique elements together. "Only The Good Survive" might not be the most obvious festival hit just based on the loose description, but in a just one, it really deserves to be.
/Film rating: 7.5 out of 10