Paint Trailer: Owen Wilson Paints Some Cheerful Little Trees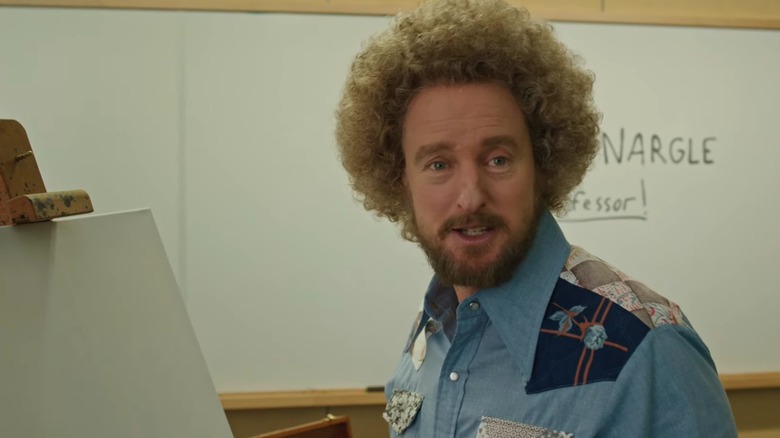 IFC Films
Get ready to paint some happy little trees with Bob R — er, Carl Nargle. The latest trailer for the upcoming Owen Wilson film "Paint" just dropped, and the new movie seems to be doing for kitschy PBS painter Bob Ross what Showtime's "Kidding" did for Mr. Rogers. Namely, "Paint" centers on the behind-the-scenes turmoil in the life of a beloved, sweet public figure who played a formative role in the lives of several generations. In this case, the subject is a Ross-like character named Carl, played by Wilson in a permed wig. Armed with a paintbrush and a dulcet voice, Carl takes the world by storm with his paint-a-long programming.
"Paint" comes via IFC Films and is the narrative feature directorial debut for Brit McAdams, who also wrote the film. "Casual" actor Michaela Watkins, "Barry" supporting player Stephen Root (who's having a big day for trailers), "The Goldbergs" star Wendi McLendon-Covey, and "The Flash" alum Ciara Renée all co-star in the film. Despite its sure-to-be-controversial depiction of a guy who seems a lot like a guy we all know and love, "Paint" doesn't seem to be reaching too far outside the box for its spin on the Bob Ross-like story. The movie has a low-stakes indie comedy feel to it, with its biggest conflict coming from a competing painting show and a bad newspaper profile.
Watch the Paint trailer
While "Paint" doesn't seem to be pulling completely from Bob Ross's life (it mentions Uber, for example, and Ross died in 1995), it still features some familiar and endearing visuals that will surely remind viewers of the man who hosted the low-key painting show "The Joy of Painting" for 31 seasons on PBS. Not only do the inter-title cards have the yellow, retro font associated with the artist's merch, but Owen Wilson also dons the jeans and light blue button-up shirt the late artist was known for.
The real Ross's legacy, especially when it comes to his image appearing posthumously, has been complicated by claims made in the 2021 Netflix documentary "Bob Ross: Happy Accidents, Betrayal & Greed." As The New Yorker points out, the documentary outlines allegations that Ross's business partners, Annette and Walt Kowalski, have profited off his image and name in ways that the late painter may not have wanted. The documentary also includes claims against the Kowalskis from Ross's son Steve, who lost a lawsuit against Bob Ross, Inc (which is run by the Kowalski family) in 2019.
It doesn't look like Carl Nargle will go through the same estate issues in "Paint," but the film still looks like a charmer. You can watch "Paint" in theaters beginning on April 7, 2023.