'Kidding' Trailer: Jim Carrey Is A Children's TV Host In Crisis For Michel Gondry And Showtime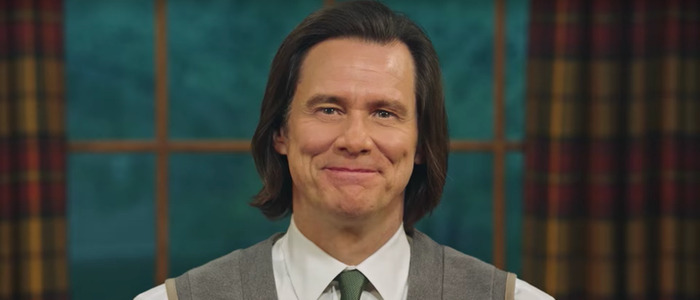 Jim Carrey reunites with Eternal Sunshine of the Spotless Mind director Michel Gondry for Kidding, a new Showtime series about a children's television host whose life begins to implode. Watch the Kidding trailer below.
Kidding Trailer
Well this trailer just came out of nowhere and knocked me on my ass. This looks great. Kidding stars Jim Carrey as Jeff, AKA Mr. Pickles, "an icon of children's television, a beacon of kindness and wisdom to America's impressionable young minds, who also anchors a multimillion-dollar branding empire. But when Jeff's family begins to implode, he finds no fairy tale or fable or puppet will guide him through the crisis, which advances faster than his means to cope. The result: a kind man in a cruel world faces a slow leak of sanity as hilarious as it is heartbreaking."
It could be just a case of a wonderfully edited trailer coupled with a killer song (The Breeders performing "Dawn: Making An Effort"), but this trailer makes Kidding look like something special. There's a touch of Death to Smoochy in here – beloved children's TV host hits the skids – but Gondry's approach to the material looks more thoughtful, and more tragic, than that aforementioned dark comedy.
Gondry's Eternal Sunshine of the Spotless Mind resulted in some of Carrey's best work, so the prospect of the two of them together again is very promising. I'm all for a Carrey comeback in general – he's been a bit sporadic in his work over the last few years. He had a dialogue-free part in the gonzo horror-comedy The Bad Batch, and he recently appeared in the not-so-great thriller Dark Crimes. Kidding looks like it will be a genuine showcase for his talents, and I'm here for it. This is also Carrey's first return to TV (on screen at least) in over two decades. Carrey also has a working relationship with Showtime, as he serves as an executive producer on the Showtime series I'm Dying Up Here.
"No one inhabits a character like Jim Carrey, and this role – which is like watching Humpty Dumpty after the fall – is going to leave television audiences wondering how they went so long without him," said Showtime president/CEO David Nevins when the project was announced. "With his Eternal Sunshine partner Michel Gondry on board to direct, we are on our way to a magnetic, volcanic and emotional viewing experience."
In addition to Carrey, Kidding features Catherine Keener, Frank Langella, and Judy Greer.
Kidding will debut Sunday, September 9, 2018.