Barry Season 4 Trailer: Bill Hader Embarks On The Final Season In April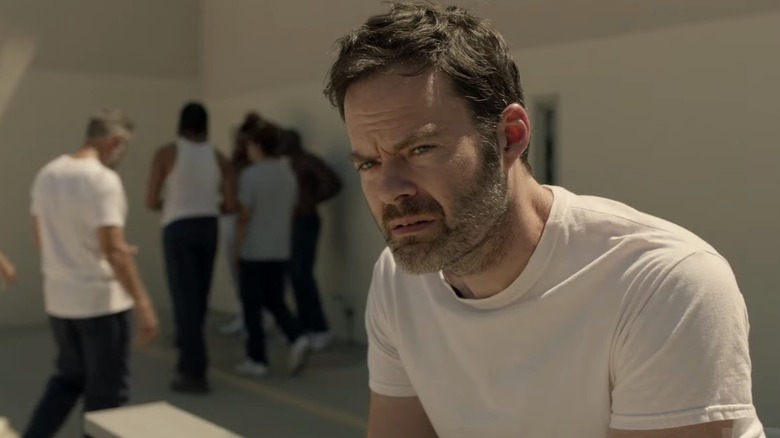 HBO
All good shows must come to an end, and "Barry" is no exception. The first teaser for the masterful HBO dark comedy is here, along with an interview via Variety confirming that season 4 will be the last for the titular hitman-slash-actor. "You realize, well, we could pad a lot of stuff, and just make story," series star and co-creator Bill Hader told the outlet, "But if we're going forward, it ends in Season 4."
The show's third season ended with several shocks, as Barry's on-and-off girlfriend Sally (Sarah Goldberg) flees to Missouri after killing a man who nearly choked her to death in the finale. Barry, meanwhile, is arrested in an ambush after his former acting teacher Gene (Henry Winkler) sets him up. It's unclear exactly how many crimes Barry's on the hook for — he's killed countless people in his capacity as a hitman and soldier, and a few on the side — but he's definitely in prison at the start of the final season.
Say bye to Barry with the season 4 trailer
In the 70-second promo, we see Barry imagine Sally in the prison yard, before being confronted by a very-real Fuches (Stephen Root), who is one of his fellow inmates. While we don't see how that face-off goes down, the end of the trailer shows a heavily beat-up Barry on a phone call telling someone, "So help me God, if I get out of here, I'm coming for you." Other highlights of the trailer include a phone call between Barry and Gene ("Hey Barry, I gotcha" his teacher says, and he sounds more sweet than vengeful), Sally stepping back onto a set, and a glimpse at a tense-looking Noho Hank (Anthony Carrigan) reunited with his lover, Cristobal (Michael Irby).
It somehow feels right that there isn't a joke in sight in this promo for a show that started as a comedy. "Barry" has remained darkly funny throughout its run, but it's also one of the most grippingly bleak shows on TV. The third season showed Barry, who some fans at first considered a sort of endearingly awkward antihero, making horrifying moves as he has a breakdown, alienates and re-traumatizes Sally, kidnaps Gene, and visits a strange sort of purgatory after nearly dying at the hands of a family member of one of his victims. Bill Hader may be known as a comedian, but he's also one of the best filmmakers working today in any genre.
"Barry" has already broken the TV mold in a dozen different ways, but the final season will apparently get even bolder. "What happens in Season 4 is structurally radical in some ways, but it made sense for what I think the characters needed to go through," Hader told Variety. That sounds ominous and unmissable. 
"Barry" returns to HBO and HBO Max on April 16, 2023.