Megan Thee Stallion And Cardi B Have Asked About Making A B.A.P.S. Remake [Exclusive]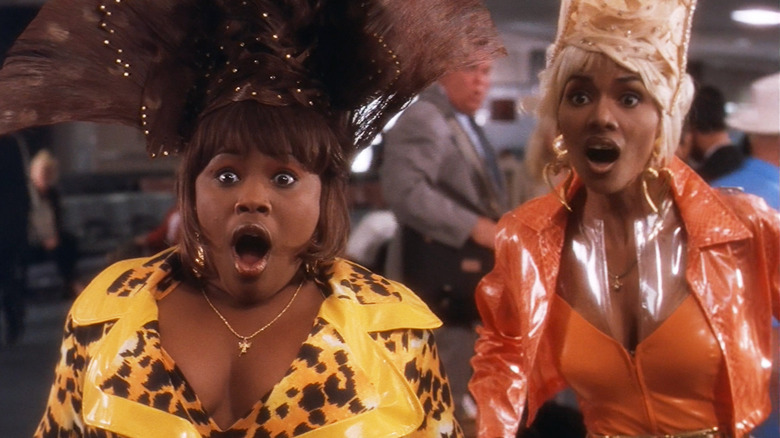 New Line Cinema
The girls that get it, get it. And by "it," I do mean "B.A.P.S.," the late '90s girl-power romp starring Halle Berry and Natalie Desselle-Reid. The film follows the duo as two homegirls whose efforts to swindle a millionaire inadvertently turn them into Black American Princesses (hence the title). It's a campy, caring chick flick with ridiculous gags and a few endearing friendships — but after 25 years, it's still one of the most misunderstood films of the '90s.
One hesitates to label "B.A.P.S." a cult classic. It was ruthlessly panned upon its release in 1997, and though it's cherished and championed by Black female audiences everywhere, the film is never mentioned with the same ironic awe as the other, equally campy films of the era. Think "Clueless," "Dick," or "Romy and Michele's High School Reunion" — all enjoy a special place in the cult hall of fame, while "B.A.P.S." is scarcely mentioned. But "B.A.P.S." has left an indelible mark all the same. Its costumes (designed by Oscar winner Ruth E. Carter) have been recreated time and again by fans and celebrities alike, and its evocative hair and makeup have defined the aesthetics of artists like Megan Thee Stallion and Cardi B, among others.
Neither musician has been shy about their love for "B.A.P.S.": when their first collaboration, "WAP," dropped in 2020, the accompanying visuals were peppered with hints and nods to the 1997 film. According to "B.A.P.S." director Robert Townsend, Megan Thee Stallion and Cardi B have even expressed interest in starring in a remake.
Does B.A.P.S. need a remake?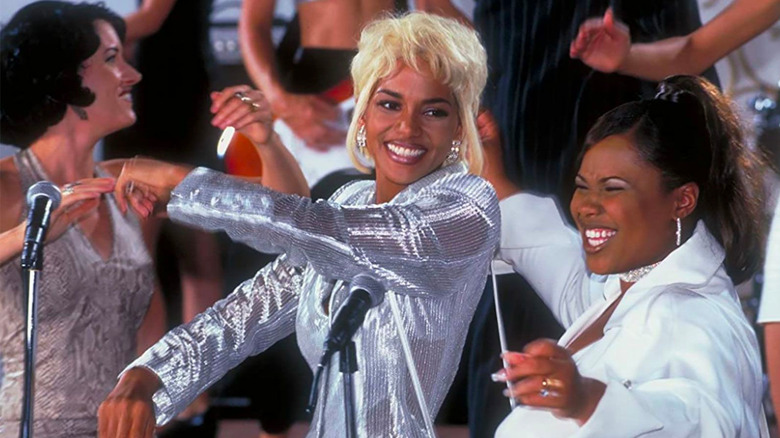 New Line Cinema
I recently spoke with Robert Townsend about the Criterion release of his directorial debut, "Hollywood Shuffle." As an unspoken fan of "B.A.P.S." though, I had to ask the filmmaker about the latter's chances of getting the Criterion treatment as well. Townsend is definitely open to the idea — and even more impressed by the enduring power of the film. "It's so funny because people want a sequel to that," Townsend revealed. But with the recent passing of Natalie Desselle-Reid, who died in 2020 after dealing with colon cancer, returning to the world of "B.A.P.S." doesn't hold much interest to the director.
That hasn't stopped a few big names from hatching ideas about a remake: apparently "everybody from Megan Thee Stallion to Cardi B" has asked Townsend for his blessing. Though he didn't reveal whether a reboot is in the works, Townsend seems content with the story as is, and a lot of fans — this writer included — tend to agree. As much as "B.A.P.S." deserves a second chance, a reboot may not be the solution. Not unlike "Hollywood Shuffle," "B.A.P.S." still majorly holds up today. Even Townsend stands by the humor and heart that Halle Berry, Desselle, and screenwriter Troy Beyer brought to the film. If anything, "B.A.P.S." should be revisited on its own merits, not through the lens of an updated story. I'm not saying it needs a Criterion Collection rerelease to make that happen ... but it can't exactly hurt, can it?