Netflix's All Quiet On The Western Front Is Getting A Blu-Ray Release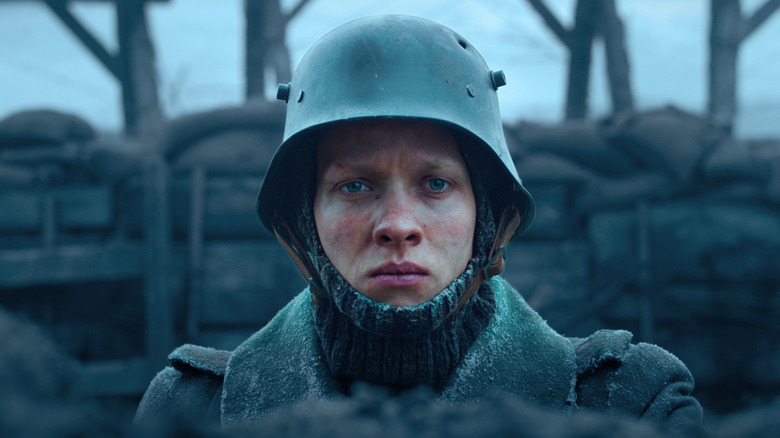 Netflix
Edward Berger's 2022 adaptation of Erich Maria Remarque's 1929 novel "All Quiet on the Western Front" is among the greatest anti-war films of all time, with an inventive and poignant score, truly beautiful cinematography, and a uniquely German perspective on a (German) story that's already been adapted twice for U.S. audiences. The movie has been praised by critics and filmgoers alike (you can read our review here!) for its portrayal of one young man's experiences during the final days of World War I, and has been nominated for nine Oscars at the 2023 Academy Awards. Among those awards are nominations for both Best International Feature Film and Best Picture, which is a pretty massive deal for a German-language film that quietly debuted on Netflix.
It's rather rare for Netflix to put any of their projects out on physical media, but thankfully they're going to release a limited edition 4K Ultra HD-Blu-ray and Blu-ray set for "All Quiet on the Western Front," available to buy on March 28, 2023, everywhere physical media is sold. The limited edition release will feature a "mediabook" style case with a 24-page-booklet that includes an interview with the director and an interview with historian and professor Daniel Schönpflug. For fans of war cinema, Oscar nominees, and just good films in general, this is a must-have.
Bring home the modern masterpiece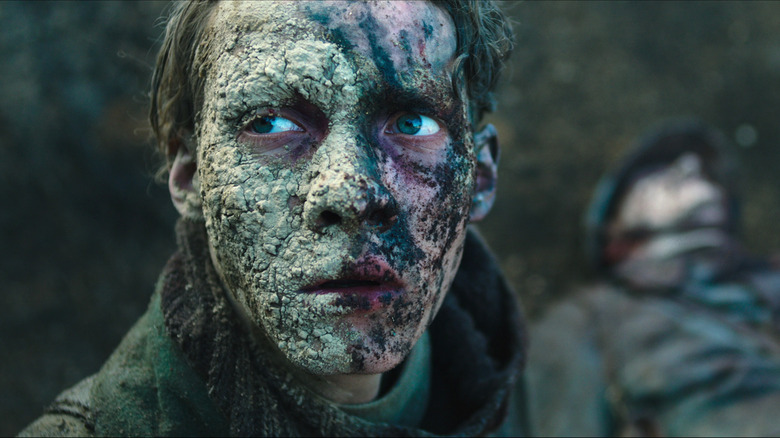 Netflix
If "All Quiet on the Western Front" manages to take Best Picture, it will be only the second non-English language film to do so (following 2019's "Parasite"). The film has already won a staggering 7 BAFTA awards, so don't be too shocked if this haunting and harrowing film takes home at least a few golden statues. The home video release will have a standard Blu-ray along with a 4K UHD with the original German audio in Dolby Atmos (that score is going to sound incredible) and 4K Dolby Vision image. This is one movie where sound and picture quality really matter, so that 4K is going to make a difference. 
What is "All Quiet on the Western Front," anyway? It's the fictional story of a young German soldier, 17-year-old Paul Bäumer (Felix Kammerer), who lies about his age and signs up to fight on the Western Front in the spring of 1917. Before long, however, he discovers that war is not anything to be excited about or proud of, and Paul's life becomes a harrowing struggle for survival. In an interview with /Film, Edward Berger explained that he felt it was important to share the story from a German perspective:
"There's nothing honorable or to be proud about in terms of that part of German history. So, you can just feel shame and guilt and terror and a sense of responsibility towards that history. And I feel it. It's in my DNA, and that made the film."
No matter how things pan out at the Academy Awards, "All Quiet on the Western Front" is an incredible piece of filmmaking that deserves a place on your shelf. Once again, the limited edition Blu-ray set will be available in North America on March 28, 2023.