One Of Tim Baltz's Favorite Righteous Gemstones Moments Was All About A Romper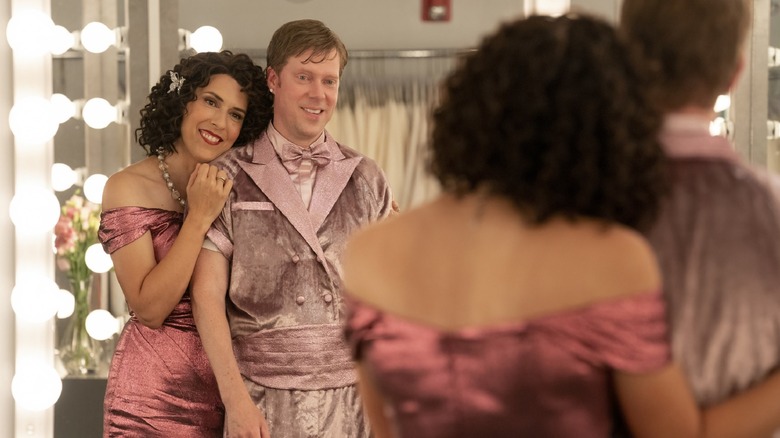 HBO
All the characters in the HBO comedy series "The Righteous Gemstones" are subject to each other's insults, but no one gets quite as much flack as Benjamin Jason "BJ" Barnes (Tim Baltz). As Judy's subservient husband, he is at the bottom of the Gemstone ladder. But in one key moment in season 2, BJ gets his shine with a major fashion statement — a pink satin men's romper.
BJ gets baptized into the Gemstone family in episode 4 of season 2. While he is normally limited to the role of Judy's sidekick, he finally has his own moment in the sun. Rather than shy away from the attention, he leans into it with a flashy costume. But Baltz wasn't feeling as confident as BJ about the bold new outfit.
"I definitely Googled romper, and I was like, 'What? I'm really gonna be in this thing? My fiancé has rompers. I'm gonna be in one? Oh, okay. That's cool,'" the actor recalled in an interview with Collider. Luckily, Baltz had time to get used to the costume before filming. "I probably had to have four fittings because it's not easy to custom fit a romper. It's many different steps. I was pretty comfortable in it by the time we actually filmed, which I think was important for BJ's confidence in that scene."
It must've helped to boost Baltz's ego that the outfit was a huge hit on set. "Every time I walked past people for the first time they were in shock," the actor told LA Confidential. "The extras were going wild for it, too, staring at my body, admiring the craftsmanship of my special outfit."
BJ's outfit showed off a new side of his character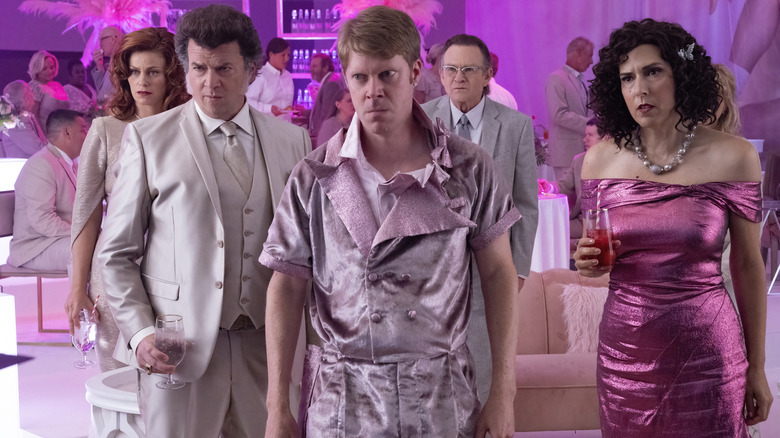 HBO
Eventually, the romper became the biggest highlight of BJ's baptism for Baltz. "My favorite part [of the episode] had to be the romper with a cumberbund," he said to LA Confidential. In fact, the actor ended up loving the romper so much he wanted to see it again — on "Righteous Gemstone" fans.
"Sarah Trost, our brilliant head of the wardrobe department, had seven to eight extra rompers made for when I had to tear it off in the dressing room scene," he added. "I secretly hope they still have them and they auction them off or something because people have been direct messaging me to say that they're going to dress up like BJ for Halloween this year. Who knows, maybe they can get the extras from production."
But Baltz didn't just adore the romper — he loved the entire ensemble. "[S]trutting around in that thing, especially with the shoes, was wow," he confessed to Collider. "You don't get to see the shoes much, but there's one wide shot in the dressing room scene. They pull back and, all of a sudden, halfway through that scene, it cuts to a wide and you see BJ's shoes."
It might seem strange at first glance that a character as submissive as BJ would choose such a loud and unconventional outfit, but he's rebelled a little more each season. His earring is a hint at his rebellious and theatrical side. He might not protest too much against the Gemstones, but as it turns out, being a part of the Gemstones was a bit rebellious to begin with.
A tragic character gets a chance to shine — sort of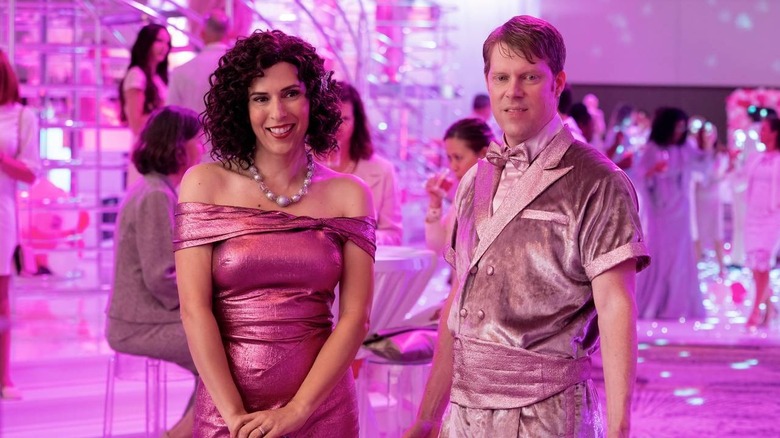 HBO
Season 2 episode 4 of "The Righteous Gemstones" reveals that BJ is the black sheep of his atheist family. His family can't quite accept his newfound Christianity, mocks his outfit, and BJ is faced with ridicule and shame — even on his proudest day. He doesn't earn any pride from his father-in-law either. An accident at the cake-cutting earns both BJ and Papa Gemstone some public humiliation instead. 
"When people yearn for the spotlight and the spotlight finally hits them, you can't help but have a flash of insecurity and a flash of self-doubt," Baltz explained to Collider, describing his own character's emotional journey in season 2.
"When the lights get brighter, you second guess yourself a little bit, and that's totally natural. They nailed that in writing this arc for BJ this season. He desperately wants to be accepted by the family, but he was not prepared for what that meant. He gets into that situation, and he thinks he's gonna get acceptance, and when he doesn't, anyone would be knocked back a little bit, which was very fun to play."
Baltz's character is a bit of a tragic figure, so it's beautiful to see him have a moment of confidence. The romper is also one of the funniest fashion choices ever made, and it absolutely warms the soul to look at Baltz beaming inside of it. I feel just like Judy does when he pulls back his dressing room curtain and reveals his outfit for the first time.
"Oh, my God. Look at you, BJ," she gasps. "All brand new."