Yellowjackets Season 2 Is Focusing In On 'Female Rage'
Showtime
This post contains spoilers for season 1 of "Yellowjackets."
There are countless tropes to describe the ways that women have been objectified, devalued, and underappreciated on screen, inspiring an overcorrection with the development of what we call the "strong, female character." Suddenly, as a means to even the scales of the way female characters have been historically sidelined in favor of male protagonists in film and television, there was an explosion of women on screen that fit under this archetype and gave women around the world heroes of their own. Unfortunately, the development of the "strong female character" created a paradox of its own, as it renders women into a different type of stock character and rejects the complex personalities of actual women. I am a staunch defender of women's rights, but I'm an even more vocal defender of women's wrongs, and no show on television has been better about exploring those wrongs than Showtime's hit series, "Yellowjackets."
The first season of "Yellowjackets" introduced the world to two different realms of messy, complex, and fascinating women. The first is the 1996 state champion Yellowjackets high school women's soccer team, whose plane crashed in the Canadian wilderness for 19 months. The second is the group of survivors 25 years later enduring as adults. The series is a transfixing study of the way female hierarchies develop in the face of mortality, as well as a deeply empathetic exploration of the way severe trauma irreparably changes a person.
Oh, and there's the whole "they might have been teenage cannibals" angle too. As season 2 prepares to buzz its way onto our TV screens, the creative team behind the show has been teasing what fans can expect. Lucky for us, "Yellowjackets" is ready to explore female rage.
Season 2 is getting darker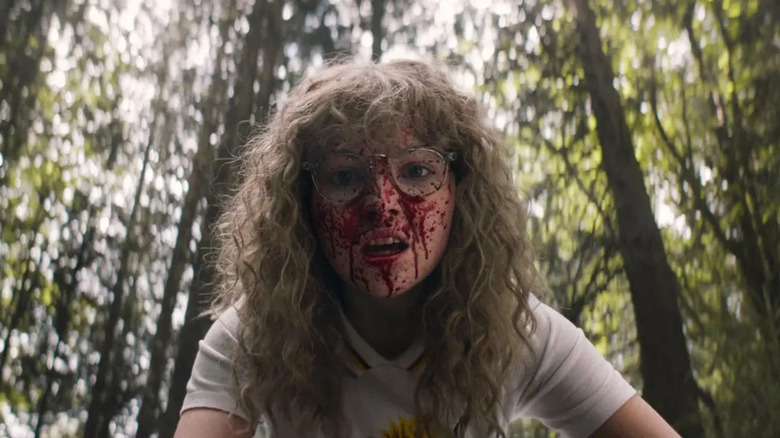 Showtime
During an exclusive interview with Empire Magazine, "Yellowjackets" executive producer Jonathan Lisco said, "Now we're really exploring female rage." Season 1 introduced the world to the devastating, mysterious, and unfathomable circumstances that shaped the women of team Yellowjackets, and season 2 looks to finally let them fully express their true, unfiltered feelings about what happened. "In the past, it's about the falling away of social constructs, even more than last season," said Lisco. "In the present, I think each of these women is being forced to reckon with who they really are, which they've been able to deny most of their adult lives."
Last season was filled with horrific moments of trauma beyond the arena of eating the flesh of teammates, like Laura Lee's plane exploding before their eyes, Coach Ben losing a leg, the inciting plane crash, Lottie starting a cult, Nat's father's death, the preventable death of Jackie, Shauna's attempt at a DIY-abortion, Van getting her face mauled by a wolf, Taissa's late-night reigns of terror, the murder of Travis, Misty holding a reporter hostage, and all of the survivors dismembering and disposing of Shauna's secret boyfriend. It's about time they finally acknowledge how deeply screwed up experiencing all of that has been.
But as is the case with "Yellowjackets," there will also be plenty of room for levity. Lisco said the addition of Lauren Ambrose as Adult Van will keep things from feeling too heavy. "Van was always a character through which we could run a lot of humor," Lisco said. "She hasn't changed in that regard." Bring on the rage and the one-liners from Van.
"Yellowjackets" season 2 returns to Showtime starting March 26, 2023. Buzz buzz!