Guardians Of The Galaxy Vol. 3 Is Finally Moving Its Soundtrack Past The '70s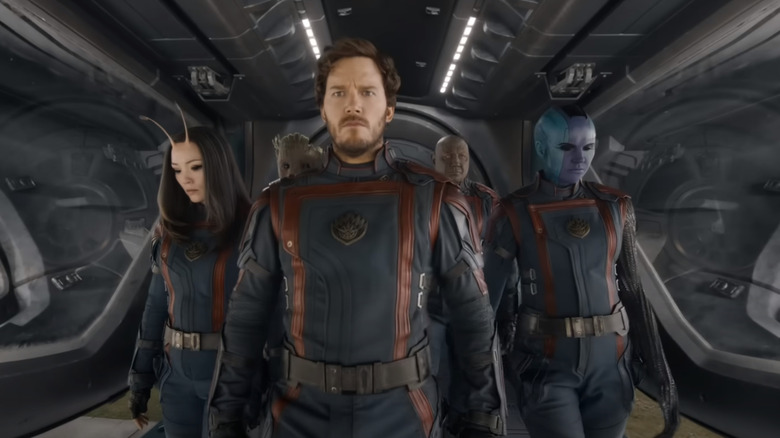 Marvel Studios
There are a lot of things to love about James Gunn's directorial style, but one of my personal favorites is his ability to create brilliant soundtracks that combine big hits with deep cuts to create the perfect playlist. Whether he's treating us all to the joys of glam rock and hair metal on "Peacemaker" or taking us back to the 1970s in the first two "Guardians of the Galaxy" films, Gunn can really put together some serious jams. The rules have changed a bit for "Guardians of the Galaxy Vol. 3," however, because the mixtapes from the first two volumes have been replaced by Peter Quill's (Chris Pratt) shiny new(ish) Zune. He got the MP3 player at the end of the second film, which means that he can now put all kinds of music on his playlist. 
In an interview with Entertainment Weekly, Gunn revealed a bit more about putting together the playlist for "Vol. 3," which is set to premiere in theaters on May 5, 2023. The writer and director has been ridiculously busy between his work getting "Guardians" into theaters and developing a whole new cinematic universe plan for DC comics, but it sounds like he had the time to put together the perfect send off of a soundtrack — this time with songs from more than just one era!
The Zune giveth the tunes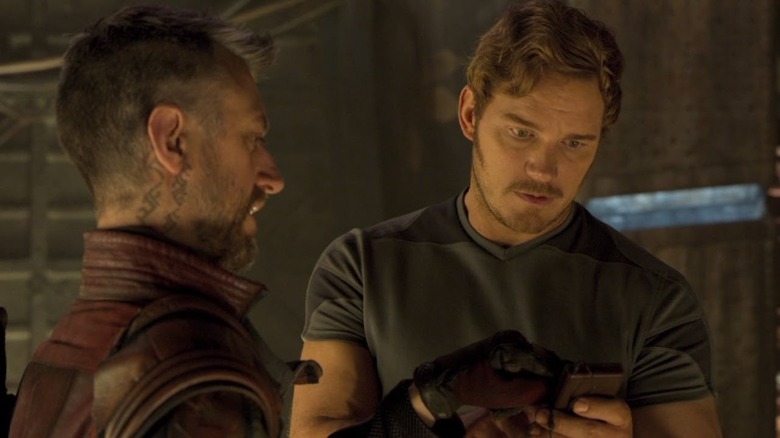 Marvel Studios
There's a great deleted scene from "Guardians of the Galaxy Vol 2." that shows Peter learning how to use the Zune from Kraglin (Sean Gunn), which means that he can now add songs from just about any era to the device. What kinds of music will Peter end up being drawn to? Given his 1970s classic pop and rock upbringing and Gunn's love of rock in general, I'm guessing we'll hear some big, powerful rock 'n' roll and some punky pop hits. Gunn revealed to Entertainment Weekly that the shoot was a challenge, but he relished taking the time to put the soundtrack together:
"I worked twice as hard on this soundtrack as I did on both the first two soundtracks combined. [...] Once I started doing the first 'Guardians' movie, I felt drawn to it. I felt called to it, if that makes any sense. So I feel very good [about Vol. 3] because I feel like I did everything that I possibly could to make this trilogy as good as it can possibly be. And I feel incredibly blessed and fortunate that I had all these people around me making it. It's the biggest blessing of my life."
Moving outside of 1970s pop means that Gunn will be able to explore the music universe more boldly than ever before within the scope of "Guardians," which could be pretty amazing. "The Suicide Squad" soundtrack is one of my favorites of the past decade, and if we can get Mantis and Drax jamming to Pixies, I might just die of happiness. We'll have to wait a few months to see what kind of music Gunn puts into "Guardians of the Galaxy Vol. 3," but based on his track record, I can almost guarantee it'll be 100% bops.