SNL Quizzes Pedro Pascal On The Big Hollywood Movies And Shows That No One Has Actually Seen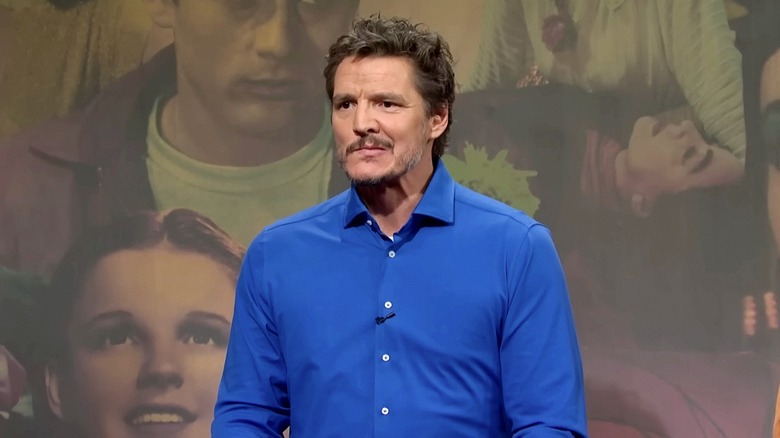 NBC
Do you ever feel lost and overwhelmed in this modern era of streaming TV? Well apparently so do the writers at "Saturday Night Live," who've turned that feeling into one of the best sketches of the night. "The Big Hollywood Quiz" features Bowen Yang as host Jack Delmar, who asks his contestants Robert (Pedro Pascal), Jacqueline (Ego Nwodim), and Mary (Chloe Fineman) questions about popular movies, shows, and stars. When he asks them trivia questions from the '80s, back when there were only a handful of channels available and every show released new episodes on a weekly basis, all the contestants are able to easily answer. But when he asks them a question about modern TV? They don't stand a chance.
Jack asks, "This breakout hit is the current number one show on Netflix. 'Ginny &...'" The contestants are stumped, and there's a good chance that most viewers were stumped too. Despite the fact that "Ginny & Georgia" is a massive hit with undeniably impressive viewership numbers, it's not the sort of show that's provoked a lot of online buzz or has gotten any particular boost of media attention. It's not that nobody's seen this show; it's that the people who have don't seem to have any kind of online presence whatsoever.
And of course even if they did, there are simply so many TV shows coming out on any given week, many of them having entire seasons dropped all at once, so even a popular show like "Ginny & Georgia" is easy to miss. As most regular book readers have already long since learned to do, fans of TV and film just have to accept at this point that they will never, ever be able to catch up with every new show that comes out.
Saturday Night Live takes aim at Peak TV
"The Big Hollywood Quiz" is not the only jab "SNL" made last night at the expense of the modern TV landscape. "HBO Mario Kart" also took aim at the clichés in gritty prestige television by envisioning an HBO adaptation of the beloved Nintendo racing games. With the help of some surprisingly expensive-looking CGI, "SNL" may have just outdone the Sesame Street/Joker parody they did back in fall 2019, which satirized the trend of gritty takes on once family-friendly characters by picking the most absurd kids' show to base a dark reboot around. 
If you liked these sketches, you'll probably also enjoy the game show sketch "Can I Play That?" which pokes fun at popular Twitter takes on what sort of characters an actor is and isn't allowed to play. There's also "Funny New Comedy," which parodies the growing trend of half-hour shows that are technically categorized as comedies, but are they comedies? Are they really? Say what you will about the consistency of "SNL" over the years, but when it comes to making fun of TV trends in particular, their observational humor is almost always on point. 
"Saturday Night Live" airs Saturdays at 11:30pm ET on NBC, and is also available on Peacock.