Shrinking Didn't Think They Had A Chance Of Actually Landing Harrison Ford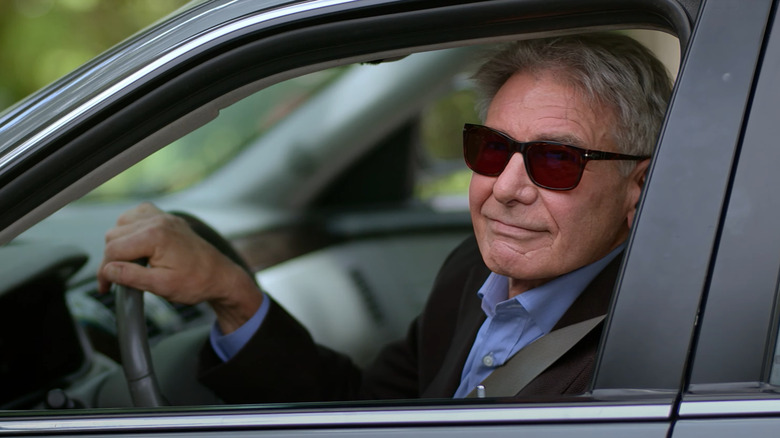 Apple TV+
Harrison Ford is surprising everyone these days. Prior to 2023, the veteran star stayed away from TV for quite a while, last appearing in a dramatic role on the small screen way back in 1993 when he showed up for an episode of "The Young Indiana Jones Chronicles." And before that, he'd stuck to movies since the '70s. This is why it's kind of weird, yet pleasantly surprising, to see him embracing the golden age of prestige TV by starting out 2023 with two big streaming shows.
Paramount's "1923" sees him play rancher Jacob Dutton, who has to endure the various hardships that come with running a ranch on the unforgiving Montana landscape of the early 19th Century. And while he's been praised for his performance as Dutton, it's arguably his Apple TV+ show "Shrinking" that's the more interesting project, if only for the fact that Ford manages to showcase his comedic side, much to the surprise of the series co-lead, Jason Segel.
According to Segel and co-creators Brett Goldstein and Bill Lawrence, Ford subverted all expectations when he started demonstrating some impressive comedy chops and was generally, "excited to be funny" while filming. Starring as therapist Dr. Paul Rhodes, Ford is clearly having a ball playing mentor to Segel's widowed therapist Jimmy Laird. But the notoriously grouchy actor's comedic abilities weren't the biggest surprise for Segel and co. — getting Ford to star in the first place was.
'What the f*** is happening'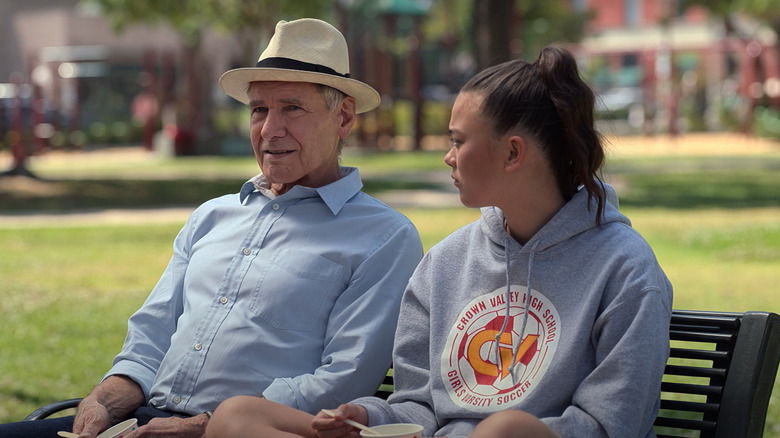 Apple TV+
Bill Lawrence, Brett Goldstein, and Jason Segel spoke to The Hollywood Reporter about their dark comedy and naturally, they were asked how exactly they got Harrison Ford to star. Lawrence evidently had a personal realization that he wasn't deeply affected by people turning down his offers anymore, which spurred him on to offer the Dr. Rhodes part to Ford:
"I got to a point that I wish I was at as a kid trying to date and taking chances on things, where I can be like, 'Hey, you wanna do this? No? Cool, see ya around.' Here, the only real thing for me was how ill-prepared I was to get anything but a 'no' from Harrison Ford."
As Goldstein explained, the co-creators all had a Harrison Ford-type in mind but didn't think the actor would actually be interested. Ultimately, it seems Goldstein sealed the deal by visiting Ford during filming for "Indiana Jones and the Dial of Destiny" in London:
"I suddenly get a missed call, 'Hey, it's Harrison Ford.' I was like, 'What the f*** is happening?' I went to his apartment to discuss it. And the discussion was very, very quick because he wanted to do it. I thought I'd be there to convince him.'
It seems the veteran actor was up for doing something different and had made up his mind before meeting with Goldstein. Whatever the case, it seems the guys behind "Shrinking" were just as incredulous as everyone else about Ford appearing in their streaming show, let alone in a comedy alongside the star of "Forgetting Sarah Marshall." But as Segel revealed during a "TODAY show" appearance, his co-star actually watched "Forgetting Sarah Marshall" to re-familiarize himself with Segel's work. Luckily, he still agreed to do it.
Segel was also a 'dream get'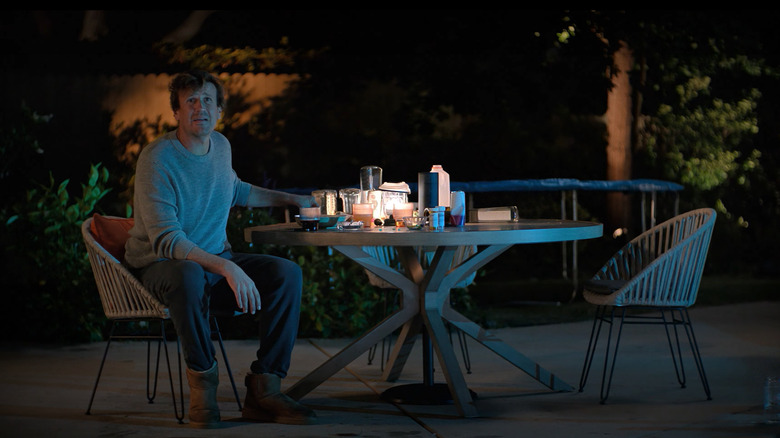 Apple TV+
While it's a bit odd to see a Hollywood megastar of Harrison Ford's caliber and vintage appearing on the small screen in the age of streaming, it's working well for him. Both "1923" and "Shrinking" are quality projects and considering Ford likes to feel some sympathy for whoever he plays, Dr. Rhodes makes a lot of sense for him. The character has plenty of crotchety energy with which Ford likely felt some affinity given his real-life evolution into a famous grump. And if you ask the guy, he's clear on the fact that he doesn't actually see much difference between shooting "1923" and making a movie, and so, to him, his foray into streaming isn't all that big a deal.
Still, that hasn't stopped the press from constantly asking the "Shrinking" co-creators how they got Ford onboard. It's nice to hear that Segel himself was also a "dream get" for Brett Goldstein. The "Ted Lasso" actor praised Segel for being, "naturally very, very funny but he's also sort of sensitive and emotional and kind of inherently so, you read that in his face." And you know what? He's right. Getting Ford is great, but so is getting Segel. And when you see their effortless rapport in the show, the real pleasant surprise is just how well the whole thing works.