Harrison Ford Doesn't Like To Play Characters That He Can't Feel Sympathetic Towards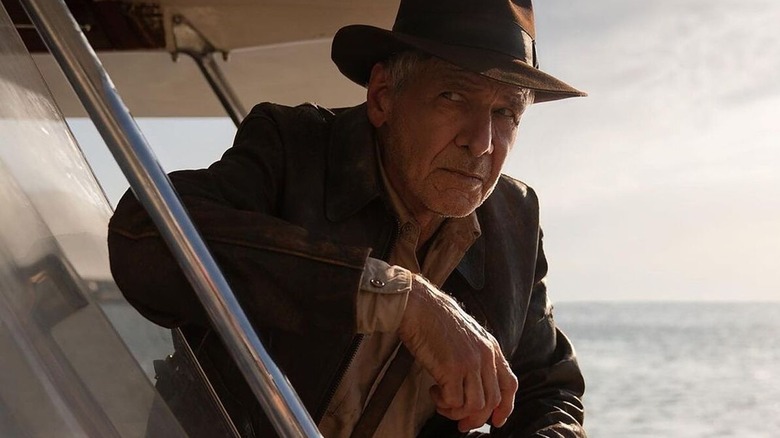 Disney
If the casual reader looks at actor Harrison Ford and immediately thinks of the words "hero" or "leading man," that's not an accident. Ford, soon to appear in "Indiana Jones and the Dial of Destiny" as well as a pair of films in the Marvel Cinematic Universe, has spent the bulk of his 60-year career carefully cultivating a very specific image of himself. One will rarely see Ford in a broad, strange supporting character role, and even less frequently will he appear as an outright villain. 
This, however, is not necessarily a matter of "public image." Ford doesn't appear to be protecting his ego, nor making active moves to assure a mass audience that he be perceived as a certain kind of movie star. Indeed, anyone who has seen the actor in interviews might see that he is laconic, assured, perhaps bitter, and certainly not there to bolster his own self-esteem. 
If one goes to a 1988 interview with Playboy Magazine (handily reprinted on The Daily Beast), one will find that Ford's selection of roles has less to do with pubic perception and everything to do with Ford's personal values. Utilizing his own moral code, Ford, viewing it as an actor, will look over a role and decide where the humanity may lie. While a great number of actors are adept at playing killers, monsters, and heavies, Ford feels far more comfortable playing characters that he can sympathize with personally. Ford, for instance, has never played a Nazi. He has, instead, played a man who has killed a good number of Nazis. 
Harrison Ford's one rule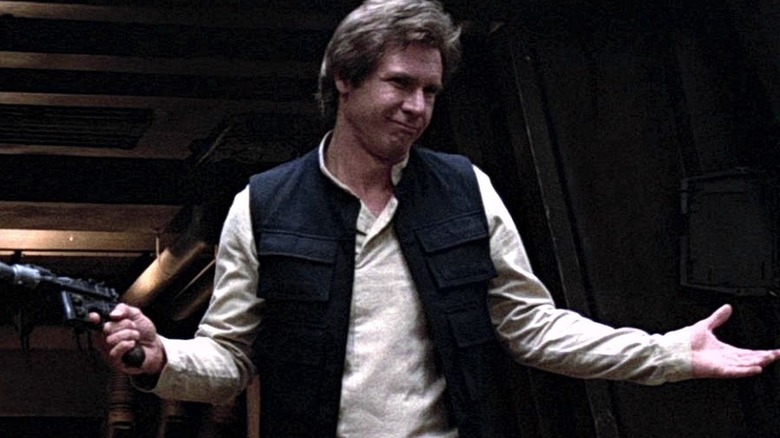 Disney
In the Playboy interview, Ford stated categorically that he doesn't have a hard-and-fast rule when it comes to selecting a role, although he does seem to abide by the above guideline. In his words: 
"I don't have any rules. I just try not to be in films with a point of view with which I'm not sympathetic. I'm not interested in films that have nothing to say. I can't say I wouldn't, for instance, play a Nazi war criminal. I would do anything if it made a good point, had significance. I haven't ruled out musicals, either. Maybe I could be a musical Nazi war criminal ... It's a thought."
Since 1988, Ford has yet to play a musical Nazi war criminal. Although, at age 80, the actor seems just as active as ever. There is, it seems, still time. 
Ford also said in that same interview that he tends to delve into roles that match his own personality in some regard. This might also be why audiences have never seen Ford play a silly, wacky, or whimsical character. At best, he'll play someone irascible or sarcastic, qualities seen in Han Solo, his notable supporting role in the 1977 film "Star Wars." He also has a romantic streak, a loner streak, a streak of tenacity. When Ford plays a part, audiences are seemingly being treated to an ever-increasing profile of the man himself. His career is a steady and ongoing form of self-analysis.
The steady and ongoing analysis of Harrison Ford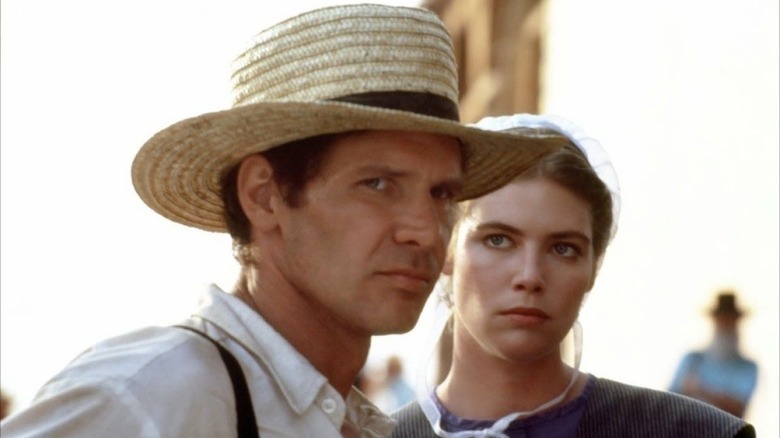 Paramount
Ford gave the rundown:
"Han Solo is a cynical kind of guy with a heart of gold, if you will. There's a little of that in me. The character in 'Hanover Street,' I played a real romantic, there's a touch of that in me. The Frisco Kid was basically a person that couldn't turn somebody down. A guy who just wasn't too smart, but was generous of heart. One thing that I think was most prominent in Indiana Jones was his tenaciousness, his unwillingness to give up, and I am tenacious. 'Witness': he's again a sentimental person who wants very much to be a part of life, a part of community, but he's an outsider, a loner."
In the 2002 book "The Films of Harrison Ford" by Lee Pfeiffer and Michael Lewis, Ford recalls an early time in his career when his agents were perhaps a little too concerned with what his "image" was going to be. Ford tells a story about riding in an elevator with a trio of enthused agents, brainstorming how they were going to "sell" the young actor to a big studio. By the time they reached their floor, no consensus had been reached, and Ford, frustrated, merely rode back down to the lobby alone. "Image," he felt, was a crock.
Ford gives ample credit to his longtime agent/manager Pat McQueeney for allowing him to retain his moral tenacity. McQueeney states that Ford would refuse to work with directors or actors known to be jerks or misogynists. Ford admits to some verbal sparring with McQueeney from time to time, but that he prefers the occasional argument over someone who will "try to coddle me or kiss my ass or misdirect me."
That approach has worked for 60 years, and doesn't show signs of breaking down any time soon.