Harrison Ford Thought Jack Ryan Would Have More Staying Power Than Star Wars' Han Solo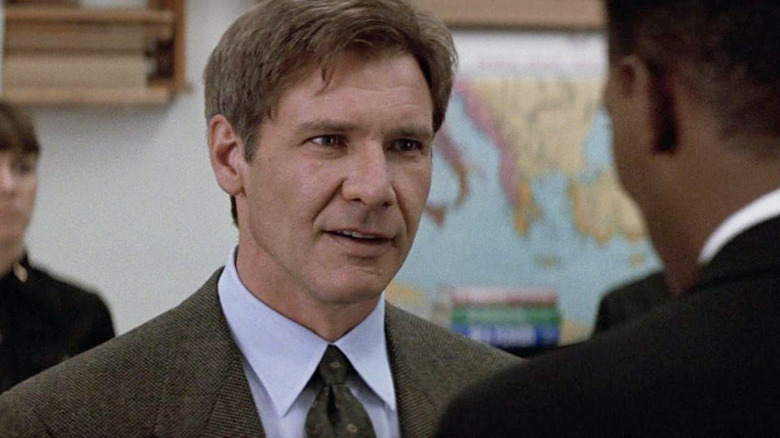 Paramount
There wasn't a hotter author in the early 1990s than Tom Clancy. When the one-time insurance salesman took a crack at writing a Cold War military thriller in 1982, the resulting novel, "The Hunt for Red October," rocketed from niche page-turner to full-blown national bestseller (thanks in part to praise from then President Ronald Reagan). The book's hero, CIA analyst Jack Ryan, quickly became Clancy's James Bond through whom the author explored a shifting balance of global power as the Soviet Union gradually broke apart. By 1996, Clancy had authored seven Ryan adventures, promoting his protagonist nearly every step of the way until he inevitably became President of the United States in "Debt of Honor."
Though the books quickly became hopelessly convoluted and, finally, unreadably nonsensical, the character was immensely franchisable as a big-screen hero. With the box-office success of John McTiernan's "The Hunt for Red October" in 1990, it looked like Alec Baldwin was set to do for Ryan what his co-star Sean Connery did 28 years prior for Ian Fleming's 007.
Then a contract dispute broke out, and Paramount handed the Ryan reins over to Harrison Ford. And while Baldwin was a better fit in terms of age and demeanor, Ford's franchise track record was unimpeachable. Now that Steven Spielberg seemed finished with the Indiana Jones franchise (as a feature series at least), Paramount's decision made tremendous commercial sense. So why did Ford's run as Ryan end after two hits?
From whip-wielding archaeologist to intel-gathering wonk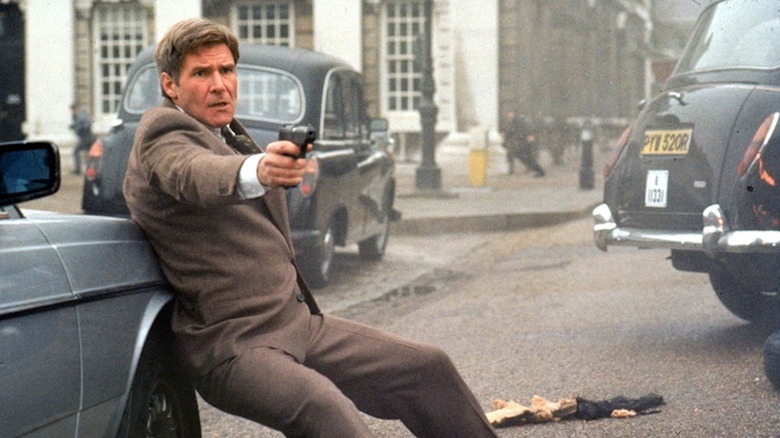 Paramount
Harrison Ford's time as Jack Ryan could've easily fizzled after his first go-round. The Phillip Noyce-directed "Patriot Games" was plagued by behind-the-scenes problems and poor test screenings –- the latter resulting in a last-second reshoot that turned a $40 million production into a $65 million one. Through it all, Tom Clancy grumbled. Though the author had no input into the writing of the script, the studio had yet to option the subsequent books in the Ryan series. Clancy would eventually sell the rights to Paramount's persuasive chairman Brandon Tartikoff, but he made him pay handsomely for them.
Ford remained upbeat. According to Lee Pfeiffer's "The Films of Harrison Ford," the actor had this to say about his new franchise:
"I think Jack Ryan will be continually interesting, that the dilemmas he finds himself in will be rich stuff for myself or any other actor. The characters that are out are ones like Han Solo, who don't have a lot to say. They have attitude but not much more than that."
Noyce and Ford re-teamed for 1994's "Clear and Present Danger," which, while a vastly superior movie and a much bigger hit, once again rankled Clancy, as well as scribe John Milius (who stuck with the production despite loathing the alterations made by writers Donald E. Stewart and Steven Zaillian). The book's sprawling narrative was streamlined to make Ryan the sole central character, which might've cheesed off fans of the novels, but rescued what would've been a terminally silly political thriller.
Ford hops off the Jack Ryan carousel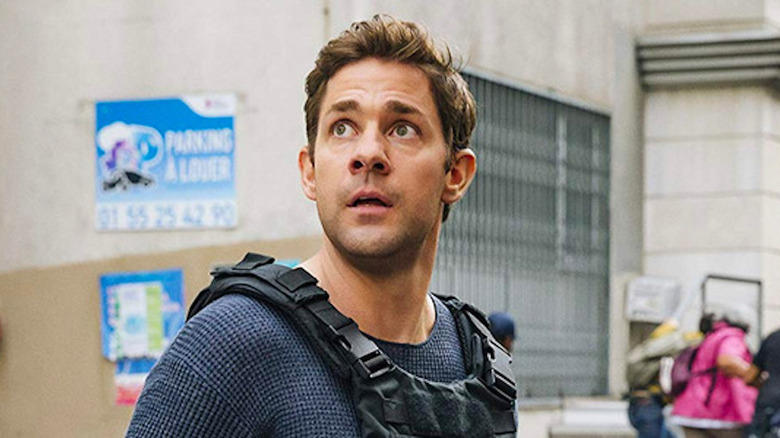 Prime Video
At this point, Tom Clancy had to accept that the Jack Ryan films would always diverge narratively from his books. The money was more than enough to assuage this pain. But when it came time for Phillip Noyce and Harrison Ford to saddle up for the terrorism epic "The Sum of All Fears," they couldn't quite pull it together. When multiple drafts from Akiva Goldsman failed to address their concerns, both artists quit the project.
Ford's departure opened the door for a soft reboot of the character. Paramount went 30 years younger with Ben Affleck as Ryan, which they hoped would bring in a younger demographic while extending the life of the series over the next decade or so. The film's release was delayed for half a year due to the attacks of 9/11 (giving U.S. audiences time to adjust to a reality where a terrorist strike on American soil was no longer unthinkable), but performed well at the box office when it finally hit theaters on May 31, 2002. Alas, producer Mace Neufeld was unable to build off this success and continue with Affleck as Ryan.
The character would be mothballed for another 12 years, and eventually reconfigured as a series for Amazon Prime Video. Viewers seem to love John Krasinski as the new Jack Ryan, though it appears his run will end after the series' upcoming fourth season. It's been a long, strange journey for Ryan in the realm of visual media. The character isn't cursed per se, but he stands out as the one hero from whom Ford walked away.