Jack Ryan Season 3 Trailer: He's Back And He's Doing Spy Stuff Again!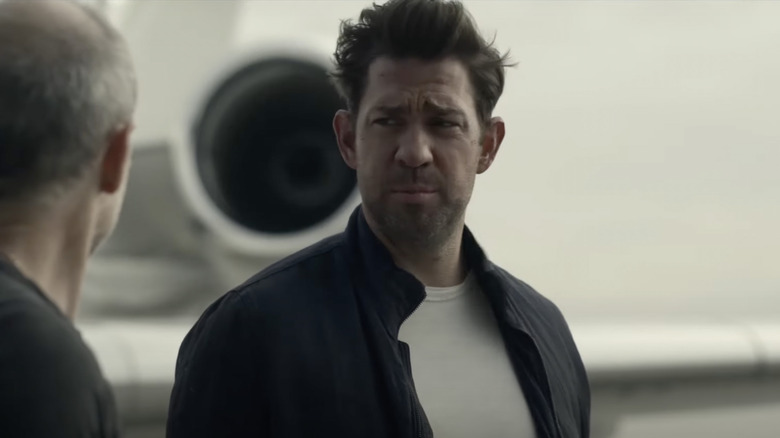 Prime Video
Stop me if you've heard this one before, but one of the greatest super-spies in all of fiction has gone rogue and is now on the run from the government he's supposed to be working for. Oh, and there's probably another World War on the horizon if he fails. No pressure!
If that general storyline is good enough for the likes of James Bond, Jason Bourne, Jack Bauer (boy, there's a weirdly large amount of spies with the initials J.B., huh?), and Ethan Hunt, then it certainly works for one of author Tom Clancy's most enduring characters: Jack Ryan. Prime Video has aired two seasons of "Jack Ryan" with "The Office," "13 Hours," and "A Quiet Place" actor John Krasinski in the title role, punching and shooting his way through hordes of bad guys ever since the show's debut in August of 2018. More than three years after season 2 came to a close, the action/thriller series is back once again with its most dire stakes yet.
Prime Video released a new trailer for season 3 earlier today, which you can watch below.
Watch the Jack Ryan season 3 trailer
Guess who's back and more dangerous than ever? John Krasinski is only the latest big-name actor to step into the role of Jack Ryan, having been previously portrayed by Alec Baldwin, Harrison Ford, Ben Affleck, and Chris Pine in various movies over the years. Now adapted as a streaming series, "Tom Clancy's Jack Ryan" is ready to unleash another batch of pulse-pounding episodes that puts the Jack Ryan's conflicting loyalties squarely at the center of the action. After last season brought the CIA operative from the US to the UK to South America, season 3 will feature Jack Ryan drawn into yet another globe-trotting adventure that seems to have Russia as the main antagonist. Talk about timely.
Created by Carlton Cuse and Graham Roland, "Jack Ryan" stars Krasinski as the title character alongside returning actors Wendell Pierce as CIA Officer James Greer, Michael Kelly as former CIA Officer Mike November. This season, they'll be joined by Nina Hoss as Czech President Alena Kovac and Betty Gabriel as CIA Rome Station Chief Elizabeth Wright. The series will premiere on Prime Video December 21, 2022.
In the third season of the action-thriller series, Jack Ryan is working as a CIA case officer in Rome, when he is tipped off that the Sokol Project, a secret plan to restore the Soviet Empire, is being resurrected more than 50 years after it was thought to have been shut down. Jack embarks on a mission to confirm the intelligence, but things quickly go awry, and he is wrongly implicated in a larger conspiracy. Accused of treason, with a Red Notice out for his arrest, Jack is forced to run from his own government, if he has any hope of uncovering the rogue faction before it's too late. Crisscrossing Europe as he is hunted by former allies and new enemies alike, Jack races against the clock to stop the cascade of destabilizing conflicts from leading to global catastrophe.