Harrison Ford Doesn't See Yellowstone As Any Less 'Ambitious' Than Indiana Jones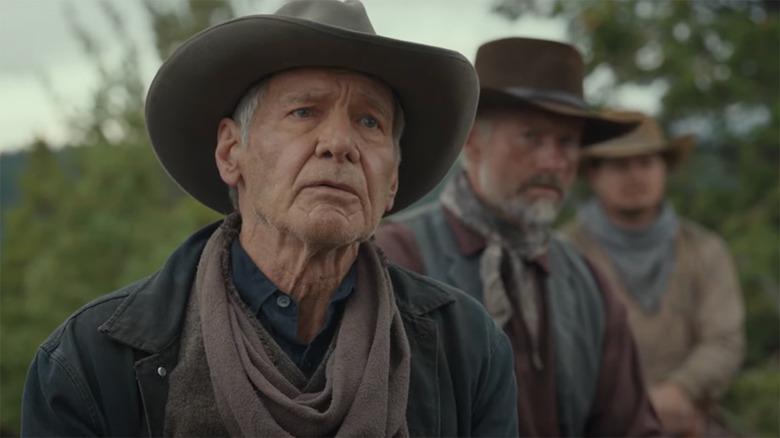 Paramount+
The line between film and television in today's media landscape has blurred to the point that the two are virtually indistinguishable from each other. Sure, you won't be seeing a TV series with a budget on par with "Avatar: The Way of Water," but the general scope of prestige television has reached a cinematic level that's just as impressive as most feature films. 
Taylor Sheridan's sprawling universe (or Sheridan-verse) continues to build out its multi-generational story of the Dutton family with "1923," an ambitious depiction of rancher life during a time when the West was forced to adjust to the changes of modern life. The new show starring Harrison Ford and Helen Mirren just had the biggest premiere numbers ever for a Paramount+ series, showing just how successful it can be to bring movie icons like Ford to the small screen for the first time. 
With landmark roles like Han Solo and Indiana Jones under his belt, Ford could have holstered his blaster pistol and hung up his bullwhip a long time ago. Surely, the last time we'll see Han is the force ghost cameo in "Star Wars" The Rise of Skywalker," and "Indiana Jones and the Dial of Destiny" should most definitely be his final appearance as the famed archeologist. With "1923," Ford's portrayal of Jacob Dutton is already looking like another memorable character, a feat that's not easily accomplished in the twilight of such an incredible career. Ford doesn't show any signs of slowing down, and getting to sink his teeth into a complex character like Jacob Dutton over the course of an entire television season allowed the legendary actor to try something new.
Crossing over from film to television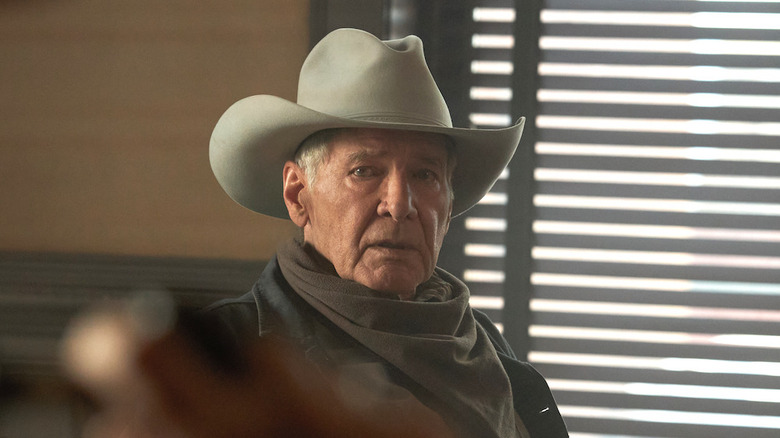 Paramount+
In a recent interview with Collider, Ford compared the experience of working on huge blockbusters to the supposedly smaller scope of "1923," a show that already feels pretty epic so far over the first few episodes. "For me, for an actor, there's not much difference between shooting for television and shooting for a feature film," Ford said to no one's surprise. "There may be actually more time to develop a character over a number of different episodes than you have in a two-hour film. But it really is the only difference really these days, I believe." 
Ford has been in the business so long that he remembers when the line between television and film was rarely ever crossed. "We used to think of television as having less ambition, perhaps, than feature films. It's no longer the case at all." 
It's worth noting that there aren't a lot of TV shows currently that have the scope and scale of "Yellowstone" or that of the first prequel series, "1883." In "1923," Ford is already stepping into an established universe that's taking full advantage of the grandeur of the outdoor world. "This is one of the most ambitious undertakings I've ever taken on, and I'm so pleased with what I've seen so far," he says. "I've been enjoying working with very high-quality actors and actresses, and we have the technical capacity and ambition to shoot this the way it was a feature film. It's quite beautiful to look at. I'm thrilled with the whole project."
And he should be thrilled. Playing in such a large sandbox with the support of an entire network behind you is a great luxury. Putting on a cowboy hat and traveling back in time to the 1920s on a big-budget period Western like "1923" is a unique experience, even for someone with Ford's résumé. 
'The real life of a cowboy'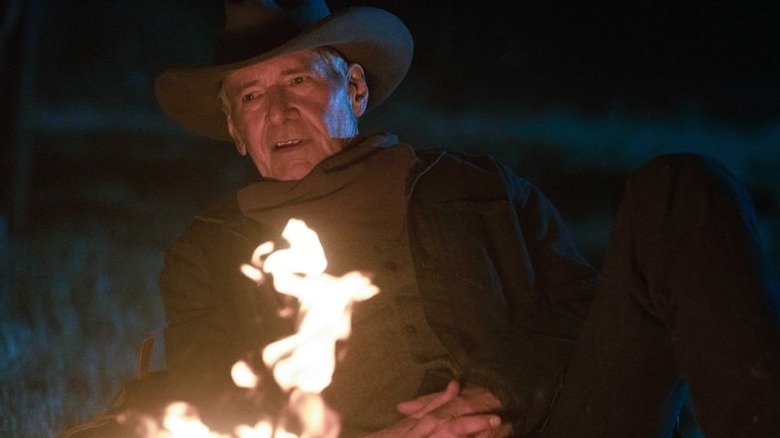 Paramount+
Over the last four decades or so, Harrison Ford has seen the way films are made change dramatically. He's gone from the world of death-defying stunts and hot, fiery explosions in 1981's "Raiders of the Last Ark" to the CGI fakery and de-aging technology employed in the fifth installment of the franchise, due to hit theaters on June 20, 2023. I don't know the man personally, but Ford does not look like someone who feels more at home on a soundstage in front of a blue screen.  
Ford may not see "1923" as being any less ambitious than the fantasy and adventure epics he's famous for, but he openly acknowledges that, in some ways, they're a world apart. When asked about the similarities, Ford told Collider:
"As to how it compares with 'Star Wars' or 'Indiana Jones,' we're spending a lot more time outdoors in real places, rather than on sets that have to be manufactured to create a reality. So there's a sense of reality there. The minute you walk out into that cold in your '1923' costume, you begin to understand what the real life of a cowboy is like."
Playing a cowboy out in the great wide open just seems to suit Ford a little bit better, wouldn't you agree? Be sure to check out "1923" Sunday nights on Paramount+ to see the high drama that's sure to unfold. Or, simply tune in to watch Harrison Ford nestled happily next to a roaring campfire.