Nabhaan Rizwan Gave Station Eleven's Creator One Of His Proudest Moments In The Series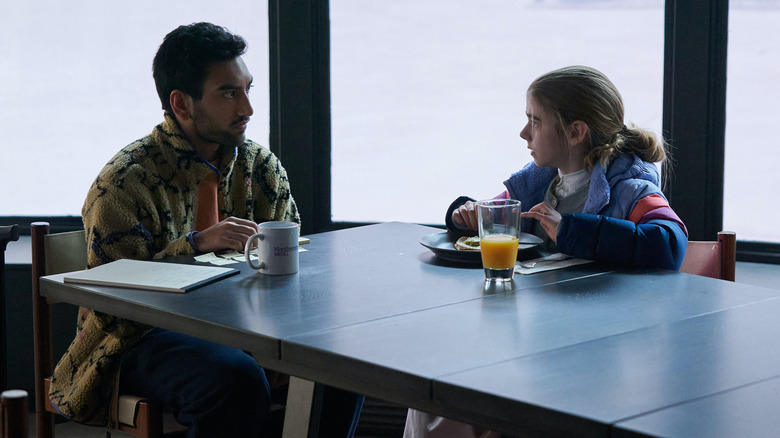 HBO
A deadly virus that wipes out most of the population; a scarcely inhabited post-apocalyptic world; a man traveling with a young girl he's just met (and accidentally adopted). I'm talking, of course, about the sensational HBO series — not the one that's currently taking Sunday nights by storm — but the one that dropped on HBO Max last year. "Station Eleven" is a miniseries following a small group of survivors, whose lives are connected in unexpected ways. We see their stories told through time, from the crumbling days of society to the new worlds they create in its wake. At the center of it are two people: Kirsten (a role shared by Matilda Lawler and Mackenzie Davis) and Jeevan (Himesh Patel), two strangers who find each other before everything falls apart. Unable to abandon the little girl he meets just when the world is ending, Jeevan sticks by Kirsten and heads to his brother's apartment to hole up and wait the disaster out. While the show initially skirts by their first 80 days in that apartment, the seventh episode reveals all.
Knocked out by a poison dart, an older Kirsten takes us on a journey into her subconscious where we finally find out about their early apocalypse days. It's a standout episode in one of last year's best TV series, so it's no wonder that it also contains one of showrunner Patrick Somerville's happiest memories from production.
"When you're making a show, they become memories of working with your friends, rather than the experience of the show," Somerville explained in an interview with ScreenRant. "So I think there's something really special about episode seven."
Goodbye My Damaged Home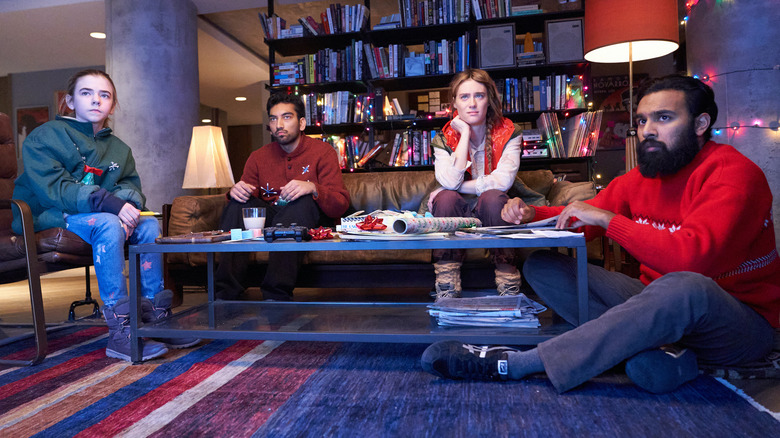 HBO
Making a show like "Station Eleven" sounds inherently emotional: the entire series is dedicated to big ideas about art and humanity. And then there's the pandemic of it all. That communal element was emphasized by the unexpected circumstances of filming: though the crew first got to work in January 2020, production was paused thanks to COVID-19, which kept things at a standstill for over a year. Byt the time the series got back on track, it was February 2021. Somerville notes in the interview that going through all of that brought the crew closer together and made moments like filming episode seven feel extra special. The moment that stood out above them all? "Nabhaan [Rizwan]'s rap of 'Excursions,'" Somerville said. "Which he did on the day, immaculately. It was just moving."
Frank's rap in "Goodbye My Damaged Home" is an emotional wallop. Those first 80 days see the world crumbling on the outside, while Kirsten, Jeevan and his brother Frank (Rizwan) await any possible reason to maintain hope. More than a few scenes see them waiting by the radio for good news that never comes; instead, they learn of all the failing institutions — healthcare, media, the American government, etc. On the only Christmas they ever share together, Kirsten lightens the mood (after a particularly bleak newscast) by singing The First Noel. And something about listening to that eight-year-old sing them a Christmas carol does inspire some much-needed hope. But the world still doesn't stop crumbling.
The internet goes and the electricity with it. Winter complicates things: their food supply runs low and the apartment is unbearably cold. They walk around in coats with no heat and an open question of what to do next. Hopelessness sets back in. And then comes Frank, who claims he has a genius plan to keep them all hot.
Frank (briefly) saves the day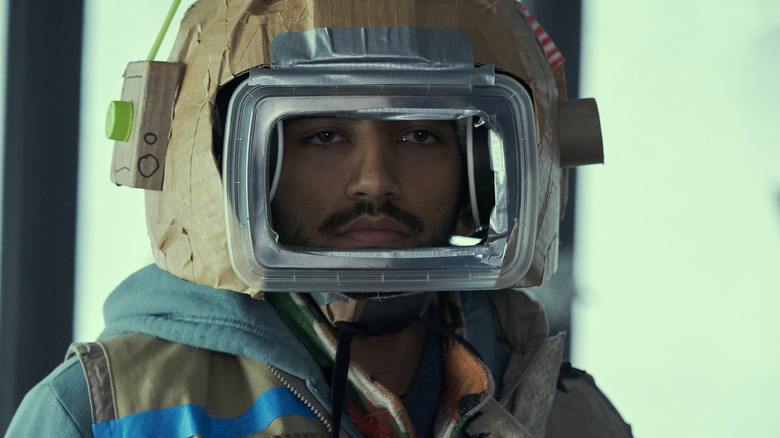 HBO
Did Frank hear something on the radio, or find a way to turn the heat back on? Nope. Frank spent hours chopping up an audio transcript to recreate the beat and bass line of A Tribe Called Quest's "Excursions," which he then proceeds to rap for Kirsten and Jeevan. It might sound silly, but Frank's performance gets all three of them — even the reluctant, eye-rolling Jeevan — dancing around the room. Just as he promised, the cold is forgotten for at least those few moments of pure, unbridled joy.
Reflecting on the experience of filming the scene, Somerville said:
"It was early in our shoot, and we were a long ways from home and everyone was sort of beaten down by the pandemic already. Whatever Frank does for those two in the apartment, Nabhaan did for us standing on set, if that makes sense. So that's just one memory of hundreds that I'll take with me for the rest of my life."
Along with lifting the spirits of everyone in attendance (fictional and real), Frank's rap is perfectly emblematic of the show's mantra, "Survival is insufficient." Sure, the relief is only temporary (it's even punctuated by a smash cut to Frank and Kirsten on the couch, freezing their asses off a la the brutal Chicago winter) but for a few moments, they all have something worth smiling over. That dance party is about what lies beyond survival: living. Even when they're on the verge of starvation (assuming hypothermia doesn't get to them first), having that moment of joy is critical. So it's no wonder that moment stays lodged in Kirsten's brain, and lives on as one of the show's most touching moments.