Kurt Russell Knew His Elvis Movie Would Be Polarizing
ABC
Strangely, Elvis Presley and Kurt Russell's careers are intrinsically linked. For more than four decades, Russell has been a Hollywood mainstay. With his chiseled chin and rugged good looks, the actor looks like he was born to be a Hollywood A-lister. His performance in 1981's "Escape from New York" put him on the map as one of Hollywood's hottest action heroes. With subsequent films "Silkwood" and "Overboard," Russell would prove he had the acting chops to succeed in any genre.
But it didn't always feel like that. Russell made his feature film debut in 1963 with an uncredited role in the Elvis Presley movie "It Happened at the World's Fair." Despite rubbing elbows (technically kicking shins, which is what his character does to Elvis) with one of the most popular entertainers of the era, Russell would spend the next 16 years toiling away in film and minor television roles, waiting for his big break. Ironically, an unexpected reconnection with the King of Rock and Roll would lead to Russell's eventual Hollywood breakout. And the actor knew that it was coming from a polarizing role.
Russell found an older Elvis inspiring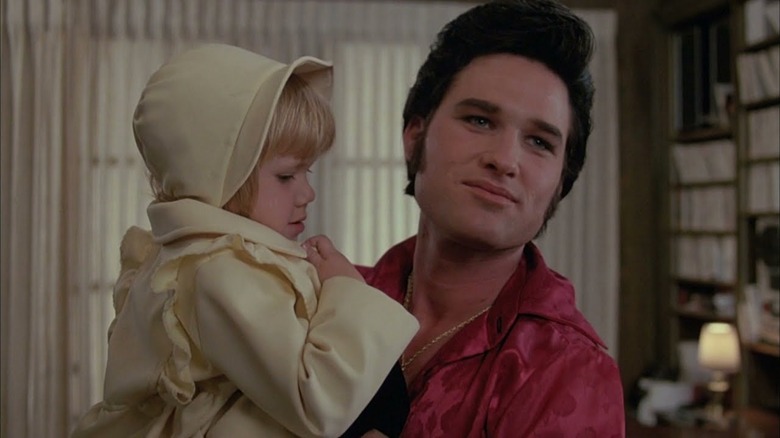 ABC
Kurt Russell, first and foremost, is an Elvis fan. "An Elvis movie to me is always worth watching, simply because of Elvis," Russell said on Turner Classic Movies. After working with Elvis in 1963, Russell had two opportunities to see the musical icon live in concert. The shows were two very different performances. The first time Russell saw the King he was still in his prime. The second time was after the unkind years had worn Elvis down.
It was that second Las Vegas performance by Elvis that inspired Russell, and would eventually lead to his big break. In 2016 the actor told GQ how fans gasped at the drastic new look of the icon, and how it influenced him. Russell said:
"I'm telling you, God's honest truth, 30 seconds later, he was Elvis. What I realized about that was, which I drew on later on, he was living it. He was just doing what he was doing and had gone to the 'Oh, f*** it' state, and he was fantastic. He knew it didn't matter if he weighed a thousand pounds. The performance, it made it sort of even better. He was moving into a different zone, and becoming like Pavarotti, or something."
It was that confidence he observed watching Elvis that Russell would draw on a few years later when taking a risk on a movie that he knew could easily be a disaster.
'I have waited 17 years to take this big chance'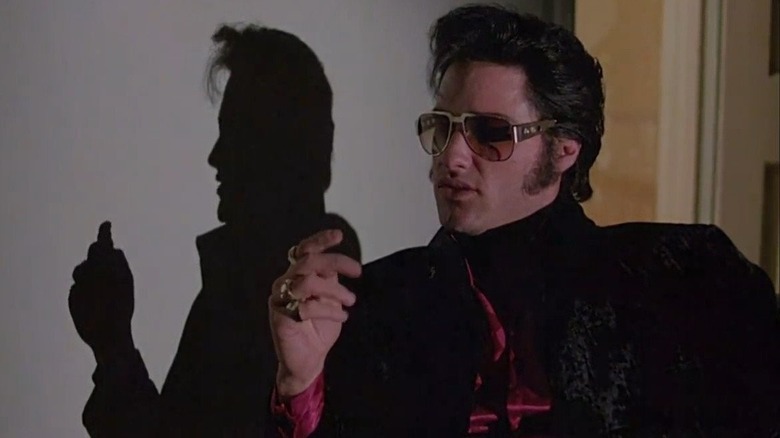 Playing Elvis Presley isn't easy. Just ask Austin Butler, who auditioned for 5 months before Baz Luhrmann's recent biopic. The same was true four decades ago. When ABC decided to make a TV movie about Elvis a year after his death, the network struggled to find an actor to play the King. Eventually, the role was offered to an unknown Kurt Russell. Watching Elvis' bravado years earlier gave the actor the courage to take the risky lead role in the aptly named "Elvis."
"I know one thing, there's no in-between, it's either really going to be great or really horrible, just stinking," Russell told the Los Angeles Times (via GQ) before the film's release. "I have waited 17 years to take this big chance, and I thought about it for 10 minutes."
The gamble paid off. Russell and director John Carpenter teamed to create a gritty portrayal of Elvis' life. Russell's portrayal of the icon surprised critics, as The New York Times television critic John J. O'Connor wrote:
"I have only seen this actor in television's 'Swiss Family Robinson' series and a couple of westerns and was totally unprepared for his dynamic capturing of the Elvis image. He is probably better looking and less pudgy than the original, but his swagger and curious vulnerability are brilliantly on target. It is an impersonation that expands to a stunning performance."
"Elvis" was nominated for three Emmys, including an Outstanding Lead Actor nomination for Russell. The film's surprising success marked his official arrival in Hollywood, 16 years after his debut beside Elvis. Russell would team up with Carpenter four more times on his way to becoming a Hollywood icon himself.
And he owes it all to an inspiring performance from an aging, well-worn Elvis Presley.