Austin Butler's 5-Month Audition For Elvis Was 'Unlike Any Other'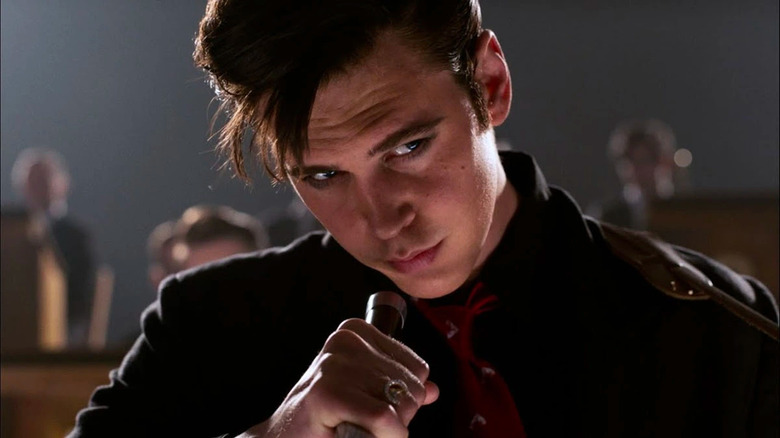 Warner Bros. Pictures
The business of casting a biopic is not for the faint of heart. For the serious director, the process can be all-consuming, often requiring years of research and preparation. Australian auteur Baz Luhrmann is one such director; he never does anything halfway. But his choice to cast former teen heartthrob Austin Butler as the titular king of rock 'n' roll in "Elvis" definitely raised a few eyebrows when the news first broke. Granted, this was before any footage of the actor in full Elvis regalia first broke — heck, before the film had even entered production. But everybody's got strong feelings about the King, and their own expectations for any retelling of his story.
Now that "Elvis" is out in the world though, it's clear that Butler was a stellar choice for the role. He was uniquely qualified to play Elvis, as much for his dedication to portraying the crooner as he was for his ability to roll with Lurhmann's many punches. Immersing himself into the role of one of the most famous men on Earth obviously wasn't easy for the actor — he's since admitted to the physical and psychological tolls of his performance — and auditioning for the part was just as difficult. Even after a grueling five-month process, Butler wasn't sure he had scored the part at all.
'He wanted to see if I'd lose my mind'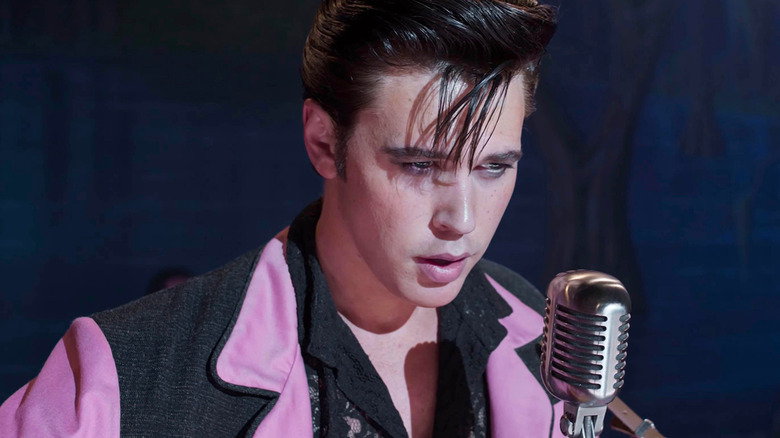 Warner Bros. Pictures
Butler detailed a bit of his auditioning process while on the Kelly Clarkson Show, which began with a taped submission. After Lurhmann responded to Butler's initial audition, Butler "flew to New York, and we met and we just talked for three hours." He continued:
"Then [Luhrmann] said, 'You want to come in tomorrow and read a couple scenes from the script?' So I came in and read a couple scenes, then he said, 'You want to come in tomorrow and sing a couple songs? Wanna sing 'Suspicious Minds?' So I went home, practiced, and then I came back. We ended up doing that for five months."
It was "unlike any other audition" for the actor; he and Luhrmann spent months "exploring" his portrayal of Elvis before even committing to a screen test for Warner Bros. Even then, Luhrmann was still testing Butler's limits.
"Baz changed everything on me on the day," Butler said of the screen test. From the scenes he had prepared to the songs he'd rehearsed, everything had to be learned on the spot — Luhrmann even filmed Butler as he rehearsed the new material. "He put me through the ringer," Butler mused. "And I realize now it's because he likes to be very spontaneous on set. He wanted to see if I'd lose my mind."
Long live the King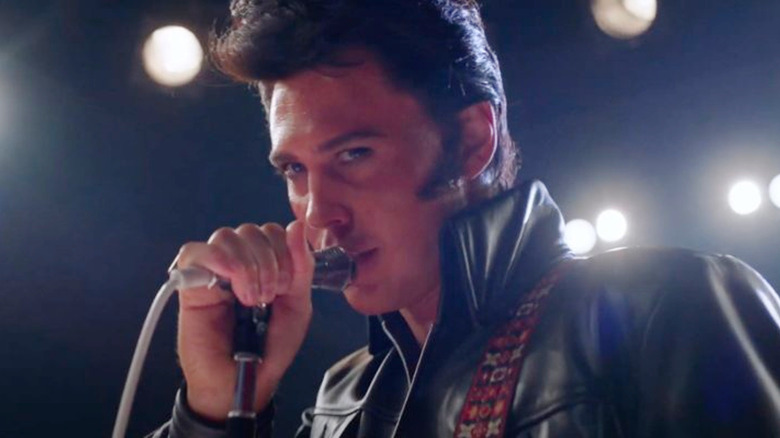 Warner Bros. Pictures
The way Butler tells it, the actor might not have kept the coolest head during his screen test — in fact, he left the audition doubting he'd done enough to win the role. Butler wouldn't learn whether he'd passed Luhrmann's final trial for another week, when the director finally let him know that the role was his. "It was the greatest phone call I've ever had," Butler told Clarkson.
Knowing the immense pressure Luhrmann was under when it came to casting — trying to appease Elvis fans and the singer's family in one fell swoop — it makes sense that he'd be so very thorough during the casting process. The director never does anything halfway, and it's clear that his commitment to finding the best talent has paid off in a major way. Fans, critics, and Presley's family and friends are virtually unanimous in their praise for Butler's portrayal of the King. It's hard to imagine anyone else taking the role now, but if Luhrmann hadn't been quite so dedicated to authenticity, we might never have had the privilege of seeing Butler's take on Elvis.