The 18 Best Brooklyn Nine-Nine Episodes Ranked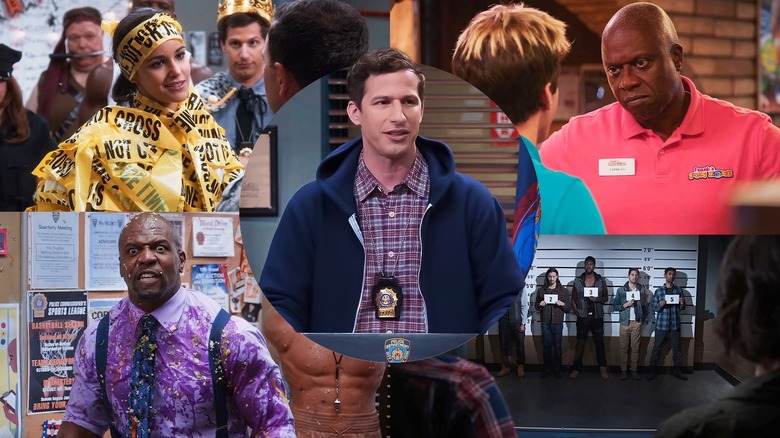 NBCUniversal Television Distribution
Do you like your sitcoms lighthearted with a hint of mystery? Do you think Jake Peralta is an amazing "detective slash genius"? Do you often restrain yourself from blurting out "title of your sex tape" when someone says something that sounds unintentionally inappropriate? Then you're probably a fan of "Brooklyn Nine-Nine," the cop comedy starring Andy Samberg.
"Brooklyn Nine-Nine" debuted on Fox in 2013, one year after Samberg's exit from "Saturday Night Live." His "Nine-Nine" character, Jake Peralta, is a detective with the NYPD. As with many Samberg roles, Peralta is an endearing goofball, an adult who faces the challenge of growing up without letting go of the boisterous joy that some mistake for immaturity.
After five seasons, Fox unceremoniously canceled "Brooklyn Nine-Nine" in 2018. However, NBC picked it up a day later, ultimately airing the show for three more seasons. There are 153 episodes, and every fan has their favorite. From the revolving door of impressive guest stars to the many surprisingly profound moments, you could make a case for many of them to be ranked as the best. Here are my favorite 18. Promise not to get mad if I leave out your top pick. Cool. Cool, cool, cool, cool.
18. Debbie (Season 7, Episode 5)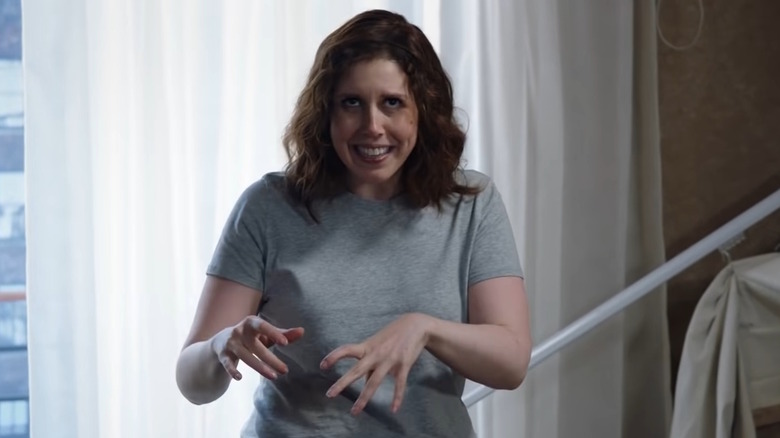 NBCUniversal Television Distribution
Guest star Vanessa Bayer, whose tenure on "Saturday Night Live" overlapped with Andy Samberg's for two seasons, shines as Officer Debbie Fogle during three episodes in Season 7 of "Brooklyn Nine-Nine." Though it's hard to tell from her initially demure demeanor, Debbie is full-on crazy. She debuts in the Season 7 premiere as Holt's partner in his new street-level assignment, but it's not until her self-titled episode that Debbie reveals her insane true nature.
Stealing an enormous amount of cocaine from the precinct, with plans to deliver it to a crime boss, Debbie is completely unhinged — and Bayer is totally in her element. Roping her mom into the ordeal and expressing her disappointment in being overlooked for her accomplishments, Debbie complains, "It's like you don't even care how many chimneys I have." Jake and Rosa (Stephanie Beatriz) (a semi-rare pairing that's always a joy) remain on Debbie's trail for most of the episode. Highlights include absurd dialogue surrounding what Rosa would do "if she could do anything to Mr. Bean."
17. The Big House (Season 5, Episodes 1-2)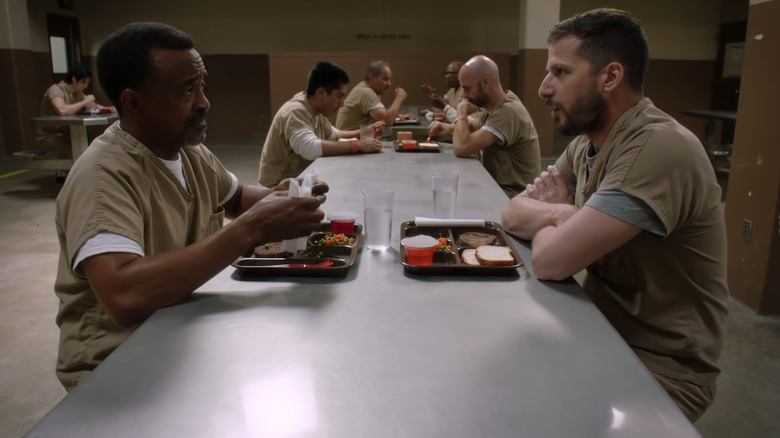 NBCUniversal Television Distribution
"Brooklyn Nine-Nine" often used its season premieres and season finales to introduce fun stunt storylines designed to attract viewers and send the characters beyond the precinct. This kickoff to Season 5 features Andy Samberg's "Popstar" co-star Tim Meadows as Caleb, Jake's cellmate, when he is framed for murder and sent to jail in South Carolina.
Meadows is memorable as Caleb, whose defining trait is that he just so happens to be a cannibal. The role could have been played as an over-the-top personality, but Meadows' restraint makes the character a home run. His casual delivery of Caleb's crazy dialogue would read completely differently if performed by anyone else, and Meadows brings him to the screen as only he can. When discussing how his family isn't part of his life anymore, Caleb nonchalantly tells Jake, "You eat nine people, and all of a sudden, they 'don't know who you are anymore.'"
16. Ding Dong (Season 7, Episode 7)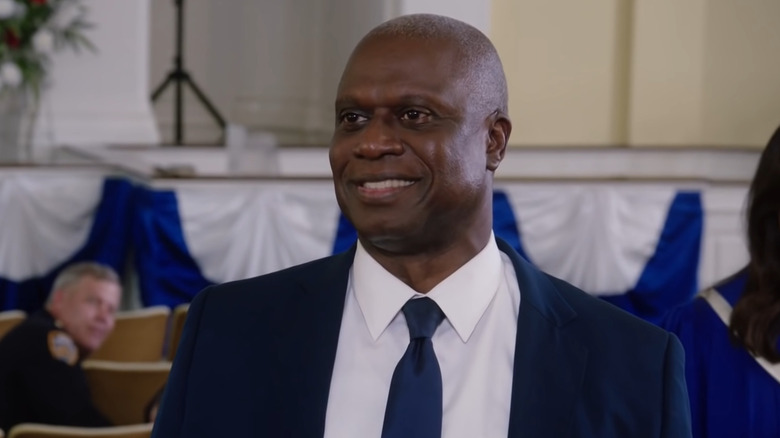 NBCUniversal Television Distribution
"Ding dong, the witch is dead! Which old witch? The wicked witch!" Or should we say, the wicked Wuntch? Because this episode revolves around the death of Madeline Wuntch (Kyra Sedgwick). In Season 2, Wuntch and Capt. Raymond Holt (Andre Braughter) are shown as bitter rivals, and by Season 7, the audience is privy to their sparring, which usually involves hilariously degrading insults.
As one last trick, Wuntch has placed Holt in charge of her funeral, and seeing him grapple with his conflicting emotions about her passing is great fun and, occasionally, thought-provoking, as the best "Brooklyn Nine-Nine" episodes are. At first, Holt is skeptical. "Zombies can't die," Holt retorts. "If she were dead, we would be hearing the sound of children singing in the streets." The more he plans her celebration of life, the more he realizes what their relationship meant to him.
Though Sedgwick only appears in a brief video message, it's a testament to her prior performances throughout the series that this episode works as well as it does. It wouldn't carry nearly the punch without the connection to Wuntch that the audience already has. As a nice little surprise at the end of the episode, Amy Santiago (Melissa Fumero) discovers she's pregnant. It's a poignant moment since she and Jake unsuccessfully try to have a baby throughout many previous episodes.
15. Four Movements (Season 6, Episode 4)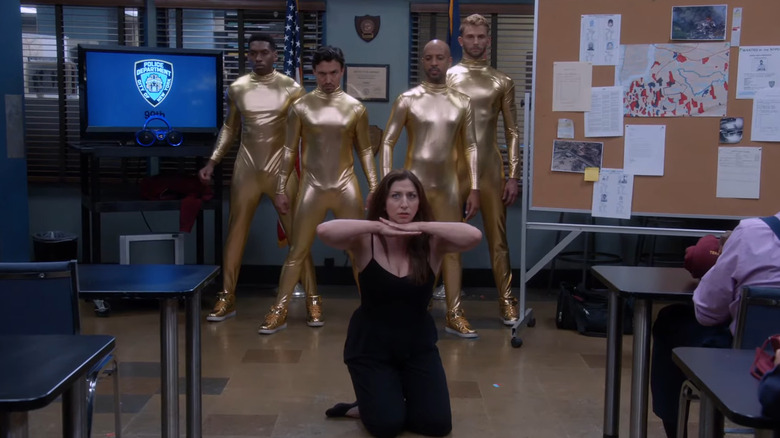 NBCUniversal Television Distribution
Chelsea Peretti left "Brooklyn Nine-Nine" during Season 6 in 2019 but not before giving Gina Linetti a grand send-off. In a goodbye befitting Gina's flair, "Four Movements" is the character's swan song, named for both the four-part interpretive dance Gina performs for the squad upon submitting her two weeks' notice and the four distinct "Gina moments" she plans to impart upon her co-workers before leaving.
This framework allows for one-on-one scenes with Gina and most of the cast, ranging from hilarious to sentimental. With Jake, she impersonates a wealthy nepo baby and repeatedly says "daddy"  at a comical volume in an upscale club. With Holt, she ponders her future and explains how her lack of direction is more freeing to her than it is worrying — something that many viewers can probably relate to. "Four Movements" sums up Gina's character to a tee and provides Peretti with a dedicated space to give a stellar performance. Gina returns twice more after her goodbye episode: "Return of the King" (also in Season 6) shows the audience Gina's massive success as an influencer and motivational speaker, while "The Last Day" (the series finale) includes Gina in the squad's final adventure together.
14. Jake & Amy (Season 5, Episode 22)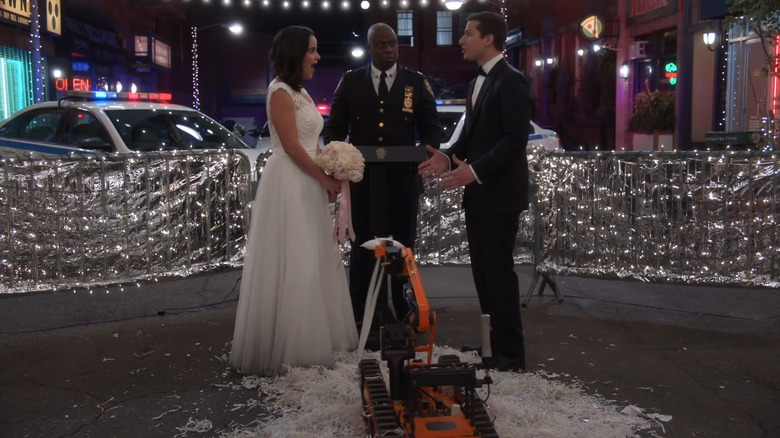 NBCUniversal Television Distribution
Sure, the wedding of Jake and Amy includes a long list of tropes typical of romcoms and sitcom weddings. Everything that can go wrong does go wrong, with nothing short of a bomb threat spiraling their big day into chaos. To top it off, the wedding venue changes to the precinct at the last minute. Imagine that — a sitcom couple getting married at their workplace! [Pretends to be shocked]
Nonetheless, these qualities are endearing, not archetypes to gripe about. Jake and Amy's relationship from acquaintances to spouses is a classic sitcom pairing. The episode seems self-aware of its attachment to a formula, with Gina remarking, "I'm gonna go with Holt. It seems like people are pairing off for adventures, and we have the best rapport." It's an episode that smartly fits Jake and Amy's relationship with a pace that never stops.
For the briefest of moments, this was also the series finale. "Jake & Amy" was the last episode filmed before Fox canceled "Brooklyn Nine-Nine" on May 10, 2018. Thankfully, NBC brought it back from the dead on May 11, just in time for "Jake & Amy" to be a victory lap of sorts when it aired on May 20. It's interesting to imagine an alternate timeline in which the NBC pickup hadn't happened, and "Jake & Amy" was the hypothetical final episode of the series.
13. Honeymoon (Season 6, Episode 1)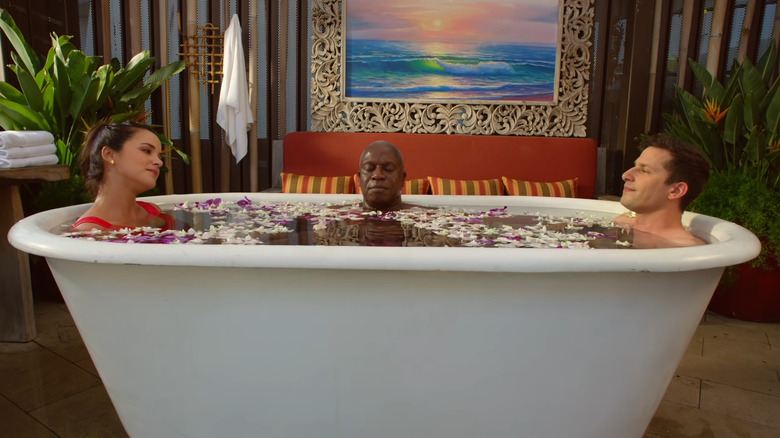 NBCUniversal Television Distribution
This was the first "Brooklyn Nine-Nine" episode airing on NBC after Fox briefly canceled the show. As such, "Honeymoon" has the jubilant feel of, well, a honeymoon. But more accurately, it also seems like a show that just got a new lease on life. 
Maybe it's just the tropical locale, or perhaps it's Holt wearing a tank top with a design of a pineapple wearing a bikini on it, but the NBC renewal seemed to lift the cast and crew's spirits. The same was true for longtime viewers. This episode ushered in a new era for "Brooklyn Nine-Nine" and celebrated its continued presence on the airwaves.
The "Honeymoon" script is boldly determined to distinguish itself in its new home. For starters, NBC allows sitcoms to bleep R-rated swear words. Fox didn't permit them, as "Nine-Nine" co-creator Dan Goor told TV Line during the network transition. The new policy is pushed to its limit in this first time at bat. As Amy discusses her vacation plans, she tells Jake, "This B needs a C in her A." Jake is shocked. She replies, "This babe needs a coconut in her arms." Relieved, Jake explains, "I thought you were saying this [bleep] needs a [bleep] in her [bleep]."
12. Captain Peralta (Season 2, Episode 18)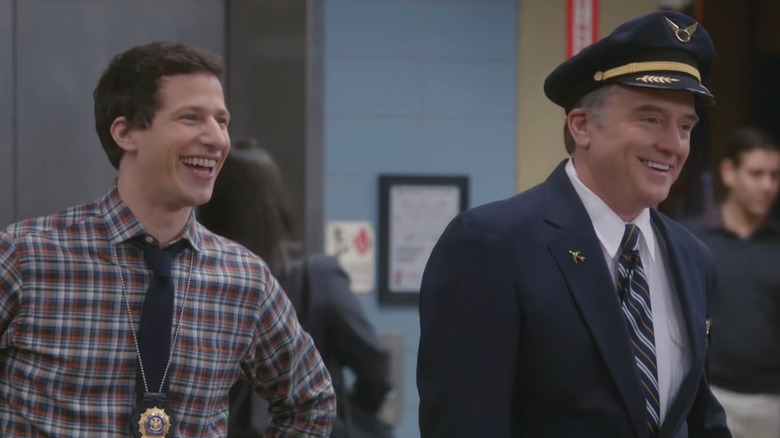 NBCUniversal Television Distribution
"Captain Peralta" is (perhaps intentionally) a misleading episode title. Though it might imply that Jake gets promoted to the position of captain at the precinct — which would be a wild turn of events — it refers to the debut of Jake's dad, Roger Peralta, an airline pilot. Bradley Whitford guest stars as Roger in the first of four appearances.
To put it mildly, Roger is not a great dad. He's always been dismissive of Jake and never fails to put his interests before his son's. Even in this episode, Jake is thrilled that Roger wants to be part of his life again, only to be heartbroken to find out his dad only needed a cover for a drug charge.
The presence of Jake's dad introduces a pensive, melancholy tone that contrasts the show's usual goofiness. As Jake grapples with his complex relationship with his father, Samberg delivers a thoughtful performance. This still being early in the series' run, the seriousness of the episode might seem a little out of left field compared to the overall lightheartedness of the series. However, its commitment to its earnestness proves the show is capable of handling material beyond comedy. Humor still drives the show, but "Captain Peralta" gives the rest of the series permission to address weightier storylines.
11. Pontiac Bandit (Season 1, Episode 12)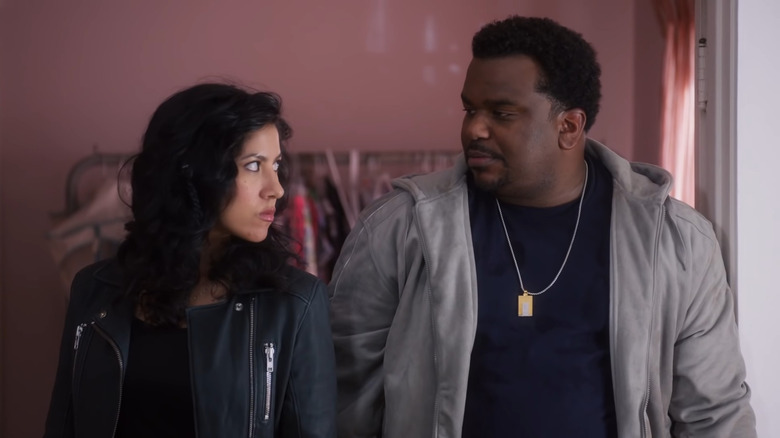 NBCUniversal Television Distribution
Craig Robinson appeared as Doug Judy, aka the Pontiac Bandit, once every season for nine episodes (one was a special double episode). It's delightful to watch Jake and Doug's unique dynamic evolve over eight years, even if Doug almost always takes advantage of Jake's trust to pull off some sort of swindle. It's also great fun when Doug's sister, Trudy Judy (Nicole Byer), enters the mix in later seasons.
Season 1's "Pontiac Bandit" is perhaps the most indelible Doug Judy adventure because the audience is fooled by Doug right alongside Jake. Once Doug's schtick is established, the audience can probably see through his seemingly sincere demeanor in subsequent appearances, even if Jake always falls for it. But in his debut, Doug has both Jake and the audience in the palm of his hand, adding another layer to his reveal as the infamous criminal Jake has been trying to track down for years. Doug sums it up best when talking with Jake at the end of the episode: "Maybe we could be friends in another world if I hadn't just fooled you ... like a little b*tch!"
10. The Jimmy Jab Games (Season 2, Episode 3)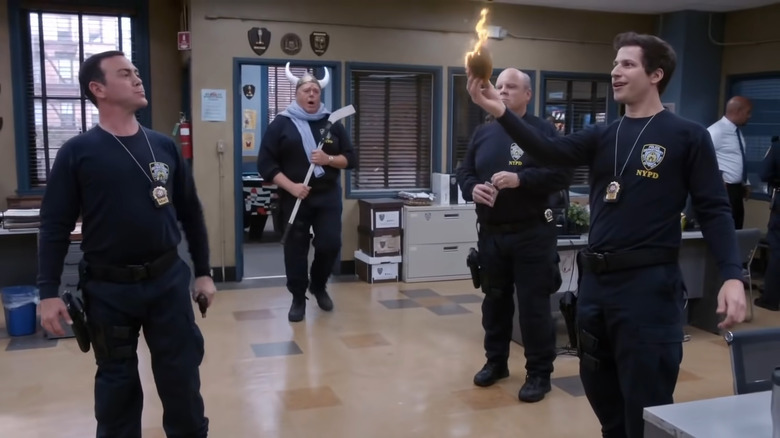 NBCUniversal Television Distribution
A lot is happening here, including a successful attempt to create another recurring tradition within the show's mythos (à la Halloween Heist), a funny early appearance by Holt's rival Madeline Wuntch, and breadcrumbs toward Jake and Amy's relationship. Even though it's the first time the audience sees the namesake games in action, we learn it's the precinct's seventh annual Jimmy Jabs. The games are a series of activities to kill time on slow days. While the Jimmy Jabs weren't repeated throughout the series as often as Halloween Heists (we only get one more round of the games in Season 7, whereas heists occur in all eight seasons), they help mold the show's quirky workplace vibe.
Although this episode isn't Wuntch's debut (she first appeared one episode earlier, in "Chocolate Milk"), it's the first time the audience anticipates her sharp-witted chemistry with Holt. In this case, knowing what to expect makes her reappearance more fun than her introduction. And the writers only make Holt and Wuntch's insults funnier as the series progresses. Jake also tells Rosa he's still into Amy in this episode. It's a huge revelation that sets the stage for their blossoming romance.
9. Operation: Broken Feather (Season 1, Episode 15)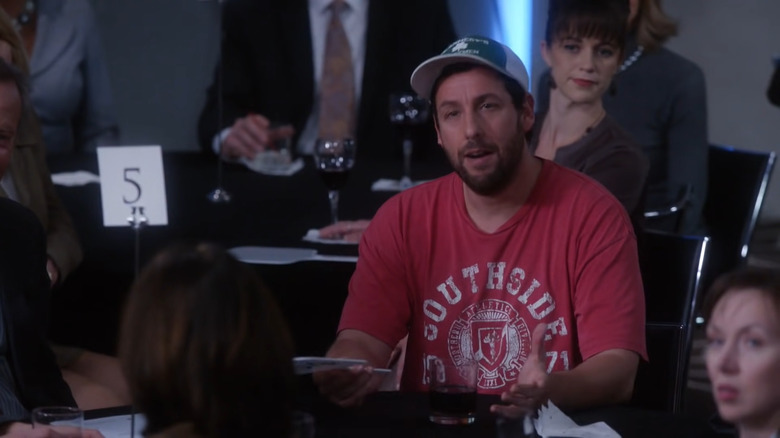 NBCUniversal Television Distribution
This episode aired after the 2014 Super Bowl — or rather, almost immediately. Fox sandwiched an episode of "New Girl" in between, but "Operation: Broken Feather" still nabbed 14.8 million viewers. This was a huge bump from its typical viewership. The series' previous episode, "Ebony Falcon," attracted 4.55 million viewers.
Still in its first season, this was a chance for "Brooklyn Nine-Nine" to gain viewers, so the episode pulled out all the stops. Written by series creators Dan Goor and Michael Schur, "Operation: Broken Feather" includes guest appearances by Adam Sandler (reuniting with Samberg after co-starring together in the 2012 film "That's My Boy") and former NFL player Joe Theismann (playing to the Super Bowl audience, no doubt).
Aside from any "special episode" pageantry, though, this is still a solid outing, as Amy considers transferring to Keith "The Vulture" Pembroke's (Dean Winters) squad. Annoyed that she's seriously considering the transfer, Jake says, "I guess that's your new best friend now, Santiago. Emphasis on Iago, backstabber." Amy replies, "I'm surprised you've read 'Othello.'" "What the hell is 'Othello'? I'm calling you the parrot from 'Aladdin.'"
8. Charges and Specs (Season 1, Episode 22)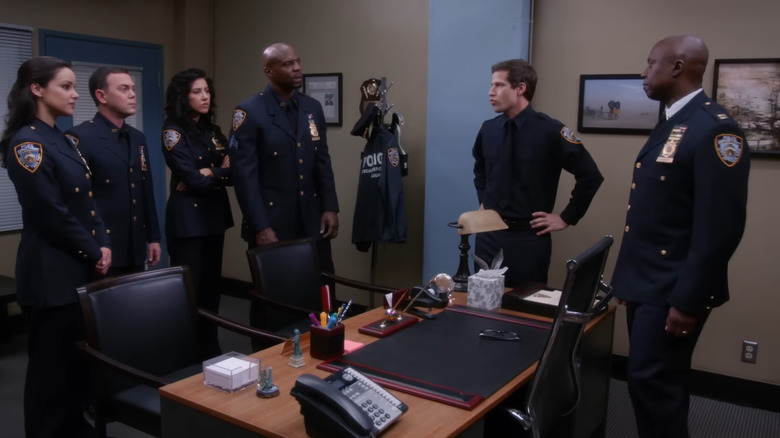 NBCUniversal Television Distribution
The Season 1 finale leaves the audience with much to think about before Season 2. In the age of binging and streaming, first-time viewers can immediately watch the next episode, but when "Charges and Specs" aired in 2014, a season-finale cliffhanger made for an unbearable wait from May to September. It was a move straight out of the classic sitcom playbook. At the episode's conclusion, Jake tells Amy he likes her — just before he leaves to go undercover for six months.
Stylistically, this episode has a unique cadence. Beginning in medias res, the audience finds out that Jake has been fired from the NYPD before the remainder of the story backtracks to catch up to that point. That's likely the work of director Akiva Schaffer bringing a clever nonlinear approach that sets the episode apart. Schaffer is not only Andy Samberg's The Lonely Island bandmate but has also directed many Samberg movies over the years, including "Hot Rod," "Popstar: Never Stop Never Stopping," and "Chip 'n Dale: Rescue Rangers." The best one-liner of the episode? When Jake tells Holt, "I brought you your favorite breakfast: a plain bagel and a water."
7. 99 (Season 5, Episode 9)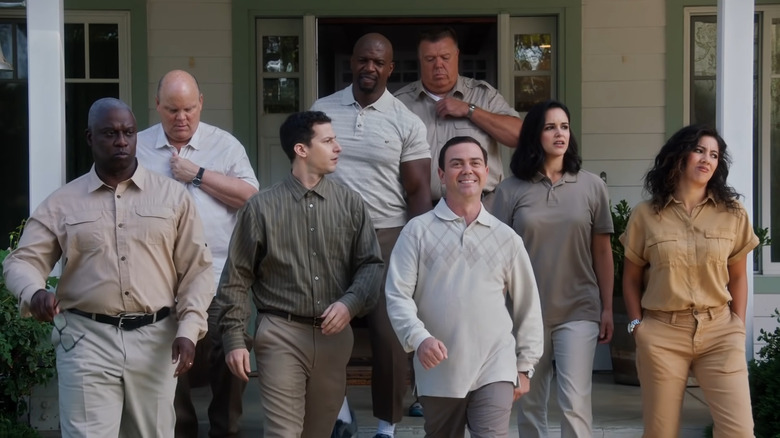 NBCUniversal Television Distribution
The 99th episode of "Brooklyn Nine-Nine" isn't the series finale, not even by a longshot — there would be 54 more episodes — but it does have many trademarks of a sitcom finale. The story seems to intentionally speak to the heart of what makes the show so great. The cast is together for nearly the entire episode (rather than split up for different storylines), the narrative takes place outside their usual workplace, and a handful of moments radiate with a sense of self-defining purpose. In particular, the episode employs the show's signature "needle-drop-to-a-slow-motion-walk-just-after- a-wardrobe-change" with, appropriately, "No Sleep Till Brooklyn" by the Beastie Boys.
As we see elsewhere in the show's strongest moments, the 99th episode navigates humor and heart especially well. Its wildest scenes involve the predictably wacky extended family of Charles Boyle (Joe Lo Truglio) and the squad having trouble sleeping through a cow orgy. In contrast, the episode grounds itself with emotional depth, as Jake tells Holt what he means to him, and Rosa comes out as bisexual to Boyle.
6. The Last Day (Season 8, Episodes 9 and 10)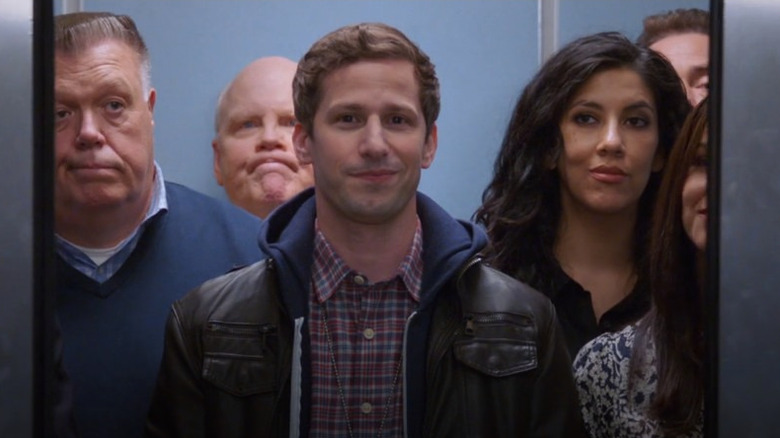 NBCUniversal Television Distribution
With only 10 episodes, the eighth and final season of "Brooklyn Nine-Nine" is the series' shortest. When it aired in 2021, it seemed even shorter thanks to NBC airing two episodes at a time, finishing the season's run in five weeks. This gave particular poignancy to every episode, with each adventure seemingly aware there isn't a lot of time left and providing loyal viewers with special moments to savor.
The two-part finale, "The Last Day," sees the squad preparing to go their separate ways. What better way to soak in one final day of work together than by completing one last heist in the style of their hallmark Halloween antics? Directed by Linda Mendoza and Claire Scanlon, the finale includes clever callbacks and surprise appearances from favorite characters.
One of its more touching moments is an emotional conversation in which Holt tells Jake that he sees him as the son he never had and that he's proud of how Jake has grown over their eight years of working together. The episode ends with a time jump to nearly one year later, on Halloween, with the squad reuniting for yet another heist, letting fans know their beloved characters will still be part of each other's lives — if only for one day each year.
5. Adrian Pimento (Season 3, Episode 17)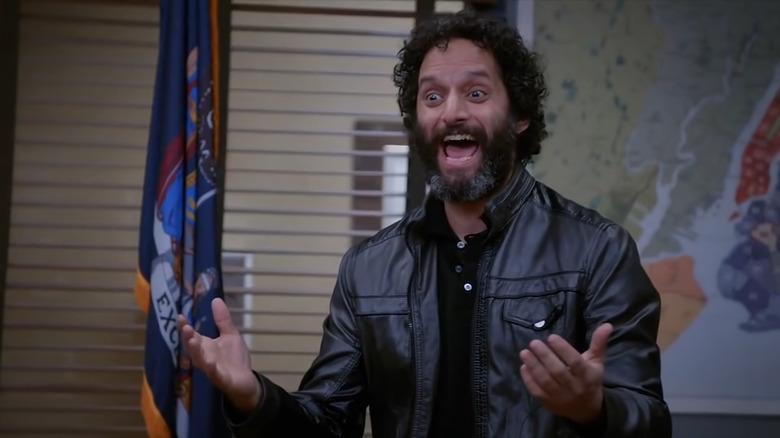 NBCUniversal Television Distribution
Everything fires on all cylinders in Season 3's "Adrian Pimento." Jason Mantzoukas, whom you may know as Derek from "The Good Place," is hilarious in his chaotic first appearance as the eponymous former undercover cop. There are many wild Adrian Pimento moments to come, as Mantzoukas returns for 10 more episodes throughout the series. In his debut, Mantzoukas defines the essence of his character: a comically loose cannon who, on a serious note, struggles to rediscover his identity after being undercover for such a long time. In an example of the show's versatility in effortlessly hopping between jokes and pathos, Jake is empathetic to Pimento's plight, helping him readjust to reality.
Also in this episode, Kate Flannery (Meredith from "The Office") appears as Mean Marge, the head of custodial with a grudge against the Nine-Nine. Meanwhile, Gina directs the squad in a promotional video, with Chelsea Peretti perfectly portraying Gina in her prime.
4. Coral Palms (Season 4, Episodes 1-3)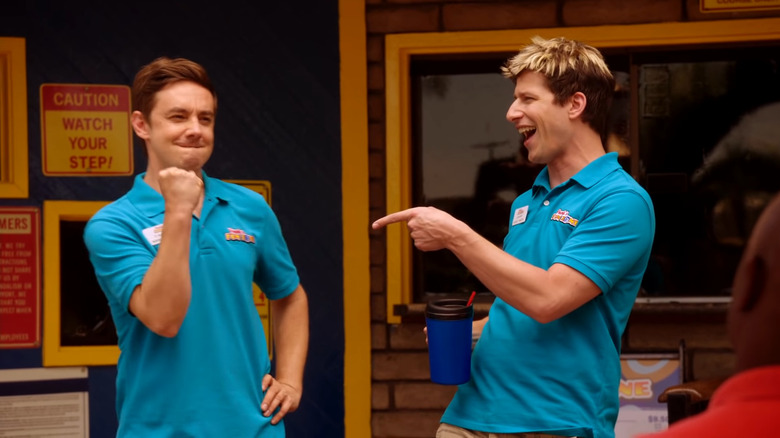 NBCUniversal Television Distribution
The three-part premiere of Season 4 sends the characters to Florida for what amounts to a "Brooklyn Nine-Nine" mini-movie. In a plot point that left viewers hanging in the Season 3 finale, Jake and Holt are undercover in the sunshine state as Greg and Larry. When their new fake lives begin to fall apart, the rest of the squad rushes to their rescue. The Florida aesthetic is a nice change of pace, made even better by the commitment to keep the story there for three episodes rather than try to cram it into a single half-hour.
A collection of incredible guest stars also makes "Coral Palms" memorable. Maya Rudolph, one of Samberg's former "Saturday Night Live" co-stars, is fantastic as Karen Haas, a marshal who checks in on Jake and Holt from time to time. Her performance is hysterical, with an especially funny scene in which she tries to talk over Holt's car engine.
Also present is Jim O'Heir (aka Jerry from "Parks and Recreation") as the bumbling Sheriff Reynolds. Jorma Taccone, Samberg's bandmate from The Lonely Island, guest stars as Taylor, Jake's manager at his undercover job at an arcade. Seeing Samberg and Taccone together in a summertime environment gives off a distinctive "Hot Rod" vibe — a welcome, if unintentional, callback to the real-life friends' first movie.
3. Pilot (Season 1, Episode 1)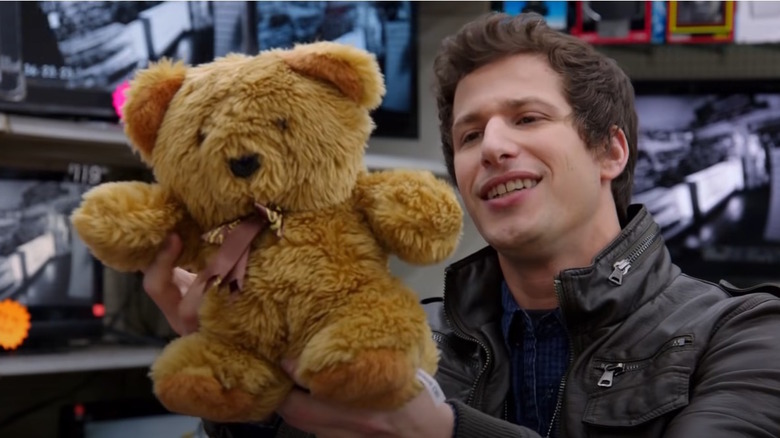 NBCUniversal Television Distribution
The initial episode of the series captures the essence of its humor, the thrill of its police escapades, and the heart of its characters with sincere cinematic flair. From its first scene, in which Jake and Amy butt heads while attempting to procure security footage, the episode is hyper-aware of its urgent task to win over the audience as it introduces its version of Brooklyn and the characters who call the borough home. When the episode segues into its theme music (coming at the show's end rather than the beginning, just this once), we can confidently call these personalities our friends, and we're ready to go.
The pilot of "Brooklyn Nine-Nine" is one of the few episodes of the series to be written by the show's creators, Dan Goor and Michael Schur, whose collective filmography includes major behind-the-scenes roles on "The Office," "Parks and Recreation," "The Good Place," and a long list of your other favorite shows. The premiere episode also boasts impressive directors in Phil Lord and Christopher Miller, the duo who helmed "21 Jump Street" and who would later direct "The Lego Movie" and produce "Spider-Man: Into the Spider-Verse" among other highly successful projects.
2. DFW (Season 5, Episode 17)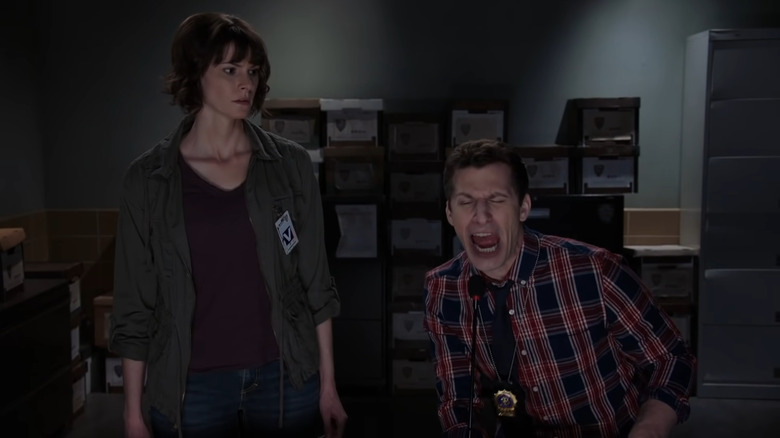 NBCUniversal Television Distribution
This episode has the hallmarks of all great "Brooklyn Nine-Nine" adventures, but its perfect cold open makes it one of the best. Jake helps a woman discern who killed her brother from a lineup of five suspects. The woman knows the murderer sang "I Want It That Way" by Backstreet Boys at a bar earlier, but she never saw his face. Naturally, the only way to determine the killer is to have all five suspects sing the song. From behind the glass, Jake harmonizes with them ("Tell me why!") as the suspects sing. "Literal chills," Jake remarks. The woman standing next to him is unphased and solemn. "It was number five," she says. "Number five killed my brother." "Oh my God, I forgot about that part." It's an epic Andy Samberg moment if there ever was one.
The rest of the episode is pretty rad, too. Sgt. Jeffords (Terry Crews) unsuccessfully takes up yoga, and Gina plays matchmaker for Rosa. Meanwhile, Jake discovers he has a half-sister, Kate, who visits from Dallas (hence the episode title). She's played by Nasim Pedrad, Samberg's "SNL" co-star for three seasons. Kate is a lot, and Jake shoos her away, only to realize that's what their negligent dad would do. "I was trying to have a relationship with you completely on my own terms," Jake apologizes. "We both know from personal experience that's a really crappy way to treat a family member."
1. Halloween (Season 1, Episode 6)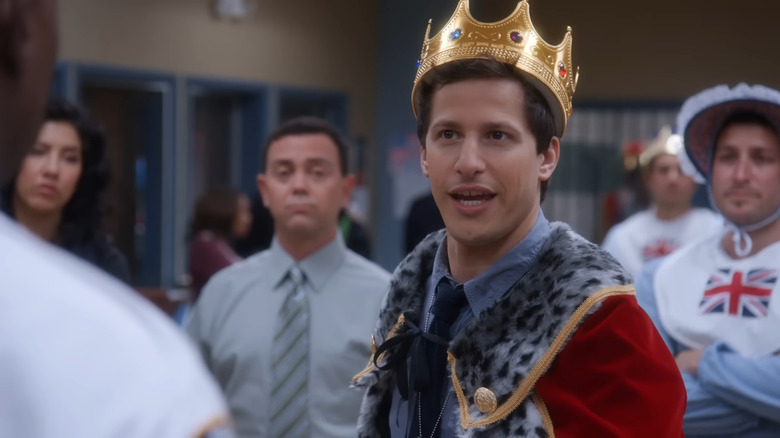 NBCUniversal Television Distribution
Dan Goor, Michael Schur, and story editor Lesley Arfin probably had no idea they were laying the groundwork for two of the series' most iconic framing devices, and that gives this episode its innocent appeal. In retrospect, the inaugural Halloween entry introduces a few signature elements  "Brooklyn Nine-Nine" is most remembered for.
Most importantly, this is the first-ever "Halloween Heist," a premise so good it would become an annual event and so definitive of the show the writers chose to center the series finale on it eight years later. An elaborate scavenger hunt brings out the desperation of the characters — and the creativity of the writers. And the heists get more delightfully outlandish as the series progresses. There's a satisfaction in seeing the first of this type of episode unfold before it was a template.
Additionally, this episode has the first instance of the "title of your sex tape" punchline that would become the "Brooklyn Nine-Nine" equivalent of "that's what she said" from "The Office." As Amy tells the squad she dislikes Halloween and describes her ideal version of the holiday as "kind, sober, and fully dressed," Jake chimes in, "Kind, sober, and fully dressed. Good news, everyone. We found the title of Santiago's sex tape." And thus, television history was born.