Adam Sandler's Brooklyn Nine-Nine Cameo Raises An Interesting Question About The Show's Universe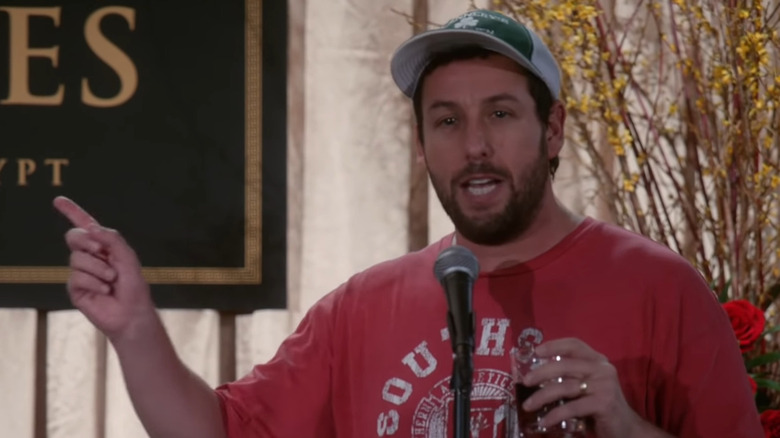 NBC
While it may have been difficult to watch "Brooklyn Nine-Nine" get the axe from NBC, a comedy about a group of good people within the NYPD actually trying to do good for their community during a very real influx of injustice made their genuine efforts look all too much like a fantasy. Although the series has left us, when "B99" wanted to be funny, it had some of the most hilarious writing on television, and the stacked ensemble cast always came to play.
As with any great sitcom, however, some of the series most memorable moments involve the addition of a surprise guest star to the mix. "B99" has featured such a diverse roster as Lou Diamond Phillips, Patton Oswalt, Jenny Slate, and Sterling K. Brown, but it was in their first season where series creators/writers Dan Goor and Michael Schur brought out one of their funniest guest spots in Adam Sandler.
In the 2014 episode "Operation: Broken Feather," Jake Perlata (Andy Samberg) and Amy Santiago (Melissa Fumero) go undercover to catch a jewel thief at an auction. But when Peralta starts the bidding at an absurdly low price, he gets berated by Sandler, who's playing himself. The Sandman then proceeds to go on stage and start his own bidding war, where he successfully auctions off stuffing a sock in Peralta's mouth to NFL star Joe Theismann. It's a hilarious cameo that causes a wildly unexpected foil for Peralta, while also bringing up an interesting conundrum in the "B99" universe.
Sandler's filmography exists within this world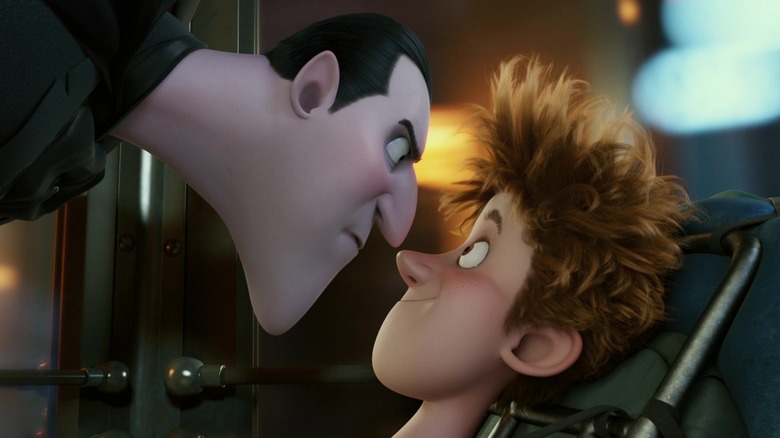 Sony Pictures
Before Sandler gets on stage, he has a back and forth with Peralta, where he says that he's attending the auction because he collects antiquities, and he's also making a movie about the Russian Revolution. Peralta jokingly asks him if noted Sandler groupie Kevin James will be in it, which the "Uncut Gems" star confirms is true. But then you almost have to ask yourself: if Sandler and his films, which are loaded with his usual motley crew, exist in this world, who plays Samberg's parts in the movies that saw them collaborating?
Prior to the episode, Samberg and Sandler had worked together on three film projects. One was the repugnant raunchy comedy "That's My Boy," another was the colorful animated film "Hotel Transylvania," of which the two would go on to make two more of those together, and the last was a small cameo in "Grown Ups 2."
I highly doubt they were even thinking of this when they wrote the episode, which just makes it all the funnier on rewatch. It really doesn't matter. Sandler just shows up like a phantom from out of nowhere, where he effortlessly hijacks the show from one of his former co-stars. It is a shame, however, that we never get to see the said sock stuffing, which Sandler would likely commentate over.
These meta-references happen all the time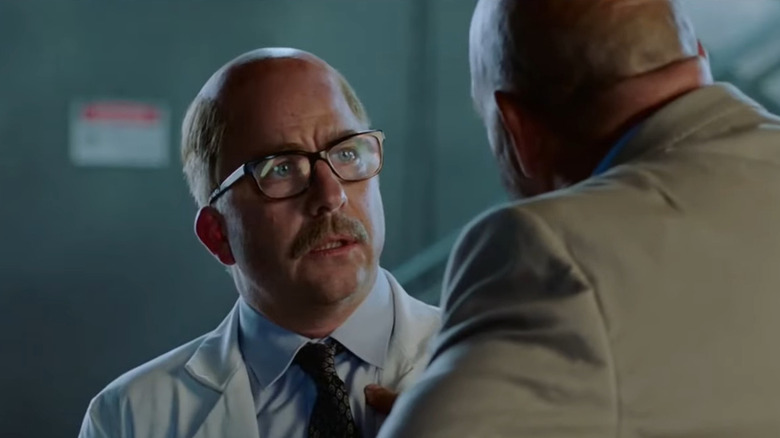 Marvel Studios
Samberg and Sandler sharing the room as actor and celebrity is certainly weird, but when you look at how the industry likes to make meta-references to themselves, it's not uncommon. You have tongue-in-cheek nods such as "Ocean's Twelve," where Tess disguises herself as Julia Roberts, even though she actually is Roberts. The funniest ones, however, almost always involve an accidental oversight that the in-universe characters haven't run into yet.
Anytime an Avenger references "Star Wars," it's pretty hilarious how none of them seem to address that S.H.I.E.L.D. director Nicky Fury (Samuel L. Jackson) looks exactly like Jedi Master Mace Windu from the prequel trilogy. The "Pulp Fiction" quote on Fury's tombstone falls in the same category, which confirms the film's existence in the Marvel Cinematic Universe. There's also the moment in "Iron Man 3" where Tony Stark tells a child that he loved him in "A Christmas Story," even though one of his top scientists is played by the film's now-grown-up star Peter Billingsley (seen above). Let's not forget that he gets shouted at by Jeff Bridges, who starred in "The Big Lebowski," which makes Tony Stark's taunt/reference to Thor in "Avengers: Endgame" all the more amusing. 
When it comes to the world of "Brooklyn Nine-Nine," the only other instance I can think of where worlds collide is the crossover with "New Girl." The two-parter special implies that the Zooey Deschanel sitcom and "B99" are in the same universe, but there's a catch. In "New Girl," Damon Wayans Jr. plays a character named Coach, but in the world of "B99," he guest stars as an old shady friend of Peralta named Det. Stevie Schillens.
If Samberg is the only one missing from Sandler's films, I can only imagine him giving the role to someone like Bill Hader. It's all in good fun, and makes for a fun discussion every time this seems to happen.
Every episode of "Brooklyn Nine-Nine" is currently streaming on Peacock.