Melissa Fumero's Favorite Part Of Filming Brooklyn Nine-Nine Was Summed Up In One Simple Scene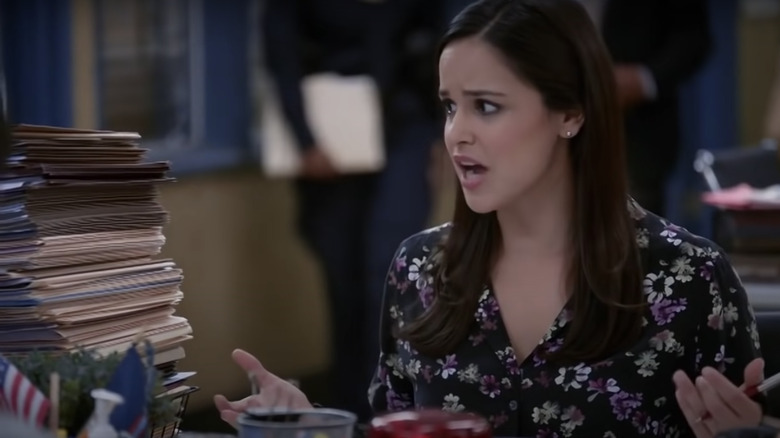 NBCUniversal Syndication Studios
When you work on a show for eight long years — especially one with a tight-knit cast — you're bound to make a few special memories. Such was the case for Melissa Fumero, who played sergeant Amy Santiago on "Brooklyn Nine-Nine." Despite being straight-laced, Amy had some of the most exciting scenes in the show, scheming all year so that she could win the Halloween heists and famously interrupted her wedding dress fitting to chase a perp down an alley (while wearing a floor-length gown, no less).
But as ridiculous as some of the episodes may have been, "Brooklyn Nine-Nine" had a big impact on Fumero. In an emotional interview that was filmed as the show wrapped up, the actress admitted that "Brooklyn Nine-Nine" had "changed [her] life" and that she was incredibly grateful for how "warm and nice and chill" everyone always was behind the scenes. Fumero also shared her favorite scene to film — and it's fitting that it wasn't all that flashy.
'You're just laughing with your castmates and feel really lucky'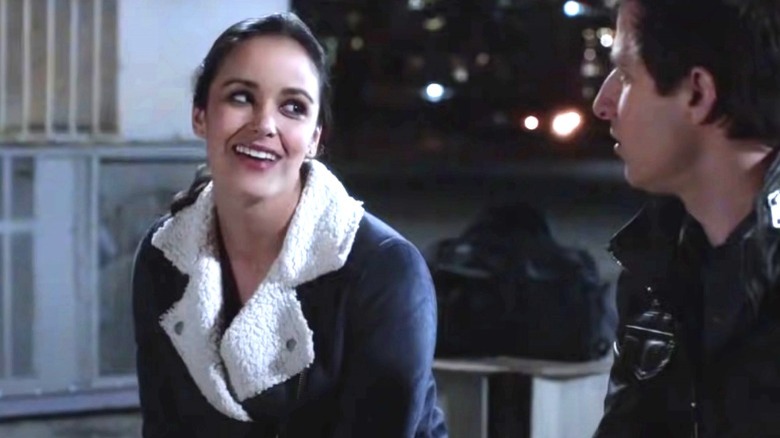 NBCUniversal Syndication Studios
Sure, the wedding dress chase looked fun, but Fumero's favorite scene was a little more quiet: the rooftop scene in season 1, when Amy and Jake (Andy Samberg) hang out while on a stake-out. But while fans may love the scene as a cute precursor to the show's main romance, Fumero loved the scene for a personal reason:
"It was sort of like this quintessential Jake and Amy moment, and we really wanted to get it right, but we actually really just had fun shooting it. And we just laughed so much, and it was like late at night, we were downtown and loopy and ... You know, I think that's the stuff I'm gonna remember is, like, the late night shoots, and the weird locations, and the long days, but where you're just laughing with your castmates and feel really lucky that you get to work with such fun people."
As it turns out, that tired yet goofy dynamic would make the scene feel all the more genuine and touching. Plus, it became even easier to root for Jake and Amy's eventual relationship — there's just something magical about a close friendship blossoming into a romance. While it'll be hard to top the Peralta-Santiago relationship, here's to hoping that we'll get more of the same friends-to-lovers in Fumero's next project, "Blockbuster," which is already hinting at a relationship with co-star Randall Park.
Jake and Amy moments were special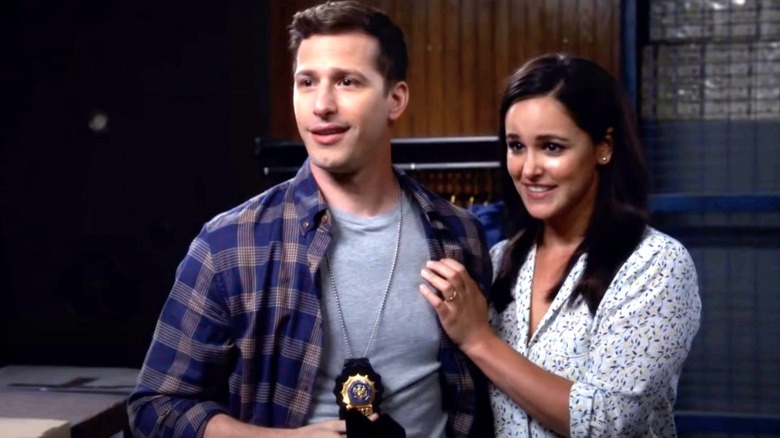 NBCUniversal Syndication Studios
Melissa Fumero may have loved filming the stakeout scene because of the behind-the-scenes laughs, but it seems like there's no shortage of fond Jake and Amy memories. In an interview with Buzzfeed, she cited the proposal as her favorite Peralta-Santiago scene, even if it gave the team a bit of trouble to create:
"We played with that scene a lot. I remember when Dan Goor called me to tell me that the Halloween Heist was going to be the proposal. He was so excited. We played with a lot of different versions of that scene. ... We kept wondering like, 'Should it all be sweet? Should it be really jokey?' I think at first it was very sweet and heartfelt, and then we started adding jokes into it. Then, we ended up bouncing back and forth ... We're just really proud of how the proposal came out, and we worked really, really hard on the moment."
While Jake and Amy's relationship may have seemed trivial in comparison to some of the heavier topics that "Brooklyn Nine-Nine" covered — police brutality, discrimination, and corruption, just to name a few — it nevertheless acted as a constant, comforting thread throughout both distressing topics and frustrating plotlines. Workplace sitcoms are only as strong as their relationships, romantic or platonic, which ultimately promise support through thick and thin. Watching "Brooklyn Nine-Nine" is a silent reminder of how comforting a wholesome relationship can be — which makes Fumero's relationship with the cast feel all the more special.