Blockbuster First Look: Randall Park And Melissa Fumero Work At America's Last Blockbuster Video In New Netflix Comedy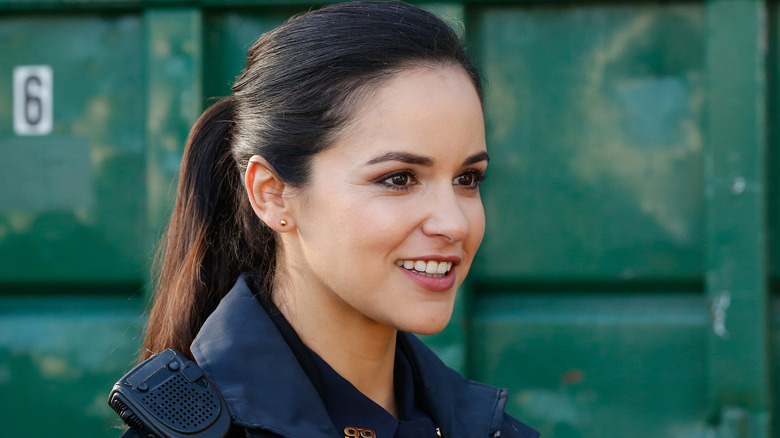 NBC
It may be hard to recall, but in the very distant past, there was a time when people didn't pay six different subscription fees for six individual streaming services. Instead of scrolling through Netflix and HBO Max for a Saturday night movie, they would browse the shelves at something called a video store. Weird, huh? The most famous of them was Blockbuster Video, a video rental franchise that was once a hub for movie fans but is essentially extinct today, save for the lone surviving store in Bend, Oregon. The stand-alone building is now a tourist attraction for the small town, and even became the subject of a documentary from Taylor Morden, "The Last Blockbuster." Ironically, said doc can be found on Netflix, the very same company that basically represents the nail in the Blockbuster coffin, as its former competitor and eventually, an example of the streaming takeover. And because irony will never die, Netflix is now creating an entire single-camera workplace comedy about the last Blockbuster, called, appropriately enough, "Blockbuster." 
The series stars sit-com alums Melissa Fumero ("Brooklyn Nine-Nine") and Randall Park ("Fresh Off The Boat"), along with an ensemble including Tyler Alvarez ("American Vandal"), Madeleine Arthur ("To All the Boys I've Loved Before"), Olga Merediz ("In the Heights"), JB Smoove ("Curb Your Enthusiasm"), and Kamala Fairburn ("Holly Hobbie"). Netflix has just released our very first look at the nostalgia-soaked series, and it might just awaken some Blockbuster-themed memories.
Welcome back to Blockbuster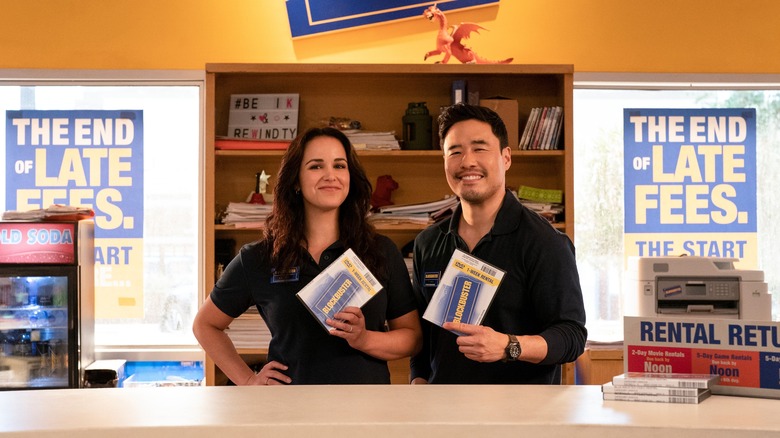 Netflix
Behold, Melissa Fumero and Randall Park as two happy-looking Blockbuster employees! Smiling in uniform, the duo are holding up the DVD cases that will flash you back to a time when the video store ruled culture. The background behind them also offers a hint at the series plot — posters on the windows announce "the end of late fees," highlighting just how dire a situation the business is in. With the rise of streaming and digital options, the store is taking big swings to keep customers interested. The 10-episode ensemble comedy takes place in the last Blockbuster in America and explores "what it takes — and, more specifically, who it takes — for a small business to succeed against all odds." It's a character forward story and at its center, Fumero plays Eliza, a dedicated mother who dropped out of Harvard to raise two kids with her high school sweetheart. When the show begins, her marriage is on the rocks and she's working alongside Park's Timmy, serving as his "as his trusty No. 2 — and maybe more."
The series comes from Vanessa Ramos, ("Brooklyn Nine-Nine," "Superstore), who serves as creator and showrunner. She's joined in the writers' room by fellow sit-com alums David Caspe ("Happy Endings") and Jackie Clarke ("Happy Endings," "Superstore"). Altogether, this sounds like a super-sweet story and the perfect set-up for what could become a long-running workplace comedy. It's got a veteran comedy writing team, star performers at the lead, and a perfect set-up ... So why then, do I feel so pessimistic?  I expect the show itself will deliver peachy-sweet hilarity, but Netflix's tendency to ax similarly sweet comedies is a not-so-distant source of concern. "One Day At Time," "Santa Clarita Diet," "On My Block" and "The Baby-Sitters Club" were all fiercely loved, critically revered, and still stopped before they could truly thrive. Sitcoms don't necessarily have the rush of viewership and sudden ratings boost that you might find in the latest superhero event show or franchise follow-up. They tend to be the type of shows that people find and fall for over time. Imagine if a "Schitt's Creek" or even "The Office" were stopped before they could truly blossom? All this to say that even from a single image, I can feel myself getting pumped for the fun of "Blockbuster," and thus, preemptively nervous about its fate.
No release date has been revealed for "Blockbuster," but building anticipation for the series, the cast members are set to participate in a game of Movie Trivia Happy Hour at the Hollywood Pavillion, as part of the Netflix Is A Joke festival.