Rian Johnson Wants Future Knives Out Sequels To Be Titled 'A Benoit Blanc Mystery'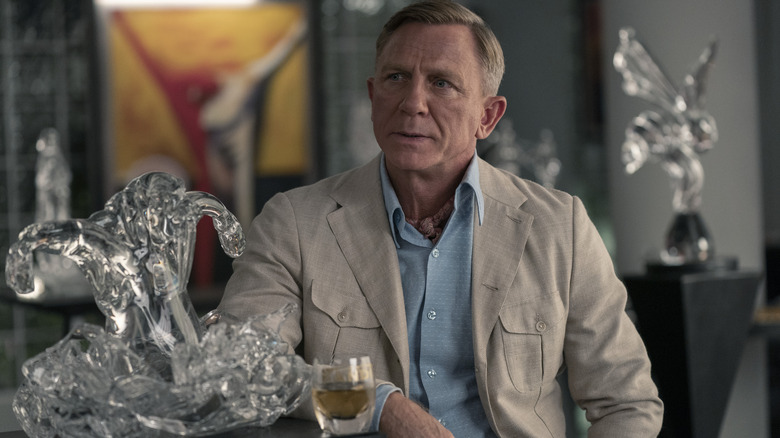 John Wilson/Netflix
Ah, yes, the joys of Hollywood titling conventions. The undisputed champion in this department has to be the "Fast and Furious" franchise and whatever those in charge were smoking when they followed up 2001's "The Fast and the Furious" with "2 Fast 2 Furious." Upon setting in motion the worst (greatest?) series of obnoxiously inconsistent titles in film history, we ended up with soon-to-be total of 10 movies with titles like "Fast & Furious," "Furious 7," "F9," and the upcoming "Fast X." (May we never forget the spin-off, too, which added the imaginative "Fast & Furious Presents:" qualifier to "Hobbes & Shaw.") But let's not hand out a pass to the "Halloween" movies or even the most recent "Scream," both of which produced sequels that simply reverted to the exact same name as the original. Maddening!
To the chagrin of those of us who care way too much about these sorts of things, Rian Johnson's 2019 murder-mystery "Knives Out" ultimately added a new wrinkle into the mix. Obviously, since "Knives Out" was a very story-specific title, it would've made no sense whatsoever to call it "Knives Out 2" or anything along those lines. (We wrote about that in-depth here, because we're slightly unhinged here at /Film.) So what did Netflix do upon buying the rights to both the sequel and the upcoming third film? Why, they took a perfectly serviceable title in "Glass Onion" and added the ridiculous "A Knives Out Mystery" subtitle to it.
Well, we're not the only ones apoplectic about that shameless marketing decision. Johnson himself has come out to voice his opinions on the matter, creating a small ray of hope that — if there must be some subtitle attached — future films would be referred to by the much more logical "A Benoit Blanc Mystery." 
Name game
Picking your battles is an important life lesson for anyone, but that probably goes double for filmmakers. Netflix's acquisition of the sequels to "Knives Out" certainly gave Rian Johnson all sorts of creative freedom to do whatever he wanted, but that didn't quite apply to certain aspects such as the weirdly aborted theatrical rollout and, more relevantly, the actual title. Netflix may have gotten its way, but Johnson is making it known that there's a better option. 
In a recent appearance on The Filmcast podcast, the director opened up about how "Glass Onion: A Knives Out Mystery" came about and why he understood the reasoning behind such a clunky title:
"The thing is, though, I totally get it. It's not like this was done against my will or something. I completely understand it. Because after the first movie, I think people knew that they liked 'Knives Out' [but] they didn't necessarily know it well enough to know who Benoit Blanc was. I think that would've gotten blank stares. And I wanted everyone who loved 'Knives Out' to know that ['Glass Onion'] is the next one of those. So I absolutely 100% was on board and totally got it that we had to do that. But also, it kills me a little bit and I want to see how quickly we can lose that subtitle."
As always, Rian Johnson gets it. As many fans know, this franchise was modeled after prolific author Agatha Christie's Hercules Poirot series. Naturally, the director draws a comparison that this title convention would've been akin to naming Christie's most famous story, "Murder on the Orient Express: A Mysterious Affair at Styles Mystery," an allusion to the preceding book. But if Johnson gets his way, we may be in for another title change.
A Benoit Blanc Mystery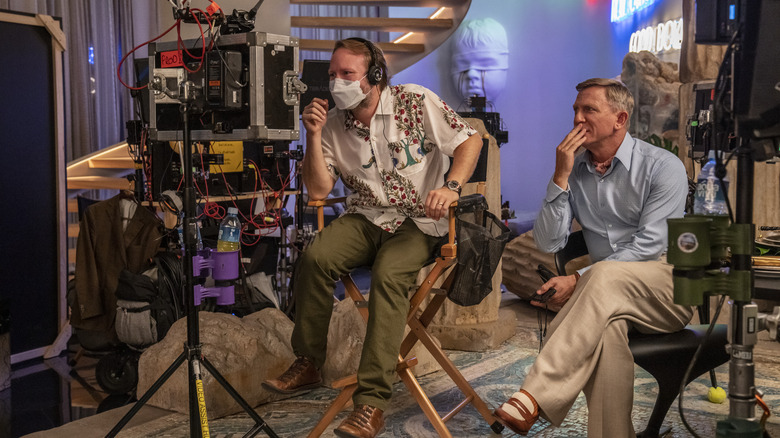 John Wilson/Netflix
While knives might not be a consistent through-line connecting each and every movie in this franchise, there is one very obvious element that links one movie to the next: Benoit Blanc himself. The brilliant Daniel Craig character is well on his way to earning a place among the Poirots, Sherlock Holmes, and other great detectives in fiction, to the point that we might as well name this entire franchise after him. Rian Johnson agrees, as he goes on to explain his eagerness to move beyond the necessary branding concerns and find something a little less creatively bankrupt to refer to these movies. According to Johnson:
"As soon as we can get past those and get to 'A Benoit Blanc Mystery' ... and I will say, with this one, with the reach of Netflix and just how many more people I feel like have seen it and how much more it feels like it's actually in the culture, we're at least getting closer to being able to get away with 'A Benoit Blanc Mystery' and people would know what we're talking about."
He definitely has a point there, as the release of "Glass Onion" on Netflix instantly led to a deluge of memes and screenshotted reactions from the sequel all over social media — most of which centered on Benoit Blanc's antics. However Johnson ends up titling the third film, it would certainly roll off the tongue easier if it came with "A Benoit Blanc Mystery" attached. Will common sense rule the day, especially now that audiences have had two movies to acquaint themselves with the idea of a Benoit Blanc murder-mystery? Let's hope!
"Glass Onion" is currently streaming on Netflix.