How Michelle Ang's New Zealand Roots Influenced Omega In Star Wars: The Bad Batch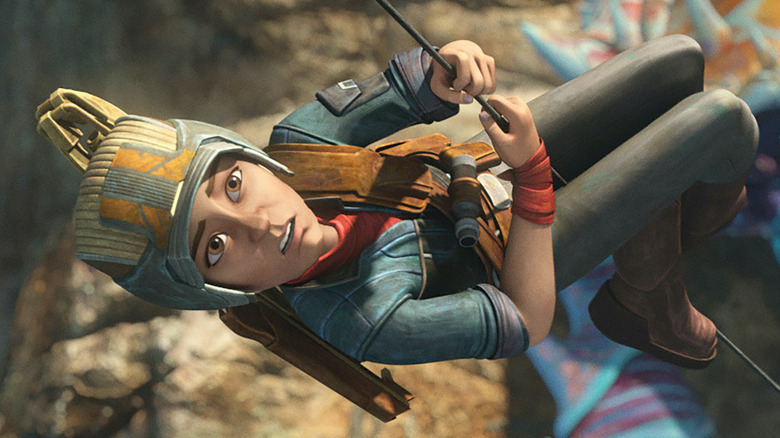 Lucasfilm
Watching "Star Wars: The Bad Batch," it's easy to forget that most of the show's heroes are voiced by a single chap in a recording booth. Indeed, prolific voice actor Dee Bradley Baker has been doing a fabulous job lending his vocals to the animated clones of a galaxy far, far away since 2008, starting with the "Clone Wars" movie. With "The Bad Batch," however, he's somehow stepped his game up a notch, creating unique growls, pitches, and intonations for Clone Force 99 members Hunter, Echo, Tech, and Wrecker, along with their forsaken brother Crosshair and all the other Jango Fett clones that survived the fall of the Old Republic ... save for one.
Yes, as skilled as Baker is, even he can't play every character on "The Bad Batch" (though he could surely make a decent go at it if he wanted to). No, the newest and youngest member of Clone Force 99, Omega, is voiced by Michelle Ang, a New Zealand actor who broke out with her role on the long-running Australian soap opera "Neighbors" in the early 2000s. That also makes her the first Kiwi performer to depict one of Jango's clones in animated form. Naturally, I'll leave it to the dialect experts of the world to decide where Baker's imitation of live-action Jango/clone actor Temuera Morrison's native New Zealand inflection ranks on the fake accent scale, be it pretty good, pretty bad, or Dick Van Dyke in "Mary Poppins" levels of charmingly unconvincing.
Ang, for her part, feels her real-life heritage affects more than just the way Omega sounds. In fact, the way she sees it, what she described to Dailymotion's Celebrity Wire (via Star Wars News Net) as her "New Zealand-ness" very much informs the character's youthful, idealistic outlook.
Rolling with the punches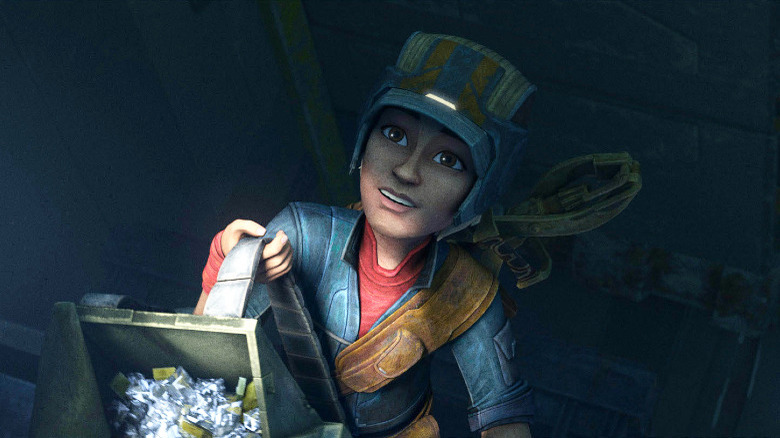 Lucasfilm
Life's never easy for kids growing up in the ever-wartorn galaxy far, far away, and Omega is no exception. As though being hunted by the Galactic Empire, kidnapped by bounty hunters, and put in life-threatening danger time and time again during Clone Force 99's various jobs wasn't enough, she also spent much of the first season of "The Bad Batch" worrying that she was nothing more than a burden for her clone brothers. Yet, Omega proved remarkably durable through it all and was able to roll with the punches no matter how bad things got.
Speaking to Celebrity Wire, Michelle Ang said she felt that was her own New Zealand roots coming through in the character. She explained:
"When [Omega] feels like something is wrong, just the way that she delivers it, as matter-of-fact, and also sometimes I think the New Zealand-ness of being quite, like, weirdly casual. [...] I always thought that New Zealand has this extremely casual way of talking about big things. [...] And it works well in a sense with Omega's age, so quite often my offers in the record [are] inspired by the Kiwi casualness, and I think that lends quite a specificity to Omega as a character."
Omega's attitude, to build on what Ang said, serves to distinguish her from the other members of Clone Force 99, along with making her a good foil to the team's pragmatic and cautious leader, Hunter. It does raise the question, though: How will the character evolve as she continues to age and come into her own? While the "Bad Batch" season 2 premiere revealed that Omega is already noticeably more experienced and self-reliant than the last time we saw her, it's worth keeping in mind that her journey to adulthood has only just begun.
Idealism versus reality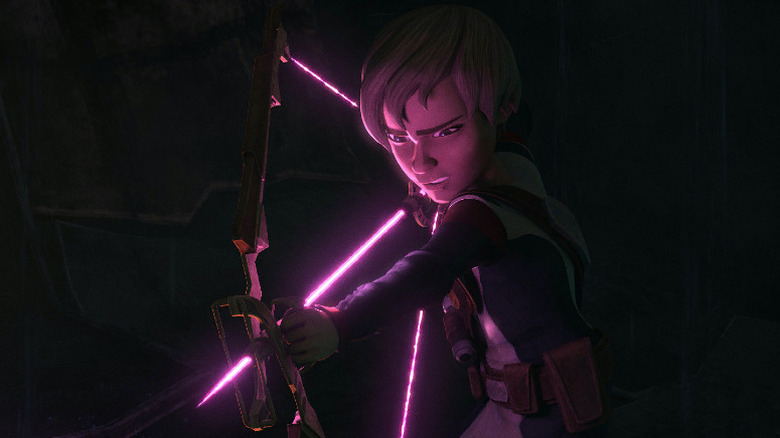 Lucasfilm
One of the big themes "The Bad Batch" has already hit upon in its second season is the matter of how one can lead a moral life while having to exist in a fascist state, and examining at what point refusing to act or speak out against fascism becomes equivalent to supporting it. It's an issue that came up several times for Clone Force 99 in the first season, too, although they were often too busy trying to avoid being captured by Crosshair and the Empire to dwell on it for long. But now that they're operating further under the radar than ever, it's a dilemma Omega and the gang are going to have to reckon with sooner than later.
Speaking with Collider, Michelle Ang indicated the clash between Omega's idealism and reality will define much of her arc over the season to come:
"[Omega has] got really strong ideas of what family should feel like and look like and how they should sort of be. And I think the realities of being in this particular world and this particular universe means that sometimes that can't play out as to how she as a young adolescent wants that to be. So, she has to deal with a more complicated [...] I guess she's realizing that the way her idealism comes up against challenges and she has to really figure out how to work through that."
While it sounds like there are some rough waters ahead for Omega personally, Ang's comments bode well for the show's future quality of storytelling. My apologies for tooting my own horn, but it bears repeating: The more "Star Wars" keeps things real thematically, the better off it is.
New episodes of "Star Wars: The Bad Batch" season 2 drop Wednesdays on Disney+.