The Original 'Mary Poppins' Is The Quintessential Disney Movie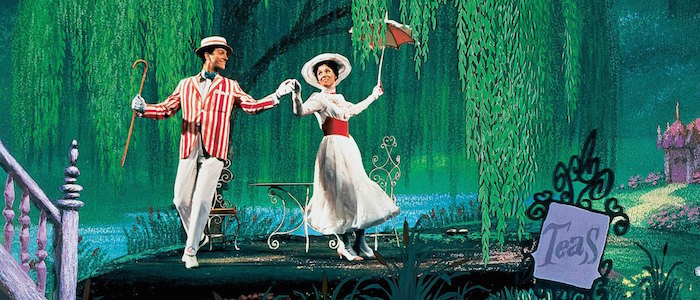 (Welcome to The Disney Discourse, a recurring feature where Josh Spiegel discusses the latest in Disney news. He goes deep on everything from the animated classics to the theme parks to live-action franchises.)
Leave aside the actual designation: what defines "a Disney movie"? The Walt Disney Company has released plenty of films that don't quite feel like something that may come from the House of Mouse, per se, so what is it that defines that subgenre of film? Your mileage may vary, but the ingredients that make up a Disney movie for me include the following: slapstick humor, memorable songs, a family-friendly and family-focused story (those aren't always the same things), an embrace of just a wee bit of excess, a willingness to scare kids somewhat, a dollop of nostalgia, and more than a touch of technological ground-breaking.
Thus, with these notions in mind, it's hard to imagine that, at least for the first 50 years of the studio's feature-length filmography, there's no more quintessential Disney movie than Mary Poppins.
A Ridiculous Story That Magically Works
This week, of course, heralds the arrival of a brand-new story featuring Mary Poppins from Walt Disney Pictures, nearly 55 years after the release of the original Mary Poppins in the summer of 1964. If anything about Mary Poppins Returns is striking (and not much is), it's that watching other filmmakers try to echo the 1964 original only proves its uniquely unduplicable qualities. When you describe the events of Mary Poppins, directed by journeyman helmer Robert Stevenson, it's easy to imagine that the film would have just been an utterly ridiculous failure.
Here goes: A sometimes-loving, sometimes-deadpan nanny (Julie Andrews) literally descends from the clouds to take care of two rambunctious children (Matthew Garber and Karen Dotrice), and make their parents (David Tomlinson and Glynis Johns) realize that they need to be more present and loving to their kids. The nanny achieves this goal by taking the kids on a series of misadventures, from traveling into a painting where they race alongside hand-drawn animated horses; to letting them laugh alongside a goofy old coot on the ceiling of his house; to taking the children to the rooftops of London to dance and sing alongside the most charming group of chimney-sweeps you'll ever meet. The nanny also has the magical ability to make her umbrella talk, control the wind, and inspire giddiness in even the most stiffly proper British men. What happens in Mary Poppins is all quite silly, in its own way, but somehow, it all works.
While there's not just one reason why Mary Poppins works so well, the chief reason it's been able to stand the test of time for so long is its leading lady in her film debut. Julie Andrews wasn't just playing a practically perfect character; everything about her performance suggested unqualified perfection. Where many of the actors in Mary Poppins are playing to the back row, Andrews rarely raises her voice, becoming a serenely calm figure whose seemingly all-knowing nature never feels overly coy or too mysterious. Though the character of Mary Poppins is herself not super-showy—either among the rest of the characters in the film, or just generally—it's perfectly logical that Andrews received the Best Actress Oscar for her work. (As many cinephiles know, Andrews not only beat out Audrey Hepburn in My Fair Lady for the award. She'd been overlooked to play Eliza Doolittle, a role she originated on Broadway, by producer Jack Warner. Warner's loss was Disney's gain.)
The Instantly Iconic Music
Andrews aside, it's impossible to think of Mary Poppins without thinking of its music. A "Disney movie" is one with music that you can't stop humming, music that becomes instantly connected to the story in which it appears. What is The Lion King without "Circle of Life"? What is Pinocchio without "When You Wish Upon a Star"? And so on. But it's hard to think of a lot of other Disney films with so many unbeatable, stone-cold classics as Mary Poppins.
From "A Spoonful of Sugar" to "Jolly Holiday" to "Chim Chim Cher-ee" to "Feed the Birds", there's arguably eight or nine songs, all written by the Sherman brothers, that serve as instantly memorable pieces of music. How many other films can boast that many songs that are earworms? One of the Oscars Mary Poppins won was, naturally, for Best Original Song, with "Chim Chim Cher-ee" as the victor, and only nominee, from the film. But the whole category could've just been songs from this film.
The expansive tone of the music suggested that Disney wasn't just aiming to adapt the stories by P. L. Travers — the impresario had tried to get the rights from Travers for decades. He was trying to make an epic, sprawling musical in the vein of West Side Story or The Music Man. Several the songs are showstoppers, but the slower songs, including "Feed the Birds" (famously known as Disney's favorite song in his later years), have more profundity and depth than you might associate with Disney.
Going Over the Top
Of course, if you've watched any of the Disney live-action films of the 1960s and 1970s lately (I only do such things because of the weekly podcast I co-host), you know that their comedies were marked by often wacky, sometimes overlong stretches of slapstick. In the mid-1960s, there were few actors who embodied this comic sensibility as much as Dick Van Dyke. Starting on Broadway as one of the original leads of Bye Bye Birdie, Van Dyke became a TV star only a couple of years before co-starring opposite Andrews in Mary Poppins.
Where the secret to Andrews's performance is that she avoids going too far over the top, Van Dyke's secret weapon isn't secret at all. To paraphrase Friends, he's so far over the top that the top is a dot to him. In the opening scene, where Van Dyke, as jack-of-all-trades Bert, is introduced, he's literally a one-man band. When we meet Bert, he's doing everything in his power physically and mentally to entertain a crowd before he senses the impending arrival of Mary Poppins simply because of a change in the wind. (Again, when you write out what happens in this movie, it's kind of insane that any of it works.)
Van Dyke doesn't stop there. Once Mary has taken young Jane and Michael Banks out for the day, they find their way to the park where Bert has now moved on from being a one-man band to being a pavement artist, producing chalk paintings. Soon, the children and Bert are transported inside one of the paintings on the sidewalk, where Bert soon bursts into song, in "Jolly Holiday", a tune so memorable in spite of its message being "Mary Poppins is the best person in the history of the world." (Plus, if you look up the lyrics Mary has at the end of this song, you'll find that her message is "Bert, you're one of the few men who won't sexually assault me, so you're all right in my book." If you haven't heard the song in a while, you might think I'm kidding. I am not.) In the middle of the sequence, Bert dances alongside a group of animated penguins, mimicking their unique gait by yanking down his pants towards his ankles. Later in the film, Bert has transitioned to being a chimney-sweep, leading to both "Chim Chim Cher-ee" and the extended dance sequence known as "Step in Time". Van Dyke is in perpetual entertainment mode here; like his goofy Cockney accent, Van Dyke's charm is that he tries so hard that you can't help but be charmed.
That, of course, speaks to something that unequivocally makes Mary Poppins peak Disney: this movie leaves nothing on the table. Take "Step in Time" as an example. (I wish you would. It's a roughly eighteen-hour dance sequence.) Though I don't love the sequence, it wouldn't be a Disney movie if they didn't put in everything including the kitchen sink, or the chimney sweeps. Many of the Disney films of the 1960s and 70s do this same kind of thing, but with slapstick humor; it's like a kiddie version of the car crash scenes in The Blues Brothers, where a handful of cars crashing into each other wouldn't be nearly as good as hundreds of cars crashing into each other. (Or, if you like, it's the Disney version of the line from The Social Network: A five-minute dance sequence isn't cool. You know what's cool? A ten-minute dance sequence.)
Creating an Idealized Past
That sense of putting everything into one package is also reflected in the film's setting. You may argue that the most quintessential Disney film would have to take place in America, because few people embodied America in the 20th century more than Walt Disney. While I wouldn't argue that point, the setting and time period of Mary Poppins are key to its overriding sense of pleasure. It's not just a London-set film in 1910, but the setting of Cherry Tree Lane feels an awful lot like a cinematic version of Main Street, U.S.A. in Disneyland: it's clearly a studio set that's meant to evoke something less than an accurate depiction of London as much as your childhood memory of what London might have looked like in a simpler time. (It is no doubt deliberate that Mary Poppins takes place before the beginning of World War I.) The sense of Mary Poppins coming from a simpler time emanates from more than the setting, but from the understandable reliance on practical effects and hand-drawn animation.
The animated sequence, which takes up about 20 minutes of the 140-minute length, is another fine example of how comfortable Disney was with pushing his films to break more ground. There are only a handful of live actors in the scene, and nothing approaching a sincere threat posed to the humans. Instead, the film is at its most laid-back in this section. First, Mary, Bert and the kids hang out in the middle of a carousel, then with farm animals, and then they find themselves at the conclusion of an old-fashioned horse race. Some of the nostalgia even extends to the animation that serves as the backdrop for many of the London-set scenes. Peter Ellenshaw, the famed matte artist, provided the various backdrops for London in this film, adding to an overall quality of haunting timelessness. (The new film, to note, has background designs heavily inspired by Ellenshaw's work, causing a nostalgia loop of sorts.)
When it opened in 1964, Mary Poppins was a cultural event, and served as a major influence not just for future Disney films but other family films overall. The studio would try and fail to echo the success of Mary Poppins with Bedknobs and Broomsticks and Pete's Dragon, the latter of which did get remade but in a vastly different way. And other storytellers would eventually follow in this film's second-half footsteps, telling a story of how a workaholic parent needs to learn what matters and pay more attention to their family. Mary Poppins feels like it was always destined for iconography, from its opening strains of music. It's a film that's impossible not to like and a film that's impossible to replicate. The movie leapt beyond Disney's populist tendencies and became a critical darling, getting the studio's first Best Picture Oscar nomination. (Fun fact: to date, this is the only live-action film from Walt Disney Pictures to get a Best Picture Oscar nomination.) Just as Mary Poppins is always destined to lift her shoes off the ground and float away into the sky, into our memories, so too did the film feel like it was always destined to be a classic from the moment it began.