Shotgun Wedding Trailer: Jennifer Lopez Stars In A Rom-Com To Die For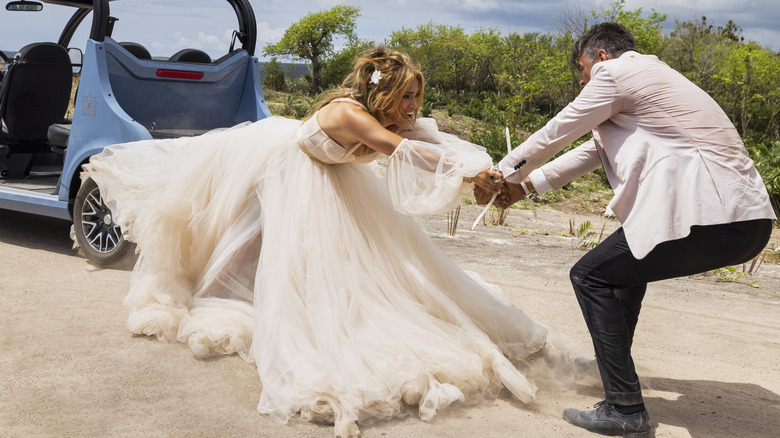 Prime Video
At the risk of hyperbole, I'm tempted to proclaim to all the masses that we're living in a golden age of trailers that tease one (relatively) normal movie premise and then take a complete 90-degree swerve into something else entirely. We just saw that unfold in real-time with the hilariously-named "Plane," the latest Gerard Butler actioner that unleashed one of the most entertaining title reveals we've received in quite some time. Oh, and should you be tempted to think that this trend is only able to be enjoyed ironically, take it from /Film's Ryan Scott that "Plane" does, in fact, deliver the goods.
The latest contender for this crown comes from the queen of high-concept romantic comedies, Jennifer Lopez. No stranger to suiting up in a frilly wedding dress and dealing with insufferable men, her latest project seems to place her in very familiar territory ... with a twist. As you might expect from the double entendre of a title, "Shotgun Wedding" has far more on its mind than all the usual banal humor, cheesy sentimentality, and regressive depictions of a "bridezilla." Instead, the footage teases something far more explosive.
Let's put it this way: If you ever wanted to see Lopez chucking grenades in her wedding dress or Jennifer Coolidge firing a machine gun, then this is the rom-com for you. Check out the trailer below!
Watch the Shotgun Wedding trailer
With a premise as zany as this one, "Shotgun Wedding" might offer just enough thrills and humor and heart to make you forget that this movie is forgoing theaters entirely for a straight-to-streaming release. That's a bit of a buzzkill, admittedly, but it's hard to be too cynical about the mayhem on display here. When two lovers bring together their respective families for a destination wedding, all their carefully-laid plans go up in smoke when a gang of vicious pirates descends on the festivities and forces the guests into a fight for their lives. You know, typical family antics!
What else would you expect from the director of "Pitch Perfect"? "Shotgun Wedding" comes from filmmaker Jason Moore and writer Mark Hammer. The unconventional rom-com stars Jennifer Lopez as Darcy, Josh Duhamel as her groom-to-be Tom, the unparalleled Jennifer Coolidge as the matriarch Carol, "The Good Place" veteran D'Arcy Carden, Sonia Braga, Cheech Marin, Selena Tan, Callie Hernandez, Desmin Borges, Steve Coulter, and, of course, Lenny Kravitz. The film will debut on Prime Video on January 27, 2023.
In "Shotgun Wedding," Darcy (Jennifer Lopez) and Tom (Josh Duhamel) gather their lovable but very opinionated families for the ultimate destination wedding just as the couple begin to get cold feet. And if that wasn't enough of a threat to the celebration, suddenly everyone's lives are in danger when the entire party is taken hostage. "Til Death Do Us Part" takes on a whole new meaning in this hilarious, adrenaline-fueled adventure as Darcy and Tom must save their loved ones — if they don't kill each other first.