Plane Trailer: Gerard Butler And Mike Colter Star In Jailbreaks On A Plane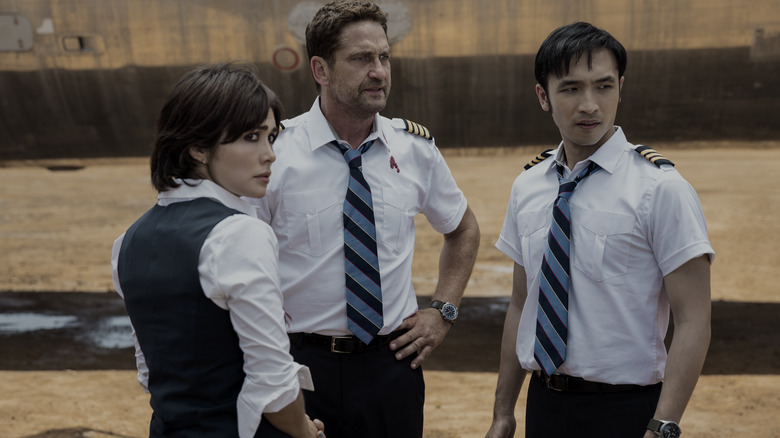 Lionsgate
Look, it's not every day that I get to flex my background as an aviation major and actually make it relevant with my obsessive love for film. So, for better or worse, I'm about to take full advantage of the opportunity here and go completely off the deep end with one of the more amusing movies on the upcoming calendar.
I've been frantically gathering as much evidence as possible to support the hypothesis that we're in the early stages of an aerial renaissance of sorts. "Top Gun: Maverick" emphatically proved that audiences still feel the need for speed, flocking to theaters (and, as of the holiday break, Paramount+ streaming) to experience those visceral thrills for themselves. In a quirk of timing, the World War II-set movie about flying aces, "Devotion," also came out last year — even sharing similar DNA with the "Top Gun" sequel, in fact, thanks to the casting of Glen Powell in both movies. Two plane-related movies isn't exactly much of a trend, admittedly, but it's better than nothing!
Luckily, audiences will have to keep their eyes on the skies with perhaps the most straightforwardly-titled aviation movie of them all: "Plane." Starring Trash Cinema King™ Gerard Butler, the early trailers for the upcoming film created quite a wave on social media, mostly as a result of the incredibly silly plot and the magnificently simple title reveal at the very end. For those who like their action flicks with a heaping dose of cheese, well, the final trailer for "Plane" is here to help wake up a sleepy January at the movies. Check it out below!
Watch the final Plane trailer
Well, you certainly can't use this movie as evidence that Hollywood is running out of ideas. Directed by Jean-François Richet ("Assault on Precinct 13") from a screenplay by Charles Cumming and J.P. Davis, "Plane" stars Gerard Butler as the embattled airline pilot forced to transport an alleged homicidal convict (Mike Colter) on his civilian aircraft. As you would expect, all hell breaks loose when the plane is forced down and attacked by a group of mercenaries/terrorists. And luckily for us all, the precise confluence of events take place that will allow Butler and Colter to team up for some gunfighting action in a premise ripped straight out of the '80s heyday for B-movie action flicks.
After watching Idris Elba arm wrestle lions in last year's "Beast" in another similarly straightforward movie, Gerard Butler fighting armed gunmen to protect his plane simply feels like the logical next step.
The rest of the cast is filled out by the likes of Yoson An, Daniella Pineda, Paul Ben-Victor, Remi Adeleke, Joey Slotnick, Evan Dane Taylor, Claro de los Reyes, and Tony Goldwyn. "Plane" is slated for a theatrical release on January 13, 2023.
In the white-knuckle action movie 'PLANE,' pilot Brodie Torrance (Gerard Butler) saves his passengers from a lightning strike by making a risky landing on a war-torn island — only to find that surviving the landing was just the beginning. When most of the passengers are taken hostage by dangerous rebels, the only person Torrance can count on for help is Louis Gaspare (Mike Colter), an accused murderer who was being transported by the FBI. In order to rescue the passengers, Torrance will need Gaspare's help, and will learn there's more to Gaspare than meets the eye.