Avatar: The Way Of Water Passes $1.7 Billion At Global Box Office, Becoming 7th Biggest Movie Of All Time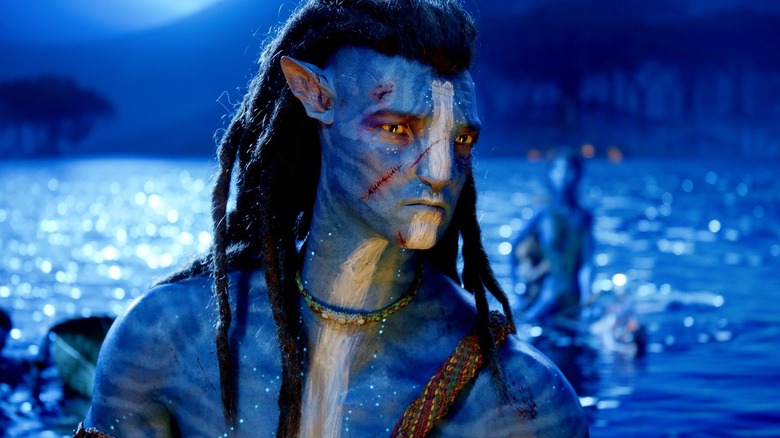 20th Century Studios
Standing at around 10 feet tall, the Na'vi of Pandora have very long legs — and it looks like "Avatar: The Way of Water" does too. James Cameron's spectacular sci-fi sequel has held on to the number one spot at the box office in its fourth weekend (despite some scary competition from "M3GAN") by adding another $45 million in domestic ticket sales. This is a drop of just 33% from the previous week, per Box Office Mojo, and brings its running domestic total to $517 million.
$45 million is ahead of Saturday's projections from Variety, which had "The Way of Water" pegged for a $38 to $43 million fourth weekend. The box office has grown harder to predict amid the new post-pandemic landscape, where ticket sales have lagged and many studios have been pivoting to streaming-only releases and shortened theatrical windows. However, the marketing of the "Avatar" sequel as an expensive spectacle that should be seen on the biggest screen possible has proven to be a successful tactic for drawing moviegoers out of hibernation, and convincing them to splash out on premium formats.
Cameron has previously said that the gargantuan budget for "Avatar: The Way of Water" (which was shot back-to-back with "Avatar 3" and parts of "Avatar 4") means that the threshold for its success is becoming "the third or fourth highest-grossing film in history." After less than a month in theaters it's already well on its way to that goal. According to BOM's stats for the highest-grossing movies of all time, "The Way of Water" is now in 7th place with a worldwide total of $1.708 billion, sandwiched between "Jurassic World" at #8 and "Spider-Man: No Way Home" at #7.
How far can Avatar: The Way of Water go?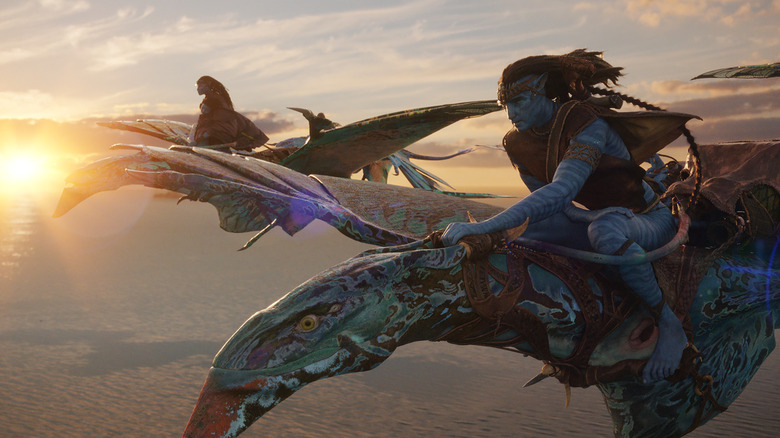 20th Century Studios
Now that "Avatar: The Way of Water" is safely past the break even point and turning a profit (funky Hollywood accounting practices notwithstanding), the question remains: how far up the all-time list will it climb? Most heavy hitters at the box office these days tend to follow the Marvel Cinematic Universe pattern of a massive opening weekend followed by a fairly steep drop. But James Cameron's movies have historically wound their way up through the record books more gradually, with modest opening weekends ("Avatar" had a $77 million debut) followed by weeks upon weeks of bobbing around in the top 5 and then, over the years, periodic re-releases to top up the total.
With that in mind, the best measuring stick we have for "Avatar: The Way of Water" is last year's "Top Gun: Maverick." The high-flying sequel behaved very much like a James Cameron movie, holding strong for months on end even as new releases broke on the unforgiving post-pandemic waters of the box office. "Maverick" even returned for a victory tour in December 2022, ultimately ending its theatrical run with a global total of $1.488 billion, including $718 million domestic.
As noted by Box Office Mojo, "Maverick" performed very similarly to "The Way of Water" in its fourth weekend — almost an exact match at $44.7 million — and if Cameron's movie continues along a similar trajectory it will round out its initial domestic run at around $769 million. It is already significantly outstripping "Top Gun: Maverick" at the international box office, which accounts for almost 70% of its worldwide total so far. This is thanks in large part to securing a release in China, where it has so far grossed $162 million.
At the pace "Avatar: The Way of Water" is moving, it won't be long before it joins the elite $2 billion club — a worldwide total achieved by only five movies so far. After that, it will be tussling for a place in the top five movies of all time with "Avengers: Infinity War" ($2.048 billion), "Star Wars: The Force Awakens" ($2.069 billion), "Titanic" ($2.201 billion), "Avengers: Endgame" ($2.797 billion), and — of course — "Avatar" ($2.922 billion).