Sea Beast Sequel Coming To Netflix As Director Chris Williams Signs Deal With Streamer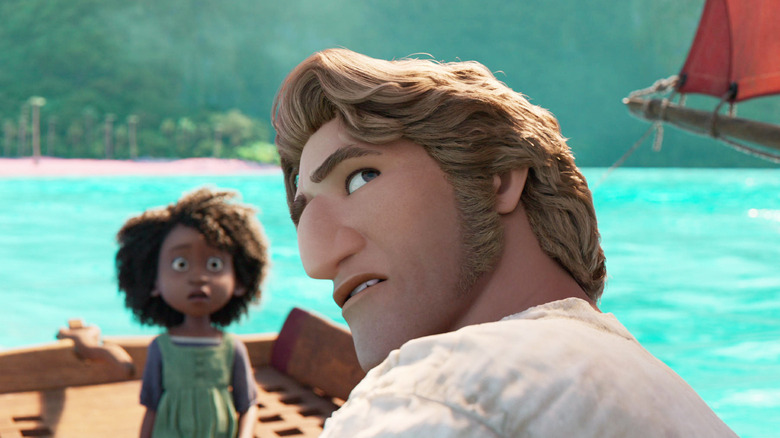 Netflix
Get ready to sail the seas again! "The Sea Beast" director and co-writer Chris Williams is working on a sequel to his nautical fantasy adventure, an animated film that's equal parts "How to Train Your Dragon" on the high seas, a love letter to old-school massive monster movie classics like "King Kong," and a surprisingly authentic portrayal of life on the ocean in the vein of "Master and Commander: The Far Side of the World." (Not even kidding, they had the same nautical adviser and everything.)
"The Sea Beast" marked the solo directing debut for Williams, who spent over 20 years working for Disney Animation on projects like "Bolt," "Big Hero 6," and "Moana" before jumping ship (I know, but it had to be done) to Netflix for "The Sea Beast." Set in a historical fantasy world where colorful kaiju roam the seas, the film centers on Jacob Holland (Karl Urban), a monster hunter eager to earn his stripes and become the captain of his own sailing vessel by killing a fabled creature known as the Red Bluster. Thanks to a twist of fate, however, Jacob ends up stranded on a mysterious monster-populated island with an orphan girl named Maisie Brumble (Zaris-Angel Hator), leading the unlikely duo to discover the truth about the fantastical creatures that reside therein.
On top of being a delightful swash-buckler with loads of impressively-rendered ropes (ropes are really tough to animate, folks), "The Sea Beast" is a moving found-family story, as well as "a poignant animated film about anti-imperialism and how truth and history get distorted to benefit those in power," as /Film's Rafael Motamayor noted in his review. In an interview with The Hollywood Reporter, Williams confirmed he's currently overseeing development on the sequel as part of his newly-minted production deal with the streamer.
The Sea Beast 2: The Return of Red?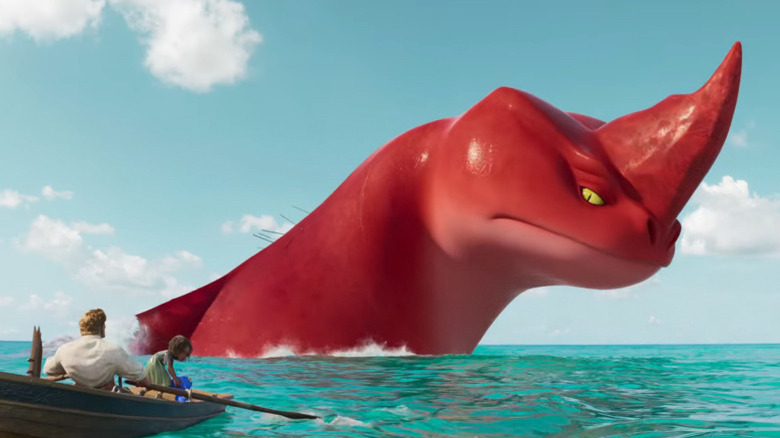 Netflix
In a year that saw Netflix release critically-acclaimed animated films like "Wendell & Wild" and "Guillermo del Toro's Pinocchio," it was the similarly-revered "The Sea Beast" that wound up becoming the most-viewed Netflix animated movie of all time in 2022, per THR. Notably, the film doesn't end with any sequel teases and works perfectly well as a standalone story, much like the first "How to Train Your Dragon" movie. But as with "HTTYD," the fantasy setting of "The Sea Beast" is ripe for further exploration, and the sequel could readily delve deeper into its familial themes and character relationships (à la the "HTTYD" sequels).
Chris Williams commented on this to THR while teasing his ideas for "The Sea Beast 2" (not the official title):
"[...] Primarily, I was thinking about this brand new family of Jacob and Maisie that have been thrown together. Suddenly Jacob is a parent, a parent to an especially willful kid, right? And so when you see them on the dock, you know that's not what parenting looks like. It's far messier, far more complicated, and more trying at times than that. So the idea of the challenges of this new family became interesting to me."
Williams also teased the possibility of new human villains in the form of other monster hunters, once again bringing the "HTTYD" franchise to mind. (Hey, if it ain't broke, right?) As for the return of Red? "Can I say... maybe?" Williams replied, noting that a lot could change by the time the sequel is ready in, by his estimation, four years. That's assuming he doesn't direct an original fantasy movie he's pitched to Netflix first. "Right now, though, I'm going back and forth. The intention is to ultimately make them both," Williams added.