Why Tom Hanks Doesn't Watch Most Of His Films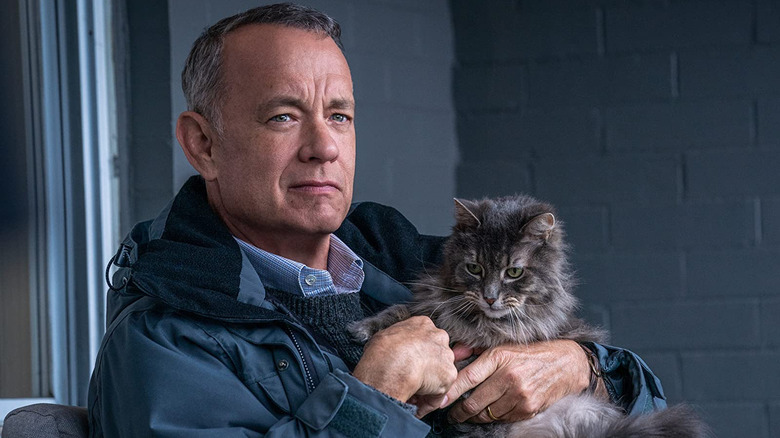 Sony Pictures
Whether he's playing a toy cowboy, a stranded FedEx worker, or a child in an adult's body, Tom Hanks has long been one of the most reliable actors in the industry. When was the last time you heard anyone say anything against him? He possesses an inherently lovable screen presence, and can switch from portraying a drunken baseball coach ("A League of Their Own") to Mr. Rogers ("A Beautiful Day in the Neighborhood") without blinking. As the window to becoming a traditional movie star closes each day, Hanks continues to hold onto his star power. His latest film, "A Man Called Otto," which is itself the second screen adaptation of Fredrik Bachman's 2012 novel "A Man Called Ove," shows the actor successfully tapping into his inner grump.
While promoting the film on the Great Creators with Guy Raz podcast, Hanks waded into the conversation about how an actor sees their performance. "I wrestle with the difference between lying for a living as an actor and lying to myself as a human being," said Hanks. It can be difficult for any actor to commit themselves to certain roles, especially if you're considered one of the most likable performers on the planet, and are now tasked with playing someone with a hardened shell.
But beyond trying to find the truthfulness behind his work, Hanks simply has a hard time revisiting his work on account of seeing all of the little imperfections that he can't fix (via People):
"I see the loss. I see that one time, 'Oh, man, I missed that opportunity.' [...] And it's not because, at the moment, I chose not to — it's because, after it was done, I realized I didn't go far enough. I didn't go to the place that I could have gone."
Sometimes we just have to let the work speak for itself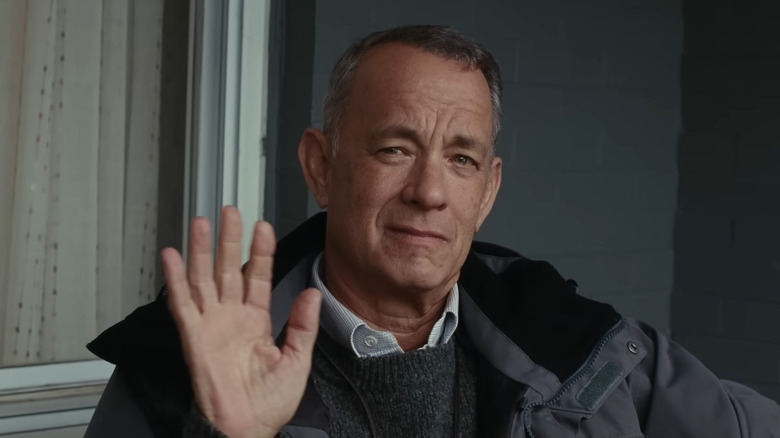 Sony Pictures
For a profession that thrives on putting themselves out there for people to see, the number of actors who have admitted to never revisiting their work is abundant. Tom Hanks is only one of many recognizable names who have said as much, along with folks like Javier Bardem, Maggie Smith, and Reese Witherspoon. Mind you, it's not entirely surprising that this tends to be a common thread, either.
Going off of Hanks' comments, what bothers him the most is not being able to go back and make changes. For actors, the performance often becomes immortalized as is. Making art, whether you're the face of it or not, is a challenging undertaking that portrays your work as it was constructed at that moment.
It's a familiar feeling that I often face as a writer. You work on something, only to send it out into the world not too long afterwards, in which the anxiety settles in. Even if it's a piece that I'm very proud of, there will always be an aspect that I feel I could have worded differently. I always want to improve on what came before, which can make revisiting some of my earlier stuff kind of harrowing, especially if I've made that progress in the time being. The only difference is that millions upon millions of people are familiar with Hanks' work, which I imagine adds an even greater pressure to get it right. There's a beauty though in letting your art speak for itself, for without those missteps, it can be difficult to know what marks you want to hit next time.
"A Man Called Otto" is now playing in limited release, with a wide theatrical expansion on January 13, 2023.