How Pixar Sold Tom Hanks On The Idea For Toy Story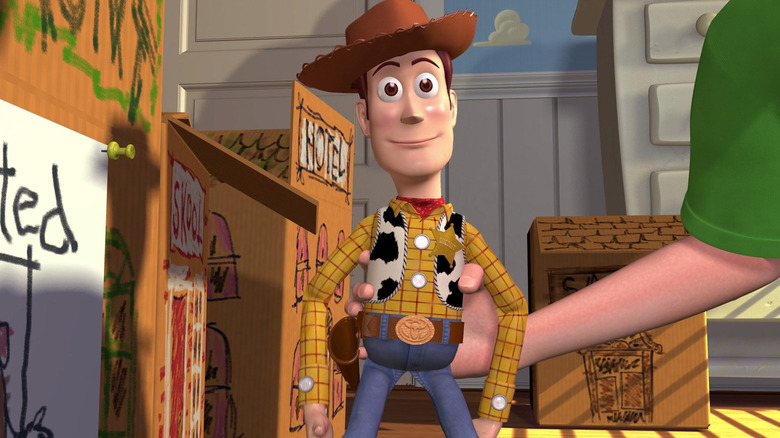 Disney
"Toy Story" is a landmark in animation that forever changed the landscape of the medium. The first feature-length film of its kind, the computer animated "Toy Story" helped to break new ground while also delivering a film with a heartwarming story. But as an innovative benchmark in animation, "Toy Story" had plenty of hurdles to overcome. Along with a production process that saw various changes in the story, the film had an almost complete re-write that made key changes to one of the film's primary characters.
Today, Sheriff Woody is known as the charming leader of Andy's toys. Voiced by American treasure Tom Hanks, Woody's character was originally supposed to be much more bitter and controlling in the film's original draft. But that didn't keep Hanks from being interested in the role of Woody. The "Forrest Gump" star was sold on the idea of "Toy Story" simply because of the stunning format of computer animation.
Explaining an unknown quantity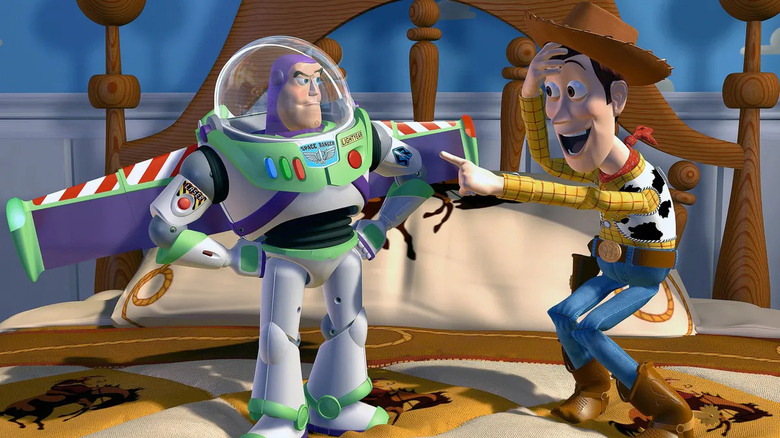 Disney
In an interview with BBC Radio 1, Tom Hanks spoke about the development of the first "Toy Story" film and how seeing his voice paired with a rough animatic gave him faith in the project:
"They took a line from a movie I made for Disney called 'Turner and Hooch' in which I was yelling at a dog and they animated Woody to that line, and it was on a loop, they did it again and again."
Seeing your voice bring a CG animated character alive must be a surreal experience. Seeing the potential in using this newly burgeoning style of animation to tell a story convinced Tom Hanks to join "Toy Story." Hanks continued:
"There were two things about it. One: it was like, I'm not sure what this is. The computer-generated animation itself had a look that was hyperreal, you know, but then also the marriage of the outraged voice of mine inside this outraged body of a toy was – I mean, it was just undeniably great. So I was in from the get-go. They invited me over to sort of explain this odd unknown quantity of something that may or may not work. And I said, 'Well, it looks fine to me. Let's do it!' And thus it began."
Having faith in a project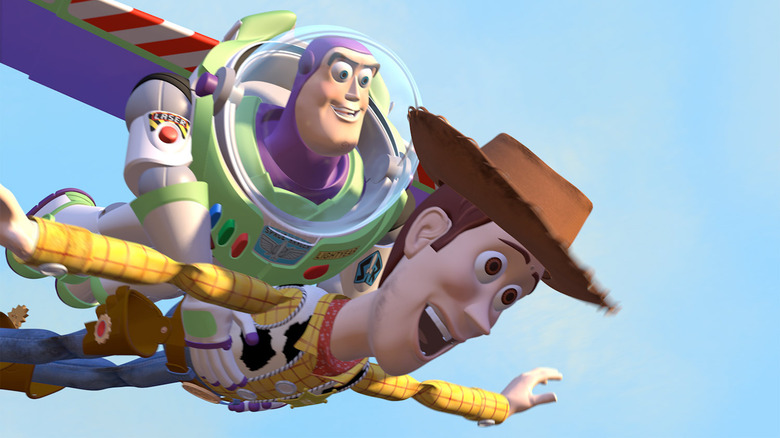 Disney
The "unknown quantity" of CG animation would take prominence over most other forms of animation in theatrical releases following the success of "Toy Story." Before that though, films and television had scarcely used computer animation up to that point. Tom Hanks's ability to understand what could be done with the medium (given the right performance) is a big part of why "Toy Story" became the hit it is today. 
However, the process did undergo some serious changes. The original version of Woody was a huge jerk, and it led to a complete overhaul of the character. Hanks recalled recording an entirely different version of the movie:
"We recorded an entire version of 'Toy Story,' one that didn't quite work the way they wanted it to. And so we went back and recorded a brand-new version of it." 
Tom Hanks eventually re-recorded his lines following rewrites that gave audiences a Woody that they could empathize with. No matter what iteration ended up on the big screen, Hanks remained dedicated to the project, just like the crew at Pixar. Today, the animation studio is constantly making changes throughout the production process to ensure they have the best story possible.