Why Quentin Tarantino's Casino Royale Never Got Made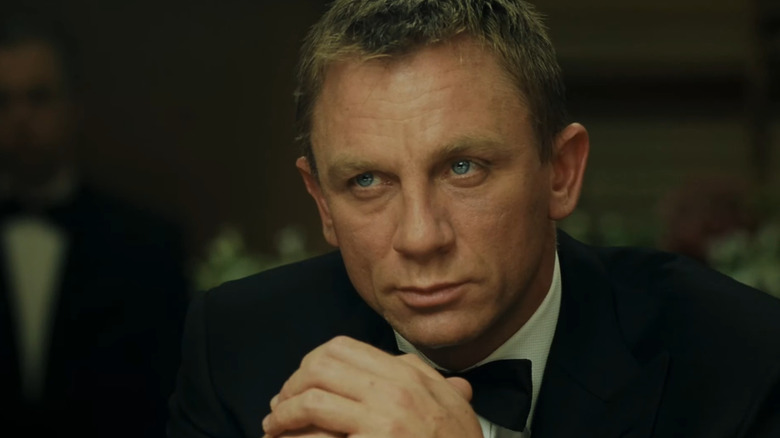 Eon Productions
While "Pulp Fiction," "Kill Bill," and "Death Proof" are all widely recognized as films that only could have come from Quentin Tarantino, the DNA of his filmography can be attributed to the movies that made him. His idiosyncrasies, for better or worse, display a filmmaker who had been inspired by a number of different subgenres, each of which gave him a deeper appreciation for the form. Even Tarantino's most original stories feature a great deal of homage.
That said, it still feels strange to see him directly tackle an established IP, especially since he's very particular about writing his own screenplays. But it nearly happened a few times — for decades now, the "Jackie Brown" filmmaker has gone through quite a few developmental stages for franchises like "Star Trek," "Luke Cage," and even a "Silver Surfer" movie. Some were half-hearted ideas, while others were something that Tarantino was really gung-ho about bringing to the screen, with one of the most prominent being James Bond.
In the period after "Die Another Day," Tarantino had expressed a serious interest in making a 007 adventure of his own, with Pierce Brosnan to star in the role. More specifically, he wanted to adapt "Casino Royale," the first of Ian Fleming's "Bond" novels. History shows us that the story was adapted for the big screen with a flat-out parody in 1967 before kickstarting Daniel Craig's tenure in 2006. Tarantino's treatment came between those two projects, and it went to the wayside on account of the Broccoli estate.
The Broccolis had a license to kill Tarantino's adaptation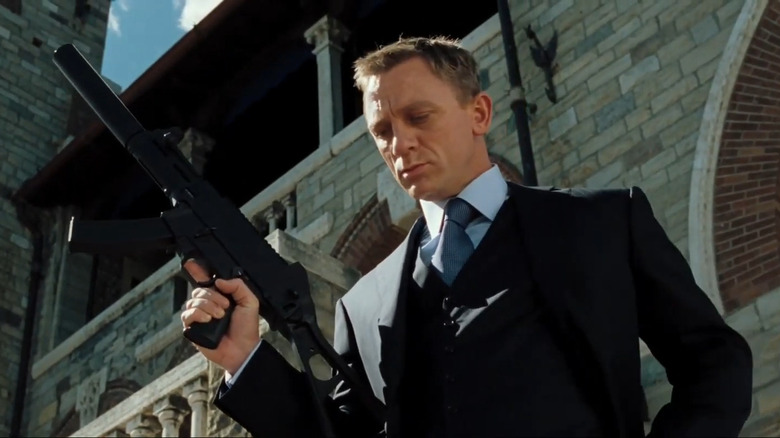 Eon Prodcutions
Quentin Tarantino had his eyes on "Casino Royale" ever since the completion of "Pulp Fiction," but the notion that the story was unfilmable led many to doubt the project. At the time, it was the only "Bond" story that the Broccolis didn't have any claim to, and the "Django Unchained" filmmaker wanted to sneakily acquire the rights. According to Tarantino, however, they swooped in before he could make his move (via Deadline):
"So they did a thing with Ian Fleming's estate and they go, 'Look, we're buying the rights to everything that Ian Fleming has his name on. So nobody can do what this Tarantino character is trying to do or what this Tarantino character is going to try to do a couple years from now.' It's like, if I want to make a movie out of his travelogue 'Thrilling Cities,' I'm going to have to get the Broccolis onboard, because they bought the movie rights to 'Thrilling Cities.'"
It's safe to say that the Broccolis gaining the rights to "Casino Royale" killed Tarantino's chances at adapting the story, especially since the folks at Eon Productions didn't have any interest in his adaptation moving forward with them. It wasn't long afterward that "Goldeneye" director Martin Campbell would be hired for what would become Daniel Craig's inaugural outing as Bond. The Broccolis are very protective of the 007 brand, after all, and Tarantino's treatment would have taken the character in some fascinating new directions.
Tarantino's 007 would have been in mourning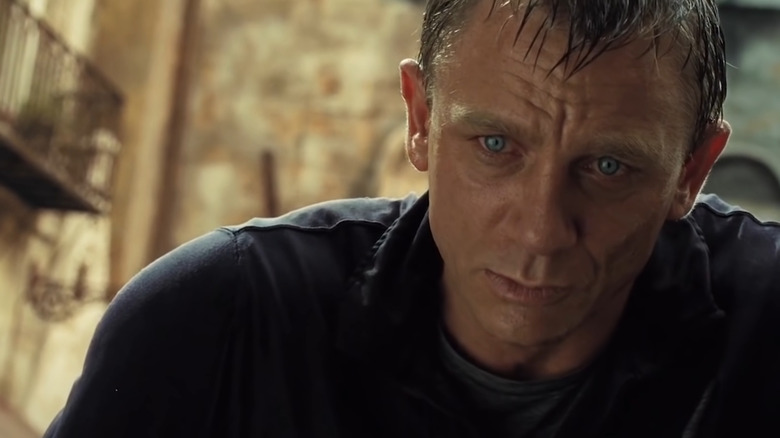 Eon Productions
Aside from wanting Pierce Brosnan to take over the role, in an August 1997 interview with New York Daily News (via WhatCulture), Quentin Tarantino shared it would have taken place after the devastating final moments of "On Her Majesty's Secret Service." Bond would have been in a state of mourning while he fell for the duplicitous Vesper Lynd. I'm not sure how well that would have played, given that two back-to-back stories about Bond losing the love of his life would have felt repetitive, nullifying the shocking effect of a killer secret agent losing the chance at a happy life.
On top of that, his "Casino Royale" would have been a period piece somewhere between the '40s and '60s, harkening back to the darker roots of the 1953 Fleming novel. While it would have been fascinating to see what Tarantino could have done with this story, the Broccolis had the right frame of mind in making the decision to oust him from the project.
Tarantino may have never helmed a traditional spy thriller, but he seems well-suited to take one on. All you have to do is look at the way he builds tension in a movie like "Inglourious Basterds." The suspense of the "Who Am I" scene in that film would have worked amazingly in the context of "Casino Royale," especially with the central poker match between Bond and Le Chiffre (Mads Mikkelsen). With Craig's tenure having come to a close with "No Time to Die," there's plenty of room for the franchise to reinvent itself with some fresh new voices, although I doubt Tarantino's will be one of them.
"Casino Royale" is now available for rental or purchase on most VOD platforms.