Playing James Bond Didn't Do Any Favors For Pierce Brosnan's Body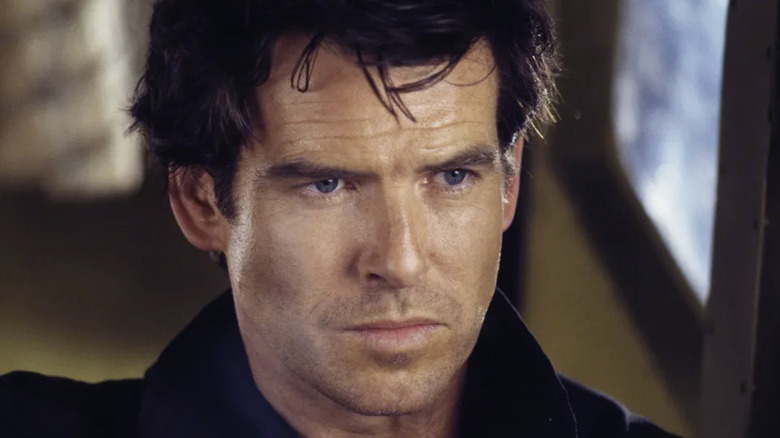 Eon Productions
With Daniel Craig's time as James Bond coming to a definitive end, the conversation surrounding the next 007 is looming on the horizon. To say that the role is one of the most coveted for any British male over the age of 25 wouldn't be much of a stretch — but the privilege of portraying the slick secret agent does come with a pretty hefty price. There's a lot on the line on a Bond film set: On top of its glamorous locales and delightfully campy villains, Bond films also boast some of the most intense stunts and action pieces in the industry ... not all of which turn out favorably for the stars of the 60-year saga.
Craig's accident-riddled history on the Bond set has been well-documented, and he's likely sustained some of the worst injuries in his tenure as the iconic character. They're part of the reason why the actor elected to retire the role after 14 years. But he's also not the only Bond to suffer for his craft. When his direct predecessor, Pierce Brosnan, sat down for a "GoldenEye" retrospective with Esquire, he went into detail about his own injuries on the "unforgiving" set.
The price of being Bond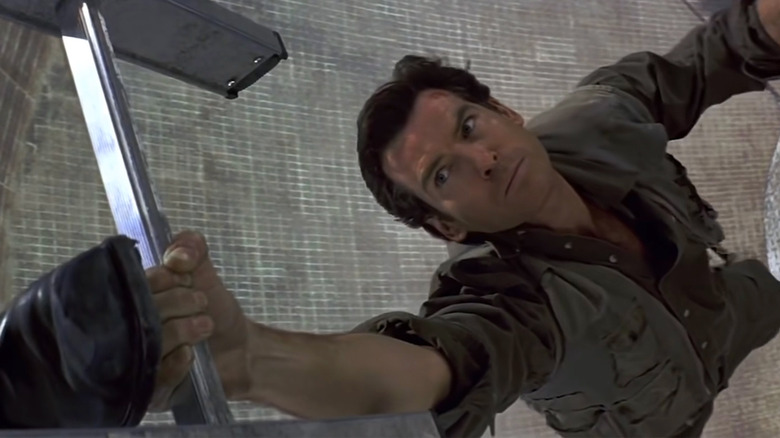 Eon Productions
Brosnan's first outing as Bond was definitely not easy for anyone involved. The film's "arduous" third act, which takes place on a sprawling satellite dish in Cuba, took weeks for Brosnan and his co-star, Sean Bean, to work out (via The Guardian). "I think everyone came away twisted, broken, and in pieces after this sequence," Brosnan admitted to Esquire.
In fact, one of Brosnan's worst accidents took place on the set on "GoldenEye," when a brawl with a stuntman went wrong. "He was a big lug of a guy, he was about six-foot-five," Brosnan recalled. "I was supposed to smash him into a wall, and I did," but the stuntman's helmet left him with a deep cut that required stitches "inside and out." Brosnan could only shoot from one angle for several days afterward.
The erstwhile Bond actor also blew out his meniscus — in both knees, it would seem — in his ten-year tenure as 007. One occurred on the set of "Die Another Day," when filming a sprint for the film's pre-credits opener. According to Metro, Brosnan leapt into a "200-yard sprint" without warming up properly — and though the injury did call for an operation, the actor was back on set within a week. "You run, you run, you run in these movies," Brosnan mused. "And you jump, and you fall, and you fight, and you do it all again the next day."
Though picking up the Bond mantle comes with its share of career-defining notoriety, it's clearly not for the faint of heart. Let's hope that anyone following in Brosnan's (or Craig's) footsteps is prepared for the physical toll that inevitably comes with playing Bond. Don't forget to stretch, lads!