The 12 Best Will Ferrell Movies, Ranked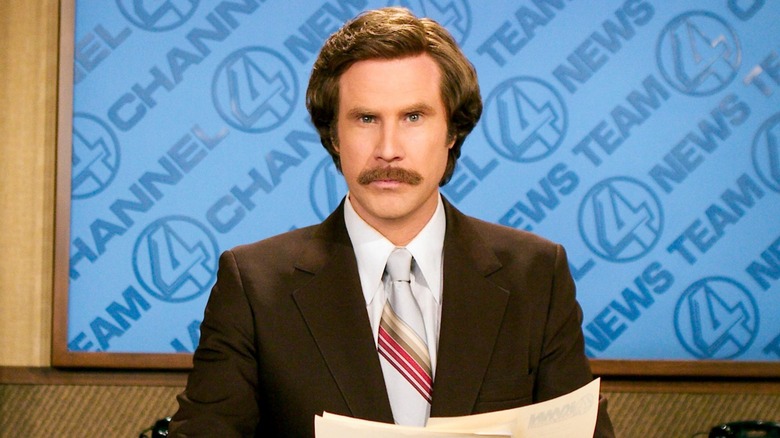 DreamWorks Pictures
An airheaded anchorman, a perpetually upbeat elf, an evil Lego minifigure — Will Ferrell has found a variety of colorful outlets for his comedy over the years. Ever since he first graced the stage of "Saturday Night Live's" iconic studio 8H back in 1995, Ferrell's distinctly fluid, improv-heavy, and hilariously infectious brand of humor has helped him successfully make the jump from small-screen funnyman to one of the biggest and most bankable movie stars working today.
It's a bit more than that, though. Ferrell's comedic talents have attracted some unlikely comrades over the years — people like John C. Reilly and Mark Wahlberg —  and in turn, they have helped create a new comedy sub-genre that's unafraid to keep things fast and loose when it comes to off-script gags and adlibs. With riskier, more thoughtful entries scattered through his résumé, he's not one to rest on his laurels either. 
All this, we know. But which Will Ferrell film is the best? While everyone will undoubtedly have their favorite, we've done our best to compile a list of the finest Ferrell offerings spanning roughly the past two decades. So whip up a bowl of Buddy the Elf's signature spaghetti and maple syrup, pour yourself a Ron Burgundy-sized glass of scotch, and enjoy our ranking of the 12 best Will Ferrell movies of all time.
13. Honorable Mention: Saturday Night Live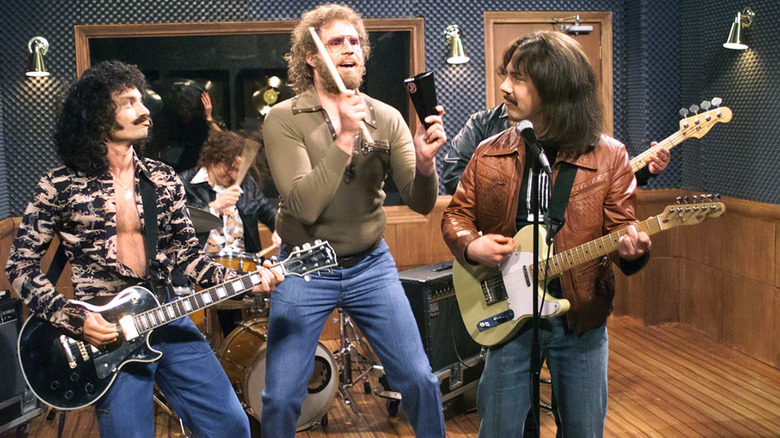 NBCUniversal Television and Streaming
We'd be remiss if we didn't mention Will Ferrell's larger-than-life tenure on "Saturday Night Live." Joining the long-running live comedy sketch show in 1995, Ferrell went on to spend the next seven years appearing in a variety of sketches, many of which pushed the boundaries of what mainstream comedy could be, regardless of the consequences. A few of these odder skits played to near silence as bemused audiences struggled to catch up with Ferrell's dry and silly style. Still, others have become bonafide hall of fame classics that will forever pop up in anniversary shows and celebratory "Saturday Night Live" retrospectives.
From Harry Caray asking Jeff Goldblum if he'd "eat the moon if it were made of ribs" and the gloriously manic nature of the Evil Boss to the furious yelling of "Get off the shed," a bumbling George W. Bush, and of course, a little more cowbell, Ferrell packed his "SNL" years with enough memorable moments to fill multiple "best of" DVDs. Often with the help of "Saturday Night Live" head writer and future collaborator and filmmaker Adam McKay, Ferrell used his time on the show to plant the seeds of a career and a distinct style of comedy that we all know and love today.
12. Spirited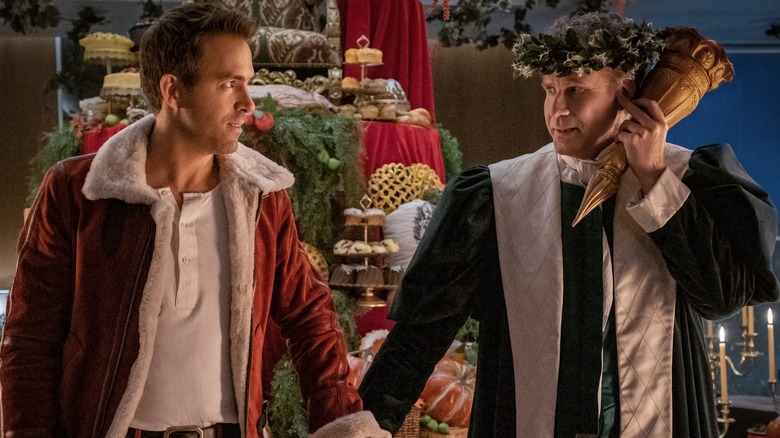 Apple Studios
What do you do when you've already tried your hand at most avenues of comedy? A Christmas movie, of course. Although Will Ferrell had already ticked this one off of his list with 2003's "Elf" (and done such a good job at it, it's since become an annual holiday favorite), a pairing with another quippy comedy star proved to be too alluring to pass up.
Released on Apple TV+ in 2022, "Spirited" matches Ferrell with Ryan Reynolds, surprisingly, for the first time in a live-action movie. Together, they put an all-singing, all-dancing new spin on Charles Dickens' familiar festive story "A Christmas Carol," that never-fail seasonal tale that crops up more frequently than those unwanted pairs of socks in your stocking on Christmas morning.
In the spirit world, we meet Present (Ferrell), who is the Ghost of Christmas Present, a kind-hearted specter who works with his fellow spooks, Past (Sunita Mani) and Future (Tracy Morgan), to help redeem one unfortunate soul every holiday season. Cue Clint Briggs (Reynolds), a particularly cynical and extremely sarcastic media guy who's deemed by the ghosts upstairs to be "irredeemable." One job away from retirement and spurred on by the challenge, Present sets his sights on proving that Clint can be saved via the familiar "Christmas Carol" method with a few sing-a-long moments thrown in for good measure. It's no "Elf," but it's a fun jaunt packed with earworms.
11. Everything Must Go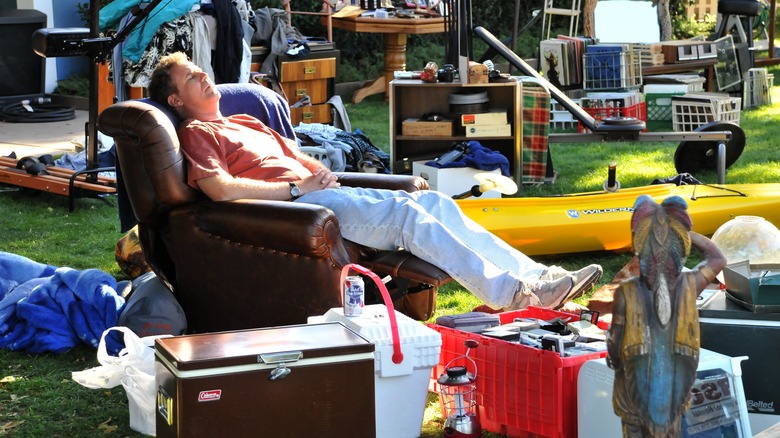 Lionsgate/Roadside Attractions
Just when we thought we had Will Ferrell pegged, he switches things up with "Everything Must Go," a film that tries its best to deliver everything you wouldn't expect from a Ferrell vehicle. Based on the Raymond Carver short story "Why Don't You Dance?" this quiet and unexpectedly affecting tale follows a man whose life has hit rock bottom and chronicles his attempts at realigning his narrative, quelling his demons, and setting things back on track.
Ferrell stars as Nick, a man with alcoholism who suffers a relapse and subsequently loses his job. Unfortunately, that's not all he's lost, either. After returning home, he finds all of his personal belongings placed on his front lawn by his estranged wife, who has since recovered from her own alcohol abuse disorder. Unable to endure her partner's return to the bottle and its spiraling consequences, this unseen character moves out of the family home, leaving Nick locked out and forced to re-evaluate his life choices as his quiet suburban neighborhood sees all of his dirty laundry (and sofa, records, and pretty much everything else he owns) laid out in public.
It's a stark and unforgiving portrayal of a guy who has let his vices overtake the important things in his life. While it contains the occasional gag, Ferrell seems dedicated to delivering something that actively plays against the persona he's spent years building. Rarely smiling, this may not be the Ferrell we all know, but the risks he takes are worth admiring.
10. The Lego Movie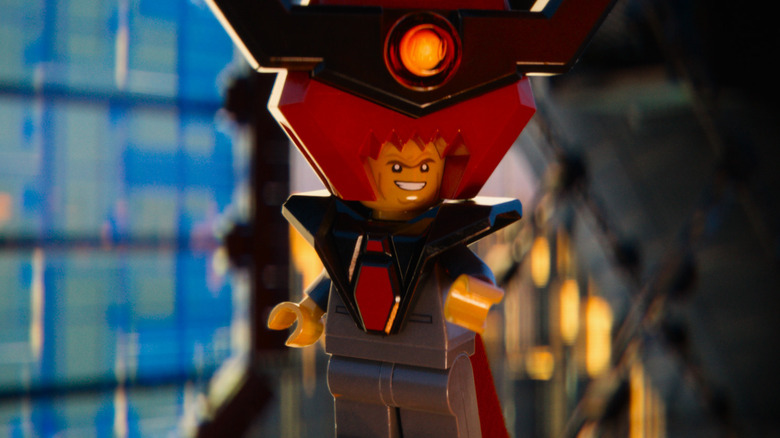 Warner Bros.
"The Lego Movie" has no right to be as fun and downright funny as it is. Before its release, it's arguably fair to say that nobody had particularly high expectations. After all, toys and board games adapted for film are rarely worthwhile. Thankfully (and rather surprisingly), this 2014 release is the exception to the rule, serving up an entertaining and genuinely funny take on a world familiar to most people, thanks to childhood days spent building everything and nothing from colorful little bricks.
Written and directed by "21 Jump Street" duo Phil Lord and Chris Miller, "The Lego Movie" stars Chris Pratt as just another piece living in the Lego city of Bricksburg. However, he soon discovers that he's destined for big things and is whisked away on a high-flying adventure to stop a maniacal overlord from stopping creativity in its tracks by gluing this Lego world together with a mysterious weapon known only as the "Kragle." Spoilers: It's Krazy Glue.
Packing their Lego ensemble with an all-star cast that sees Elizabeth Banks, Charlie Day, Will Arnett, Morgan Freeman, and Alison Brie join Pratt on his brick-shaped journey, Will Ferrell as the film's villainous Lord Business is the cherry on the top. Utilizing his best over-the-top bad guy chops, he delivers a performance that's as necessarily silly as this film's concept. Perfect.
9. Anchorman 2: The Legend Continues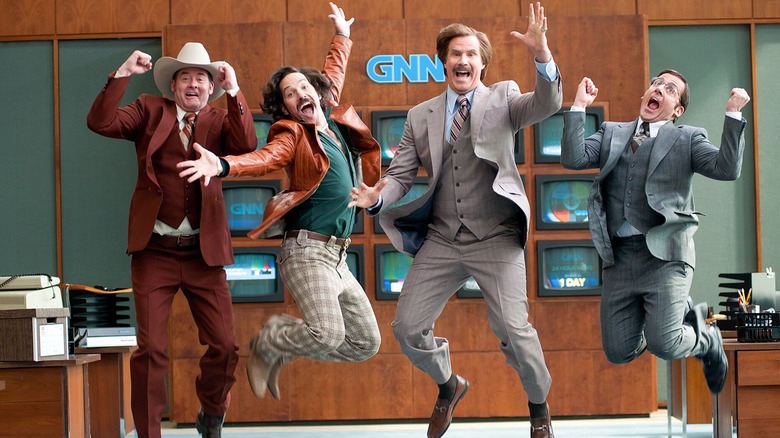 Paramount Pictures
It's a catch-22. A film defies lackluster box office receipts to become an unlikely cult hit that's quoted by fans worldwide. Pretty soon, demand grows for a sequel. But how do you recapture the spontaneous magic of something that wasn't properly understood, appreciated, or expected in the first place? That was the case with "Anchorman 2: The Legend Continues," Will Ferrell and director Adam McKay's much-called-for follow-up to their 2004 sleeper hit, "Anchorman: The Legend of Ron Burgundy."
However, while the former benefited from a lack of expectation, flying under the radar while its audience discovered it instead of the other way around, this 2013 sequel had plenty of eyes on it and a lot to live up to. As a result, McKay and Ferrell, along with a cast including Steve Carrell as grinning weatherman Brick Tamlan, David Koechner's crass sports guy Champ Kind, and Paul Rudd as sleazy/suave reporter Brian Fantana, throw everything at the wall in a movie that provides plenty of laughs despite an all over the place plot.
Honestly, it was never going to beat the original. Now that pretty much all of its stars are far more well known, there's a distinct "cat's out of the bag" feel to this cult comedy classic redux. Still, it has its moments, even if it does leave a little "be careful what you wish for" aftertaste.
8. Zoolander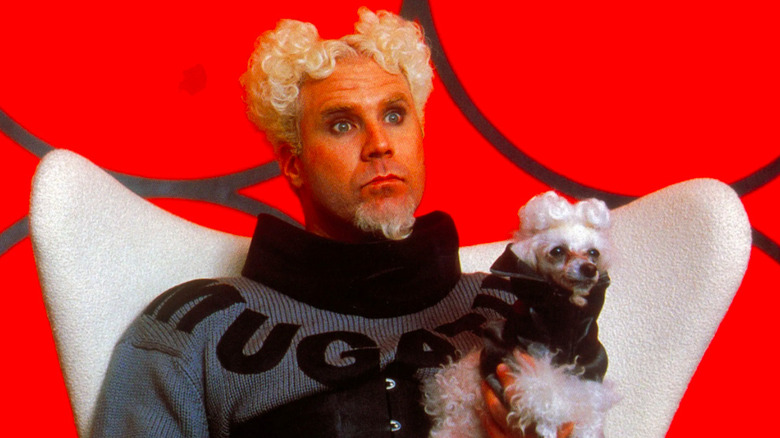 Paramount Pictures
If we were going to fit "Zoolander" into a subgenre of comedy, it likely wouldn't be "Will Ferrell movies." This superb send-up of the fashion world is very much a Ben Stiller and Owen Wilson outing and may even be the pinnacle of the pair's multiple big-screen jaunts. That said, the fact that "Zoolander" has made it onto our list of the greatest Will Ferrell movies makes it a testament to the power and presence of the character he created for this gloriously silly and quotable feature.
Taking aim at the fashion industry, the film stars Stiller as Derek Zoolander, a male model who's unwittingly drawn into an overly complex plot to assassinate the Prime Minister of Malaysia. Meanwhile, he's preoccupied with staying at the top of his game and besting golden-haired newcomer Hansel, played by Wilson. Behind the chaos is crazy-eyed fashion mogul Mugatu (Ferrell), who comes complete with platinum white poodle hair and a demanding diva demeanor that would give any cold-hearted fashionista a run for their money.
Stiller originally wanted comedian Andy Dick to play the film's big bad, but the "NewsRadio" actor was unavailable at the time of "Zoolander"'s shoot. Thankfully, Ferrell, fresh from "SNL," was ready and able to step into the role, and as Stiller later told Esquire, "Now it's impossible for me to picture anybody but Will doing it." Us, too.
7. Old School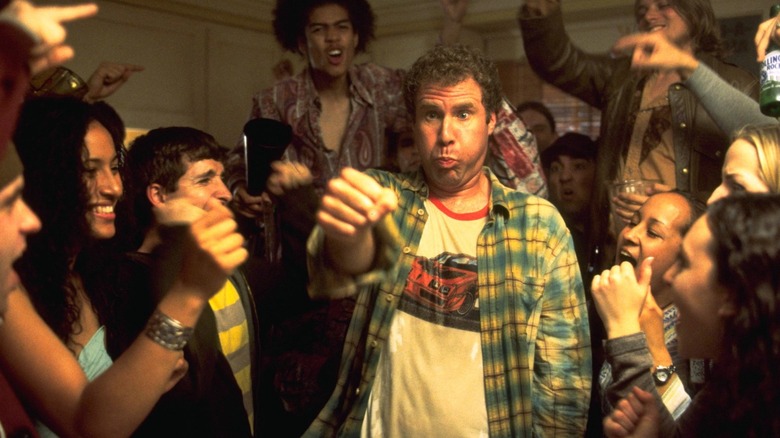 DreamWorks Pictures
Released in 2003, "Old School" is one of the key moments in Will Ferrell's still-thriving career. Made back-to-back with mega hits "Elf" and "Anchorman: The Legend of Ron Burgundy," this film helped lay the groundwork that allowed him to continue making comedy movies as a bankable star.
Directed by Todd Phillips, the film capitalized on the resurgence of college and high school comedies, subgenres that began with "Animal House" in 1978 and returned in the wake of the 1999 gross-out hit "American Pie." In "Old School," we follow a trio of down-and-out 30-somethings led by Luke Wilson's Mitch and Vince Vaughn's Bernard who, fed up with their mundane and directionless lives, decide to relive their youth by starting their own college fraternity. Completing the trio is Ferrell as Frank "The Tank" Ricard, a beer-bong-loving, frequently naked party fanatic who goes all-in on the plan. 
Despite receiving mediocre reviews on its initial release (film critic Roger Ebert gave it just one star, describing the movie as "slapped together by director Todd Phillips." Ouch!), "Old School" has since defied its tepid critical reception to become a fan favorite.
6. Blades of Glory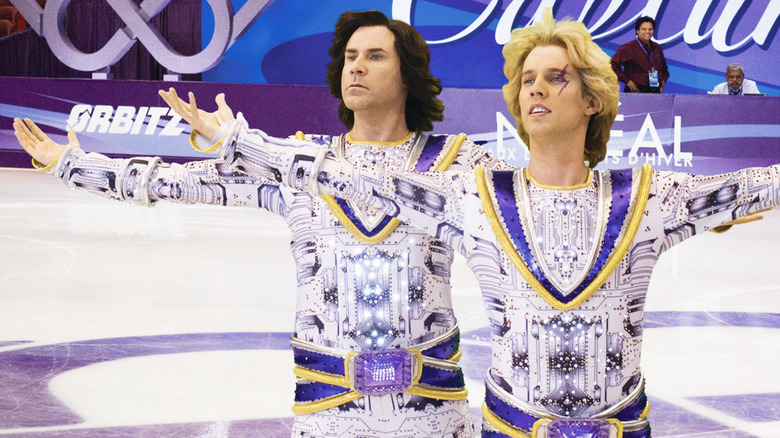 Paramount Pictures
There was a brief moment in the late noughties when Hollywood had a winning formula on their hands. "What if Will Ferrell was a rally car driver?" or "What if Will Ferrell was a figure skater" or maybe "What if Will Ferrell was a wannabe basketball player?" While this "What if Will Ferrell was (insert bizarre career choice here)?" tactic capitalized on his surge in popularity, not all of these concepts stood the test of time. (We're looking at you, "Semi-Pro.") 2007's "Blades of Glory" may have been the final time this formula showed a return on investment as far as audiences were concerned.
Paired with a fresh from "Napoleon Dynamite" Jon Heder, Ferrell plays a loud, washed-up professional figure skater forced to join forces with his timid enemy to take advantage of a loophole that'll allow both to compete in the big leagues once more. In addition to giving us some solid quotable lines ("Nobody knows what it means, but it's provocative!" explains Ferrell's character, Chazz Michael Michaels, dissecting the Black Eyed Peas track "My Humps"), it's also one of the first movies post "Talladega Nights" that cashed in on the success that came with pairing Ferrell with unlikely co-stars. 
5. The Other Guys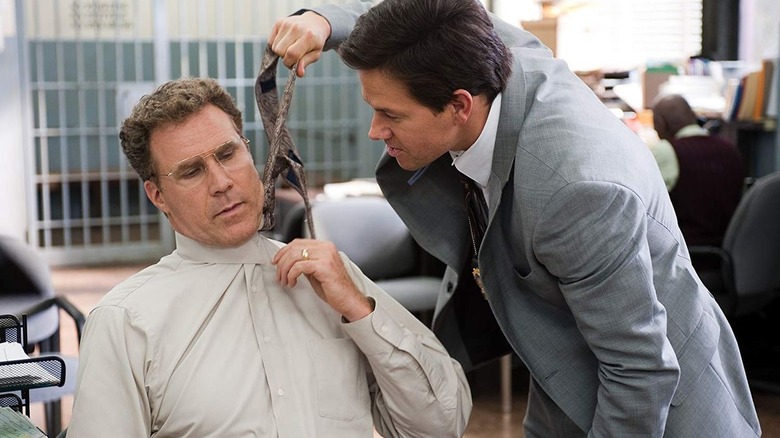 Sony Pictures Releasing
Continuing the trend of placing Ferrell alongside an unlikely counterpart, 2010's "The Other Guys" stuck him opposite Mark Wahlberg, a star who, up until this point, was predominately known for serious roles. The pairing proved to be a hit, with Ferrell's innocently ridiculous office cop, Allen Gamble, forced to face the action head-on alongside Wahlberg's action-lover, Terry Hoitz. Together, they have a whale of a time sending up the buddy cop genre as they work to stop a white-collar criminal played by Steve Coogan.
While Ferrell has been paired with many actors throughout his career, "The Other Guys" has the added benefit of director Adam McKay, a filmmaker whose presence, control, and influence shouldn't go unnoticed. In the wake of adlib-heavy hits like "Anchorman: The Legend of Ron Burgundy," it seemed Hollywood thought it could cast Ferrell in anything and strike comedy gold. Unfortunately, 2018's "Holmes & Watson" proved there was more to the formula than that — particularly the need for someone like McKay to structure the chaos.
"The Other Guys" also marks McKay's first steps into more sociopolitical storytelling, using a broad Will Ferrell-fronted comedy to shine a light on the crimes of the elite. McKay's next movie was "Anchorman 2: The Legend Continues," but since then, he hasn't felt the need to return to his goofy roots.
4. Talladega Nights: The Ballad of Ricky Bobby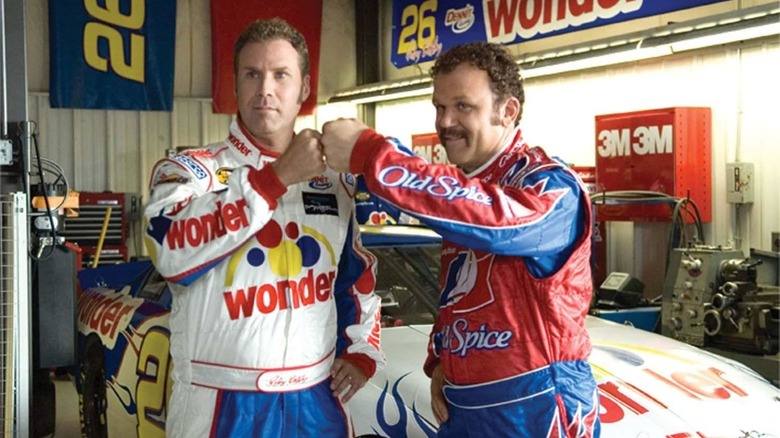 Sony Pictures Releasing
Remember when we referenced the magic formula for Will Ferrell movies? Well, maybe this is where it started. According to multiple sources (including ESPN), the pitch for "Talladega Nights: The Ballad of Ricky Bobby" consisted of just six words: "Will Ferrell as a NASCAR driver." Brief, yes, but it was enough to get the film a green light. Combine this with Ferrell's first pairing with a left-field partner with a similarly deranged sense of humor (in this case, the primarily serious actor John C. Reilly), and you have one of the brightest and funniest offerings in Ferrell's oeuvre so far.
Ferrell plays the titular Ricky Bobby, a big, bold, and pretty dumb NASCAR driver, whose life is turned upside down when a new European rival (Sacha Baron Cohen) lands on the scene, and his partner and best pal, Cal Naughton Jr. (Reilly), speeds ahead of him in the popularity race. That's the general plot, but you'd be forgiven for letting it go largely unnoticed. This big silly comedy is full of so many quotable (and often improvised) lines and moments that you forget that you're watching something with an actual script. Its success probably led others to feel they could achieve the same results with a similar looseness, but that didn't pan out for all who tried.
3. Elf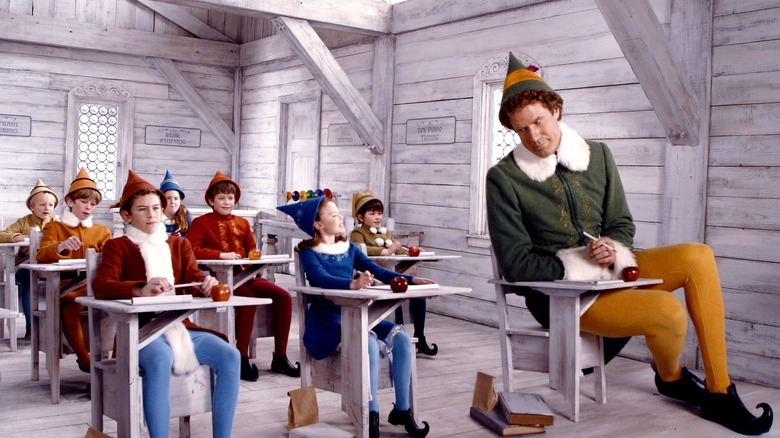 New Line Cinema
It's hard to imagine now, but during the production of "Elf in late 2002 and early 2003, Will Ferrell thought that his decision to do the holiday film might end his career. "There were moments where I was running around in an elf suit in New York City thinking, 'Oh boy. Well, it was fun while it lasted,'" he told The Dan Patrick Show in 2018, adding, "This will either be a Christmas classic or one of my last movies." Thankfully, "Elf" turned out to be the former — a sold hit that went on to earn over $220 million against its $33 million budget and emerge as a seasonal classic.
If you've gotten this far, we're sure that you already know the plot of "Elf," but if you're one of the few Scrooges that hasn't seen it, it follows Buddy (Ferrell), a human baby who accidentally makes his way to the North Pole and is subsequently raised as an elf in Santa's workshop. Realizing he's not quite the same as his pals (and considerably taller and worse at making toys), Buddy takes it upon himself to head to Manhattan to track down his real father, played by a grumpy James Caan. All in all, it's more fun than a sugar rush.
2. Step Brothers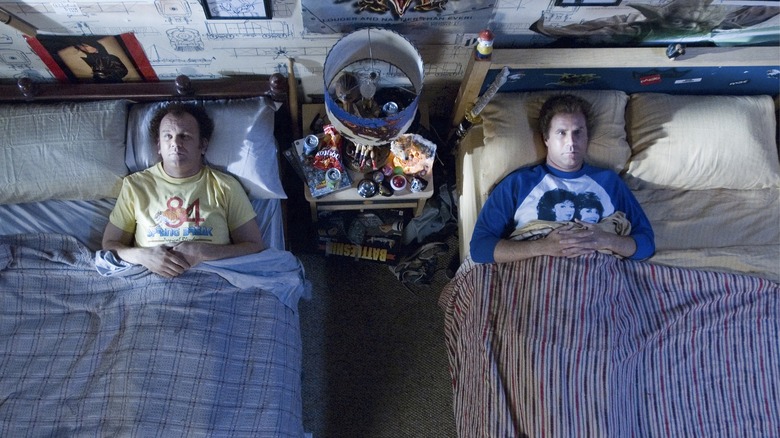 Sony Pictures Releasing
Considering the childish nature of Will Ferrell's comedy, which was emphasized during his collaboration with John C. Reilly in "Talladega Nights: The Ballad of Ricky Bobby," it was only a matter of time before he went the whole hog and played a fully-fledged man-child. That's exactly what audiences got with 2008's wholly stupid and hugely enjoyable "Step Brothers," a film in which Ferrell and Reilly revel in playing Brennan and Dale, feuding siblings that accidentally become best friends while trying to ruin each other's lives.
With their chemistry evident in "Talladega Nights," Adam McKay and Ferrell knew they wanted to work with Reilly again. McKay later explained, "The idea of two 40-year-olds still living at home and refusing to grow up felt hilarious and also disturbing." Also returning was their reliance on improv-heavy humor and adlibbed lines, with McKay frequently yelling alternate dialogue for his stars to try.
While Ferrell and Reilly are skilled in this style, it took time for their co-stars, Mary Steenburgen, who plays Brennan's (Ferrell) mother, and Richard Jenkins, who plays Dale's (Reilly) father, to get into the swing of things. "Richard and I looked at each other like, 'Holy crap, how does one do this?'" Steenburgen later admitted. "I love comedy and improvising, but we're talking about savants. Adam loved to scream off-camera obscenities for me to say. The filthier the things that came out of my mouth, the more Adam loved it."
1. Anchorman: The Legend of Ron Burgundy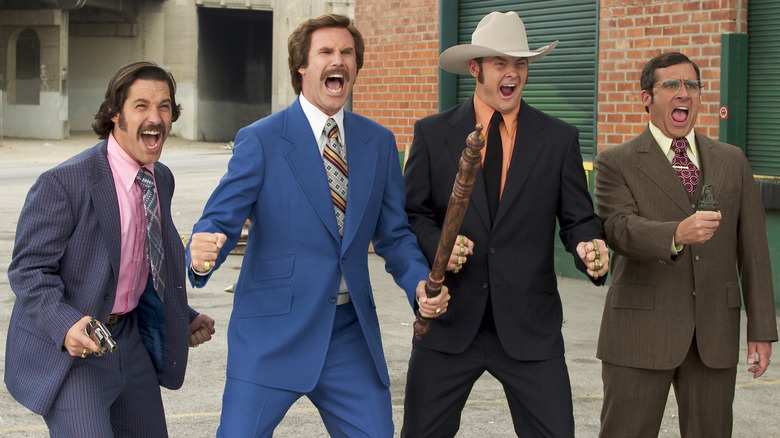 DreamWorks Pictures
When it comes to Will Ferrell's characters, there's no presence bigger than Ron Burgundy. Lover of scotch, owner of many leatherbound books, slave to the teleprompter (for better or for worse), and loyal friend to Baxter the dog, this master of the newsroom is one of Ferrell's few cinematic creations that has enjoyed a second life off the movie screen, appearing on podcasts, live events, and even talk shows. As America's answer to Alan Partridge, this crass, uncouth, and larger-than-life fictional media personality has a life and backstory of his own.
Character aside, the sleeper hit success of 2004's "Anchorman: The Legend of Ron Burgundy" is largely to blame for introducing Ferrell to many as a movie star instead of a bit player or "Saturday Night Live" cast member. Developing a huge second life in its home video release, audiences found the movie on their terms, adopting its quotable dialogue and quickly falling in love with Ron and his weirdly fun world. "Without exaggeration, we were laughing every single day on set," admitted director Adam McKay, speaking to movie magazine Total Film during the film's 15th birthday. "The nice thing about Burgundy is he can age. We could do a third 'Anchorman' when Ferrell's 60 if there's a demand for it." Ron Burgundy as an old geezer? Here's hoping McKay makes good on that promise.