'Anchorman 2' Bloopers: Keep It Together, Ron Burgundy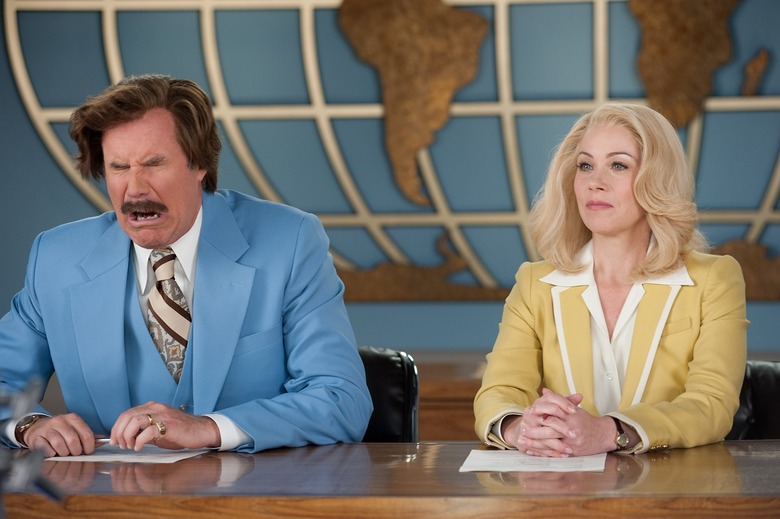 We may receive a commission on purchases made from links.
As audience members, we're encouraged to laugh as long and as loud as we can at Anchorman 2: The Legend Continues. But as the stars of the show, Will Ferrell and company were obligated to maintain a straight face. Which isn't always easy when the scenes are this hilarious.
A recently released reel of Anchorman 2 bloopers show the stars screwing up and screwing around on set — riffing on specialty condom brands, bursting into giggles at the phase "frothy ejaculate," or nearly tearing up with laughter during an awkward romantic scene. Even Brian Fantana's famous kittens get in on the non-camera-ready action, adorably attacking each other instead of their toys. Watch the video after the jump.
Anchorman 2 Bloopers
Can you blame these guys for not being able to contain themselves? Who could, with Steve Carell's Brick spouting deadpan nonsense like that? Fun sets don't necessarily make for fun movies, but in this case it's amusing to know that the cast was as good at getting each other to laugh as they were at amusing us.
At 119 minutes, Anchorman 2: The Legend Continues wasn't exactly short to begin with. But there was still a ton of material left on the cutting room floor — enough to inspire a whole new theatrical cut featuring 763 new jokes. That version hit theaters at the end of last month.
The Blu-ray offers even more stuff. It includes both of those versions of the movie plus another, unrated edition of the feature, plus a whole bunch of deleted and alternate scenes. In fact, the Anchorman 2 blooper reel above is one of two included on the Blu-ray. For the full list of bonus features, check out the Amazon.com listing. The DVD and Blu-ray go on sale April 1.