Will Ferrell's Legacy Made Spirited A Special Kind Of 'Challenge' For Ryan Reynolds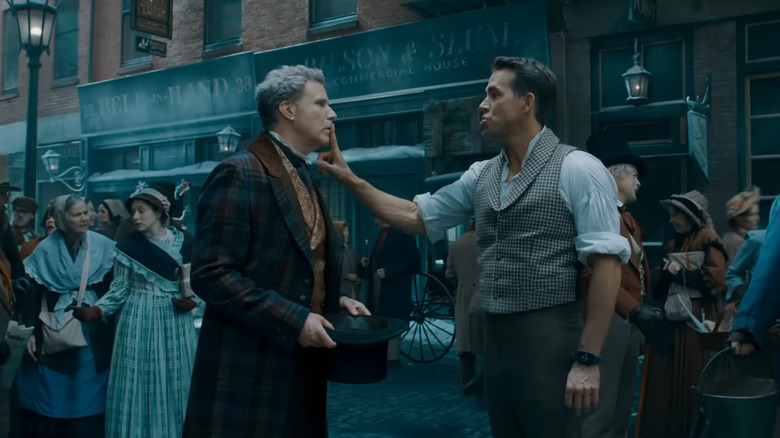 AppleTV+
Hardly a week after the season of creeps, ghouls, and goblins, AppleTV+ is ready to thrust us into the warmth of Christmas with "Spirited," a contemporary update on "A Christmas Carol." Rather than going through the motions of Charles Dickens' cautionary tale, director Sean Anders is instead transforming the time-honored story into a musical comedy with Ryan Reynolds and Will Ferrell at the helm.
In "Spirited," Reynolds plays Clint Briggs, a man who is visited by Ferrell's Ghost of Christmas Present for being a grump around the holidays. Told from the perspective of the ghosts, this twist on the classic story appears to take the pair on a musical journey throughout Clint's past, present, and future, with plenty of tunes and dance numbers along the way.
Reynolds is very hit or miss when it comes to the projects he associates himself with because he often pulls out the "Deadpool" brand of humor through most of his recent roles, albeit in a different casing. The trailer doesn't inspire much confidence in that, but hopefully "Spirited" brings out something new in him.
When Reynolds made a recent appearance on The Tonight Show, he talked about how happy he was that he still gets to act alongside so many talented people in the industry.  But of all the comedic actors to work alongside, according to the "Red Notice" star, Ferrell was one of his top choices:
"I really want to work with people I either– that are either immensely talented or people that I love and I'm genuinely best friends with. [...] That covers Will Ferrell, as well. That's a guy that I've– I mean, my entire life, I feel, I've ached to work with Will Ferrell."
Reynolds didn't want to impersonate Ferrell's comedic charm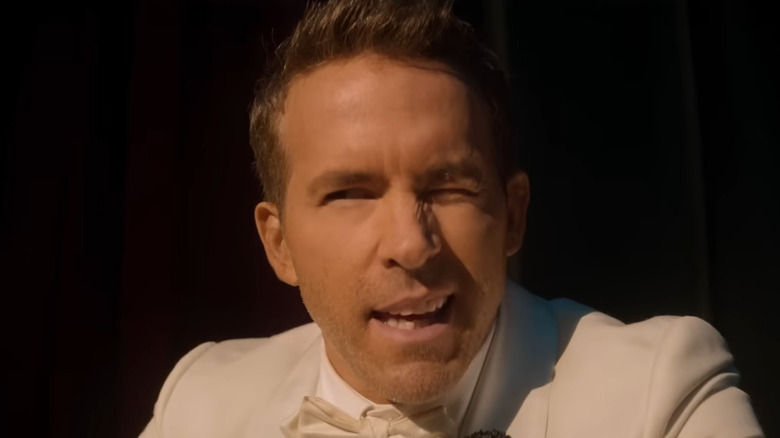 AppleTV+
From "Anchorman" to "Step Brothers," it's actually kind of incredible that Ferrell has been a consistent comedic force in Hollywood for the past few decades. That kind of presence, however, came with its own set of personal challenges, according to Reynolds (via The Tonight Show):
"I don't know that you find a comedic actor that has contributed more to the modern comedy lexicon than Will Ferrell. [...] The hardest challenge of 'Spirited' wasn't just the singing and dancing and all that other stuff, it was to not do an impression of Will Ferrell to [f***ing] Will Ferrell."
While I can see the point Reynolds is trying to make here, the only thing his brand of comedy truly shares with Ferrell's is commitment to the bit. They're both hilarious when they've got a great script behind them, but when each actor heavily leans into the bit, their movies become pale imitations of what made people fall for them as comedic performers, to begin with.
Going off of what the trailer has shown, the expensive Christmas odyssey sadly appears to fall flat when it comes to its jokes. With that said, I love Christmas movies — especially musicals. You have to try really hard in order to make a sprawling Christmas musical sound unappealing to me. I'll be interested to see if there's more to the dynamic between Reynolds and Ferrell beyond what we've seen so far.
"Spirited" will be in theaters on November 11, 2022, before streaming on Apple TV+ on November 18, 2022.