David Spade Thinks They Should Have 'Pulled The Plug' On Chris Farley's Black Sheep Early On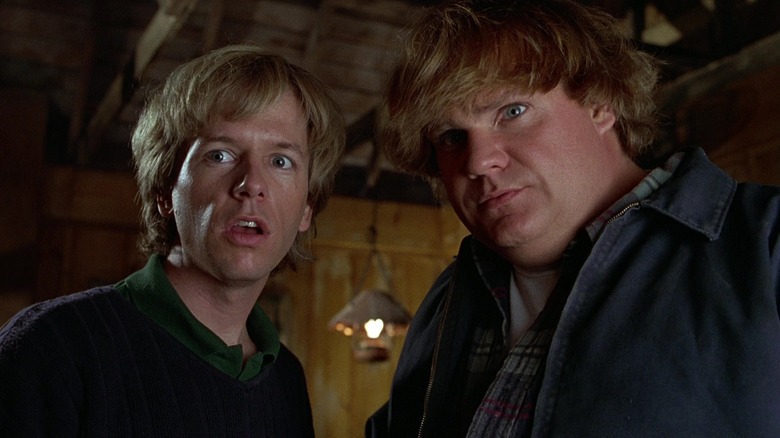 Paramount Pictures
Comedians David Spade and the late Chris Farley were one of the most memorable comedy duos of the '90s, both as ⅔ of the Gap Girls on "Saturday Night Live" and as co-leads of two of the decade's classic buddy films. Decades beyond the release of the latter film, Penelope Spheeris' "Black Sheep," it still delivers plenty of Farley's physical comedy — its funniest scenes sees him tussle with a bat and a steep hillside — and strong buddy chemistry with Spade. But the end product mimics the earlier "Tommy Boy," but without much of that film's magic, leading one of its leading men to wish the movie had been axed.
Coming out of "SNL" fame, Farley signed a two-picture deal with Paramount. "Tommy Boy" fulfilled the first half, grossing $32 million on a $20 million budget. Following Farley's Tommy Callahan III on a mission to sell brake pads with a less-than-thrilled Spade in tow, the movie is filled with off-the-cuff magic between its stars and showcased Farley's unyielding flow of comedic energy.
Capitalizing on the mechanics of Peter Segal's 1995 hit, the studio followed up with a vague imitation a year later in "Black Sheep." From the bungling but kind son of an auto industrialist, Farley became the messy but well-meaning brother of a political candidate. Spade would likewise continue to be an exasperated handler tasked with containing Farley's damage as much as possible.
SNL head writer Fred Wolf would handle the screenplay under a tight deadline; his revision work on "Tommy Boy" and credited penning of "Black Sheep" would count as the earliest feature writing efforts of a hefty "SNL"-centric run. But according to Spade, neither Wolf nor his script were the issue. Vince Mancini's retrospective for Uproxx revealed that when "The Decline of Western Civilization" director Penelope Spheeris signed on to helm the movie, as Spade asserted, "trouble started right away."
A hot mess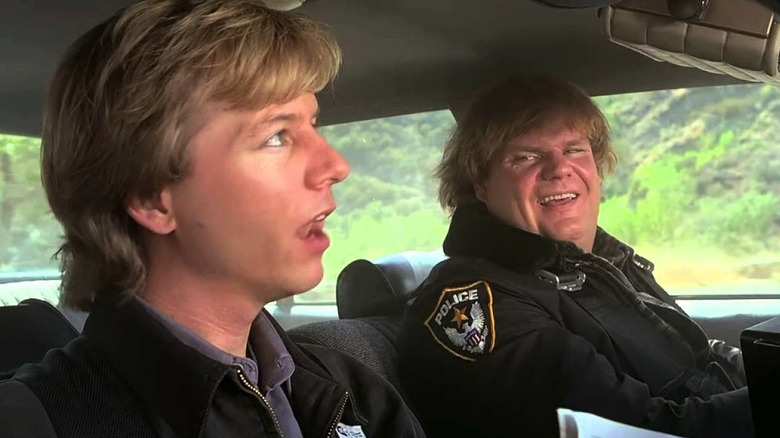 Paramount Pictures
"Black Sheep" was intended as a slapstick comedy, firmly in the wheelhouse of both Spade and the freshly-hot commodity Farley. But the latter was tired of being the butt of weight-based gags and eager to show off his characterization skills — it would become a point of creative contention between the longtime friends, who would in turn battle with the director over her frequent head-butting with the screenwriter. Tom Farley's "The Chris Farley Show: A Biography in Three Acts," reveals that Wolf was fired three times and eventually banned from the set.
Spheeris got the gig based on her handling of "Wayne's World," the most fruitful "SNL" picture to date. Add in Gary Busey and "Animal House" alumni Tim Matheson and Bruce McGill among the cast and the same screenwriter behind "Tommy Boy," and the movie had all the makings of a hit laugh-fest – "We all had it down," Spade lamented to Uproxx. He continued:  
"Penelope told us right off the bat that she didn't love 'Tommy Boy' and that she knew how to make Chris and me funny. That's where someone should have pulled the plug. Then she ripped forty pages out of our script and said she would fix them with her writer. Fred and she had a few bad meetings and he was essentially kicked off the project from then on.
For her part, Spheeris acknowledges Paramount's desperation and hints at a cynicism towards the goofball comedy from the jump. In Tom Farley's biography of his late brother, the "Suburbia" director admitted that the $2.75 million payday was what appealed to her. "I hate to sound crass, but I did it for the money," she's quoted. In retrospect, "Black Sheep" is an elegiac story, one that waves farewell at a comedy team that was only warming up before Farley's sudden death.