Warner Bros. Accidentally Celebrated The Death Of Henry Cavill's Superman With A Black Adam/Man Of Steel Bundle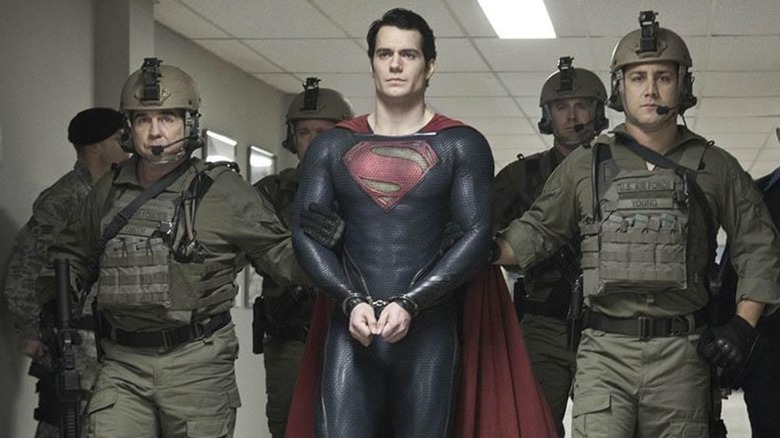 Warner Bros.
It was a whirlwind end of 2022 for DC fans as many, many changes happened in a relatively short period of time. "Black Adam" hit theaters after well over a decade in development hell, only to kind of crash and burn at the box office. Dwayne "The Rock" Johnson tried to paint a rosy picture of those numbers, but it did little to help the reality of it all. As such, his plan to bring back Henry Cavill as Superman into the DC Universe in a significant way didn't last very long, with DC Studios co-heads James Gunn and Peter Safran deciding to move on with a new, younger Superman.
As it just so happens, Warner Bros. had a pretty poorly timed sales tactic that kind of rubs a little salt in the wound for both "Black Adam" and Cavill's Superman. Currently, a "Black Adam" and "Man of Steel" movie combo pack can be purchased via a variety of digital retailers, such as Microsoft. So, both the beginning of the former DCU and the movie that kind of put the final nail in the coffin are being sold together. The worst part? It initially went on sale the day after Gunn announced that he was writing a new "Superman" movie without Cavill. Talk about some epicly poor timing.
Now, in fairness to the brass at WB here, it's not as though they had any idea these two events would converge like they did. The combo pack was probably planned for quite some time and the on-sale date has surely been set in stone for a while. There was no way they could have known Gunn would make the announcement when he did. It was just cosmically unfortunate.
A tease that will never come to pass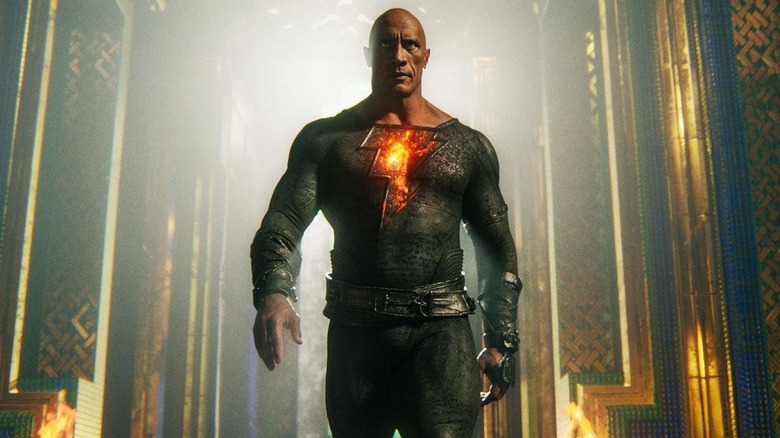 Warner Bros.
We can argue for years about the merits (or lack thereof) in regards to the movies that Henry Cavill appeared in as Superman – and segments of the internet have been doing just that since roughly 2016. But it felt like nobody was rooting against Cavill in the role. The man looks like he was born to play Kal-El, and it's just a shame things worked out as they did. That being the case, this might actually make for a pretty fascinating double feature, setting aside the ungainly appearance of it as a means of boosting digital sales.
"Man of Steel" has been a mixed bag ever since it was released. Directed by Zack Snyder, it remains a very divisive film, but one that showed us the promise of Cavill's take on the character. Yet, his tenure was kneecapped by the unfortunate rollouts of both "Batman v Superman" and "Justice League." But due to Dwayne Johnson's persistence, Cavill got the chance to suit back up for a post-credits scene in "Black Adam" that teed up the ball for much more to come. I can, anecdotally tell you that my theater went wild during that scene and was otherwise quiet for most of the movie.
It promised us a bright, new future for the character. It promised that, perhaps, the best was yet to come for this iteration of the beloved DC Comics hero. And yet, it's a scene that will ultimately amount to nothing in the end, in favor of a big reboot of the DC Universe. Now, one can watch it and simply wonder what might have been in a different world.
The Rock's failed grand plan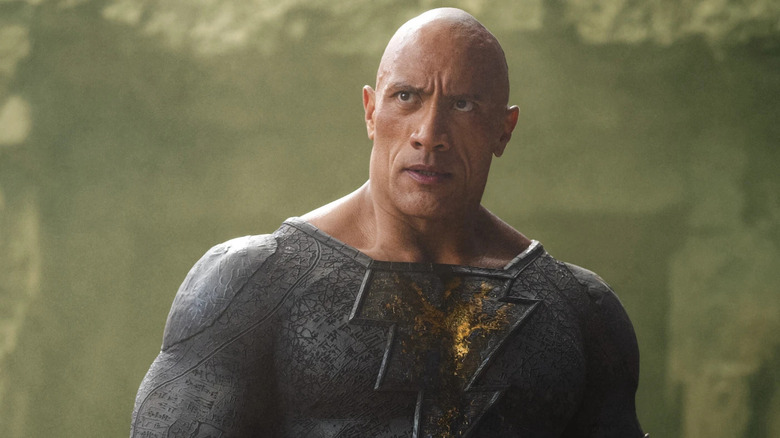 Warner Bros.
Dwayne Johnson, as it turns out, had thoughts about how the future of the DC Universe might look — and it revolved around both Black Adam and Superman. Very specifically, Henry Cavill's Superman. Recently, it came to light that Johnson actually met with Warner Bros. Discovery CEO David Zaslav about his vision for the future of the DCU. While the finer details haven't come to light, The Rock's idea was to have multiple films within the "Black Adam" and the "Superman" franchises that would culminate in a fight between these two powerful characters.
Yes, before Gunn and Safran took over DC Studios, it appears as though Johnson and some of his team were trying take the helm of the DC Universe. The problem is that they went around lots of people to try and get it done, which rubbed several at WB the wrong way. More crucially, "Black Adam" didn't perform well enough to justify any of these lofty plans. However, it's easy to see why Johnson would want Cavill back, as it's easier to execute a big plan if an A-list character is in the mix. For better or for worse, we're not going to see these two duke it out on the big screen. At least not any time soon, and not with these actors donning the suits.
"Black Adam" and "Man of Steel" are currently streaming on HBO Max, for those who aren't feeling up to shelling out for the combo pack.