Why Colin Farrell Felt The Lobster Was One Of His Least Risky Films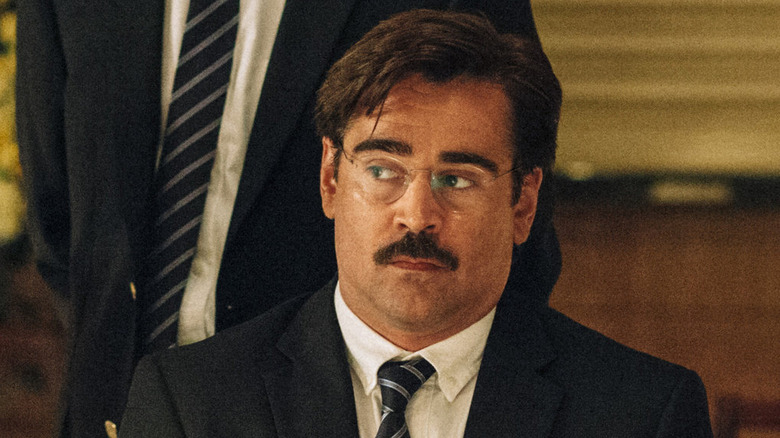 A24
Colin Farrell's career has had as much range as any actor could hope for. He's an indie darling, he scored a Golden Globe, and he's worked on blockbuster franchises like "Batman." The actor has achieved huge success in nearly every rung of the industry, but he never shies away from a challenge. Surprisingly, Farrell was actually most confident about one of his least conventional projects — Yorgos Lanthimos' 2015 film, "The Lobster."
Lanthimos' breakout film "Dogtooth" earned him international recognition in 2009, and it caught Farrell's attention as well. "I came out of a cinema on a Tuesday evening in Philadelphia ... and I said, 'Who the f*** made that?'" the actor told Awards Daily in 2016. "'Are they locked up? Are they still out and about in society?' It was just so disturbing and so brilliant, and yet so awkwardly shot. It rang with some twisted sense of truth in regards to observances of the human behavior."
Luckily, this wouldn't be the last Farrell heard of the Greek director. "Four years later I got this call about Yorgos, who's doing his first English language film," he recalled. When the actor first got the screenplay for "The Lobster," he wasn't exactly sure how to approach the film. "[When] I read the script, I found it confusing," Farrell admitted. "And I couldn't imagine how you'd breathe life [into the role] alongside any sense of normality."
Farrell himself is the first to admit that some of the best films he has starred in "weren't particularly strong on the page" but eventually turned out "beautifully" (via IndieWire). The "In Bruges" star tries not to put too much stock into his films before they are made. "There's too many moving parts," he explained. "I never expect, but you hope that things work out."
Farrell was already a huge fan of 'Dogtooth'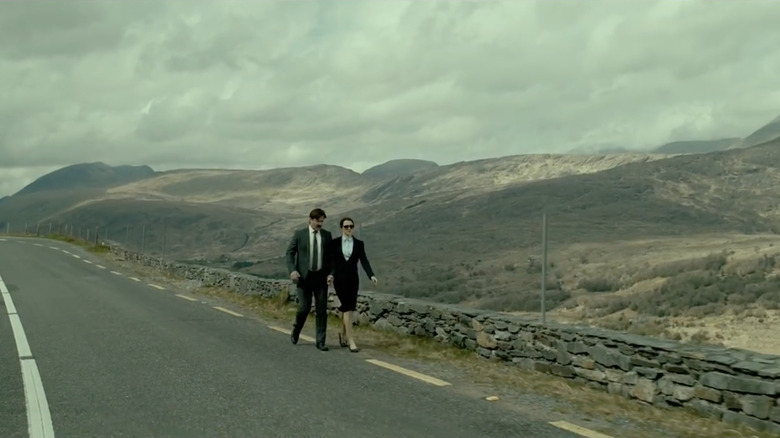 A24
There are no guarantees in show business, and storied actors like Colin Farrell know that better than anyone. "It's always kind of a risk," the actor explained. "I've done things that were supposed to be guaranteed to have a certain success, and money was thrown at the budget ... and they were supposed to find an audience and they didn't."
Joining a popular franchise might get your name out there, but a director with a strong vision — like Yorgos Lanthimos — can also elevate an actor's career. Starring in "The Lobster" was an easy choice for Farrell because he was such a big fan of the filmmaker's early work. "If anything, having seen 'Dogtooth' and 'Alps,' ['The Lobster'] was less of a risk than the majority of films I've done, because his work is so strong," Farrell concluded.
The actor was drawn to Lanthimos' examinations of psychology and social structure. The writer-director is "somebody who is interested in the push-pull of what it is to be a human being," Farrell said. "In the loneliness, in how we learn through example and through observation, in how we follow or break rules, in whether rules are a service or disservice to us."
Films like "The Lobster" twist specific social conventions to examine their function in society, like marriage and relationships. Farrell adjusted to the dystopian world of "The Lobster" by thinking "about 1942, with Germany living under Hitler's conformity," he revealed to Awards Daily. He had faith in Lanthimos as a storyteller and surrendered control to the director.
The actor had 'great freedom' under Lanthimos' direction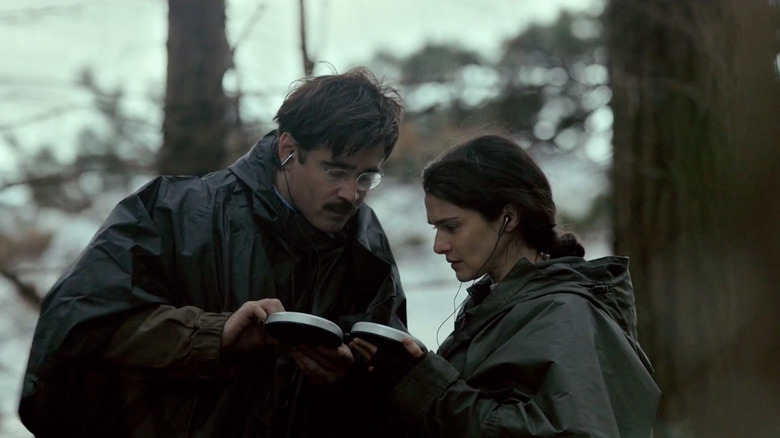 A24
Colin Farrell trusted Yorgos Lanthimos as an artist after seeing "Dogtooth," but the actor also had an incredibly positive experience with the director on-set. Lanthimos took a unique hands-off approach that gave Farrell lots of room to work. "It was very liberating," he recalled. The actor had "great freedom" in his performance because he "didn't have to worry about the backstory," Farrell explained. "The best way to serve the story was not to try to paint it with any of my own particular perception or opinions. I wanted to be neutral and there was a great liberation in it. I think more than ever before, I think my one job was just to be present."
Lanthimos' directing style relies very little on the actor's performance to carry the film, which also means that the finished product might resemble the written screenplay more closely than something made by a more improvisational director. This approach made it easier for Farrell to trust that the finished film would be good because it wouldn't change as much as some other projects do between the script and editing, which likely took some of the pressure off of Farrell and his co-stars in the film.
The actor and director would reunite not long after to work on Lanthimos' 2017 film "The Killing of a Sacred Deer." Much like "Dogtooth," this captivating thriller centers on a warped family dynamic. Farrell is unfortunately not slated to star in Lanthimos' next movie, "And," but they maintain an excellent working relationship. "He's a very smart guy," Lanthimos said of Farrell (via The Atlantic). "He has a great sense of humor, he gets our work, and he gets the material." Here's hoping these two incredible talents will reunite in the near future.