Servant's Lauren Ambrose And Toby Kebbell On Flawed Characters And A Marriage 'On Fumes' [Exclusive Interview]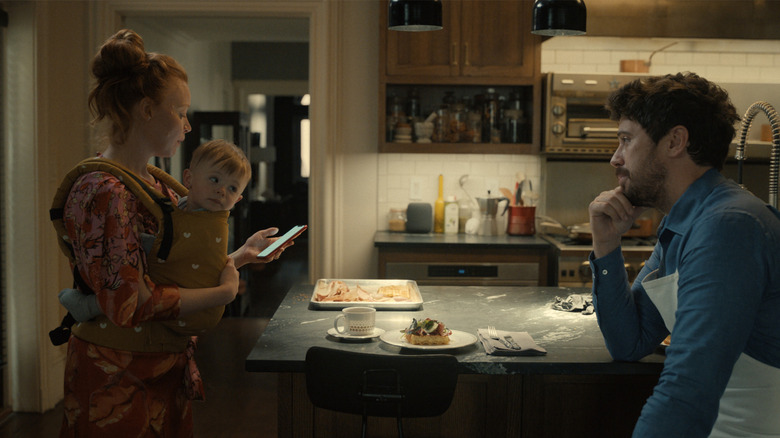 AppleTV+
It's pretty easy to imagine what the elevator pitch for the AppleTV+ horror series "Servant" was that helped give it the green light back in 2018. A troubled couple, reeling from an unimaginable tragedy that took the life of their infant son, struggle to move on with the help of a "reborn doll" and a mysterious young nanny who shows up on their doorstep. When the inanimate doll somehow turns into a living, breathing infant, the small family is plunged into the midst of much darker and supernatural forces than they ever could've imagined. 
Yet for all the buzzworthy names both in the cast — the show is led by the quartet of Lauren Ambrose, Toby Kebbell, Nell Tiger Free, and Rupert Grint — and behind the scenes (M. Night Shyamalan has spearheaded the project as executive producer, showrunner, and director), viewers who've been part of the ride all throughout the last three seasons know that the real draw to this story goes much, much deeper. Beyond all the horror appeal and tense melodrama, the heart of "Servant" remains the fractured marriage between Ambrose's traumatized Dorothy Turner and Kebbell's grieving Sean Turner. Even without such a horrific backstory uniting the two, the character flaws and personality quirks between both characters make them entirely worth following.
As strong and distinctive as the scripts are, the performances by Ambrose and Kebbell elevate these figures to another level entirely. In early December, ahead of the show's upcoming fourth season premiere, I was fortunate enough to talk to both actors over Zoom and discuss their perspectives on these characters, their inherent shortcomings, and why "Servant" is a show all about marriage.
Note: This interview has been lightly edited for clarity and brevity.
'I thought of her as a forties, fifties film star, too, like Joan Crawford and Lucille Ball'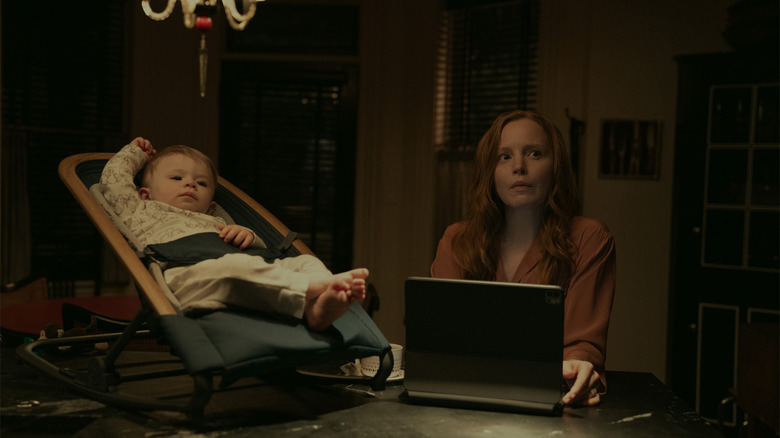 AppleTV+
So Lauren, I'll start with you. I don't know if you'll agree, but I feel like you have one of the toughest roles on this entire show.
Ambrose: Definitely [laughs].
Dorothy just juggles so many different sides of her character. She has that effervescent personality, but she can also have those relatable flaws where she's a little overbearing, a little stubborn. I'm curious: Which side of her character have you enjoyed most playing over the years, and especially in this final season?
Ambrose: Yeah, that's the joy of playing Dorothy — you said it really well. All of those extremes of human behavior, and especially all of her ugly flaws, really. You know, vain, mean, vindictive [laughs], but then really just always in an effort to be a good mother. So mean to her husband at time at times. I guess they can both be really mean to each other. All of the hiding, and the masks that she wears, and the sort of presentation that's so important to her, and perfectionism, it's really interesting, obviously, to set that up.
But then, that's all set up to then you see her when you see the mask crack, when you see her being vulnerable. It is just interesting to figure out how to do it and figure out how to play those moments, those mysterious moments. Even, I remember from the pilot episode, where she goes into these catatonic states and everything seems fine, and then all of a sudden she sort of gets stuck.
It was just really a wild character to try to inhabit, try to figure out how to make it as real as possible, and also to have moments of comedy that were built in. For me, it was sometimes it was so dark that I would just look for the "yuks," look for where it can be funny and where it can be light and where she can be a clown. Because I thought of her as a forties, fifties film star, too, like Joan Crawford and Lucille Ball. So, yeah [laughs], it was really an interesting character to play. I feel really, really grateful that I got to give that a whirl.
'It's very much a relationship that's broken at the point we meet them'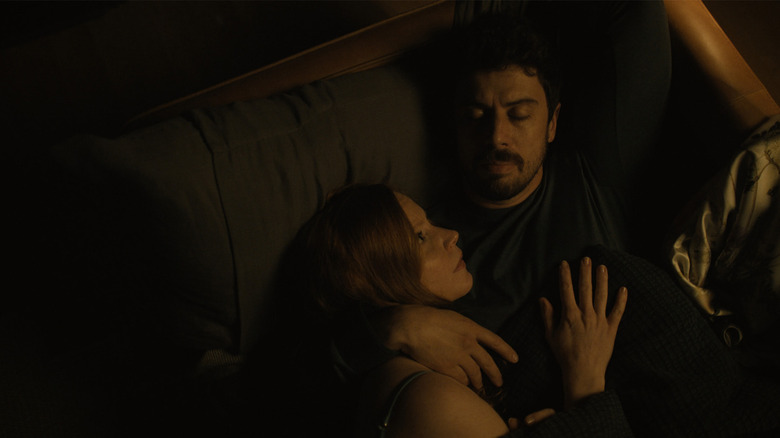 AppleTV+
This show is a lot about a lot of things, but for me it always comes down to Sean and Dorothy's relationship. A show about marriage. Toby, is that how you approached performing your character from the beginning? Was that your sort of gateway into this character?
Kebbell: Yeah, it's very much a relationship that's broken at the point we meet them, anyway. They're both living a lie: One through a catatonic denial, and the other just through a general, standard, average denial, not knowing what to do. There's no real books to explain how best to deal with this. This is your loved one. I think Sean very much was in a place where he relied on her and actually most of his relationship throughout the series is an attempt to show the gratitude. His devotion, although he loves Dorothy, is also part of this eternal gratitude he has for the life he now lives in this house with this person he loves and the career he had. I discussed it many times with Drew DiTomo, our on-set coach chef [for] everyone who had a cooking scene. It was like [Sean] went from line cook to head chef to a restaurant owner, so that needed spurring on. That's that partnership.
So you're kind of meeting them anyway at a point where the relationship is lasting on fumes. So it's actually interesting because the relationship grows, I think, over the series, and that is very much what we did. And this final season, I think that was very important for us, and we spoke to the writers as best we could to clarify and qualify that this relationship needs to bond. It has to eventually bond, and that was the only real conversation I ended up consistently having with Night, was that this needed to feel now because we can't just go on eternally being like, "I'm there because I love her." There has to be something. And we discussed that and I was like, "It's telling the truth. It's being truthful with her. Eventually, I have to tell her the truth no matter what we go through."
That's how it plays out: Chasing her down and constantly pinning her and trying to pin, and that's the benefit of her being trapped, in a way, after what happens at the end of season 3. She's kind of at the mercy of being force-fed this thing, and now I'm having to be coached by everybody, like, "You've got to do it, you have to do it." So it was great fun, just great fun to play. But yeah, it totally all circles around the relationships with each other.
Ambrose: Actually, one of my favorite moments to play on this show, when we explore those more grown-up themes of like, "Okay, what is grief? What is a marriage? What is it to be honest in a marriage? What is it to have real intimacy and real truth-telling and really see each other?" I think those are some of our best moments. And certainly as a grown-up actor, it was fun to explore some grown-up themes.
"Servant" season 4 premieres January 13, 2023 on AppleTV+.