Avatar Reigns Supreme At The Box Office, Puss In Boots, Babylon And Whitney Houston Fight For Scraps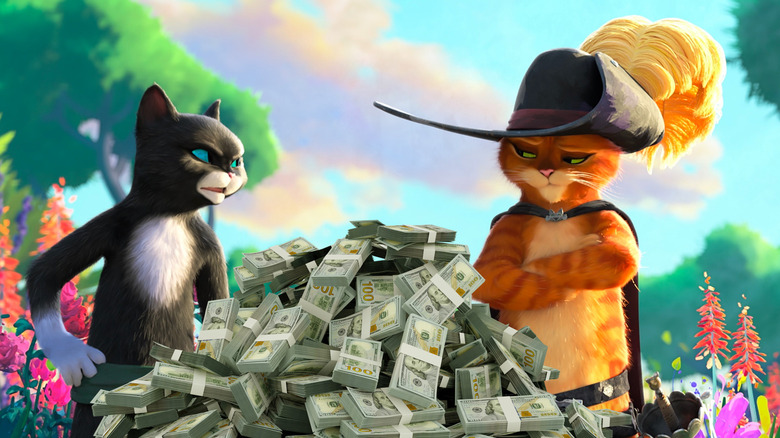 Paramount Pictures
Christmas can be a very fertile time for the box office and, in some ways, it was this year, with James Cameron's "Avatar: The Way of Water" topping the holiday weekend with $64 million. As of this writing, the film is nearing the $900 million mark globally and will probably get there by the time I finish typing this sentence. The hit theaters needed (even if the budget is astronomically high). But several other studios attempted to get in on the goods as well with a trio of new releases in the form of Universal's "Puss in Boots: The Last Wish," Sony's "Whitney Houston: I Wanna Dance With Somebody," and Paramount's "Babylon." For the most part, it was "Avatar" eating a nice meal with everyone else fighting for scraps.
The best performance of the bunch belongs to "Puss in Boots: The Last Wish," a long-awaited sequel to the spin-off set within the "Shrek" universe. The film opened to $12.4 million over the weekend, per Box Office Mojo. However, because it got an early start, hitting theaters on Wednesday, it has earned $26.1 million domestically to go with $32.5 million internationally. A $58.6 million start isn't bad, but it's got a long way to go to catch the original ($550 million). Be that as it may, with no animated family-friendly movies coming until "The Super Mario Bros. Movie" in April, this one could have very long legs. With a $90 million budget, if it can somehow get to $250 million global, Universal can count it as a win.
I Wanna Dance With Somebody disappoints, Babylon bombs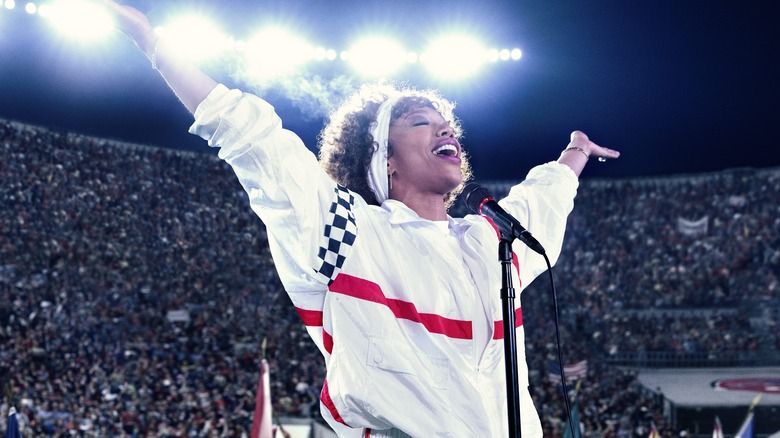 Sony Pictures
I understand why Sony would absolutely bet on a Whitney Houston biopic from the person who wrote "Bohemian Rhapsody," given that the Queen biopic earned more than $900 million worldwide. But "I Wanna Dance With Somebody," which stars Naomi Ackie as the musical icon, just isn't going to capture that same magic. More to the point, with a $4.7 million opening weekend, it isn't even going to have a shot at matching this year's "Elvis" ($286 million). The good news is that, all in, the movie has earned $9.4 million, including $2.6 million internationally, thus far. With a smaller $40 million budget, it could probably be a modest hit if it can reach $100 million worldwide. Admittedly, at the moment, that is a tall order. At the very least, it probably won't lose a ton of cash for the studio, if it can leg out a bit.
Meanwhile, Paramount suffered a devastating loss with "Babylon." This is the latest from director Damien Chazelle, the director of hits like "La La Land" and "Whiplash." Unfortunately, even with a cast led by Margot Robbie and Brad Pitt, the three-hour old-school Hollywood epic debuted to a mixed response (read our review here). That, coupled with heavy competition and a marketing campaign that didn't quite explain to the average moviegoer what they were getting into, led to disaster. Against a whopping $80 million budget, the film opened with just $3.6 million on more than 3,300 screens. It only has $5.3 million in the bank thus far and nothing suggests it will have any legs at all. A straight-up disaster.
So, what did we learn? Adult-focused cinema and awards season hopefuls are still struggling mightily at the box office in 2022. Will 2023 bring greener pastures in that department? One can only hope, but that sector of the movie business looks to be on life support.
Top ten movies at the box office December 23 – 25, 2022
"Avatar: The Way of Water" – $64 million

"Puss in Boots: The Last Wish" – $12.4 million

"Whitney Houston: I Wanna Dance With Somebody" – $4.7 million

"Babylon" – $3.6 million

"Violent Night" – $3.53 million

"Black Panther: Wakanda Forever" – $3.5 million

"The Whale" – $1 million

"The Fabelmans" – $750,000

"The Menu" – $680,000

"Strange World" – $480,000